---
October 2, 2020
Dear Members of the CBC Community,
In the Fall 2020 Newsletter, we would like to share with you important updates regarding the upcoming 17th Annual CBC Symposium and announce new 2020 awards in the following programs: CBC COVID-19 Response, Accelerator and Catalyst.
Thank you,
CBC team
---
17th Annual CBC Symposium: "Epigenetics & Disease"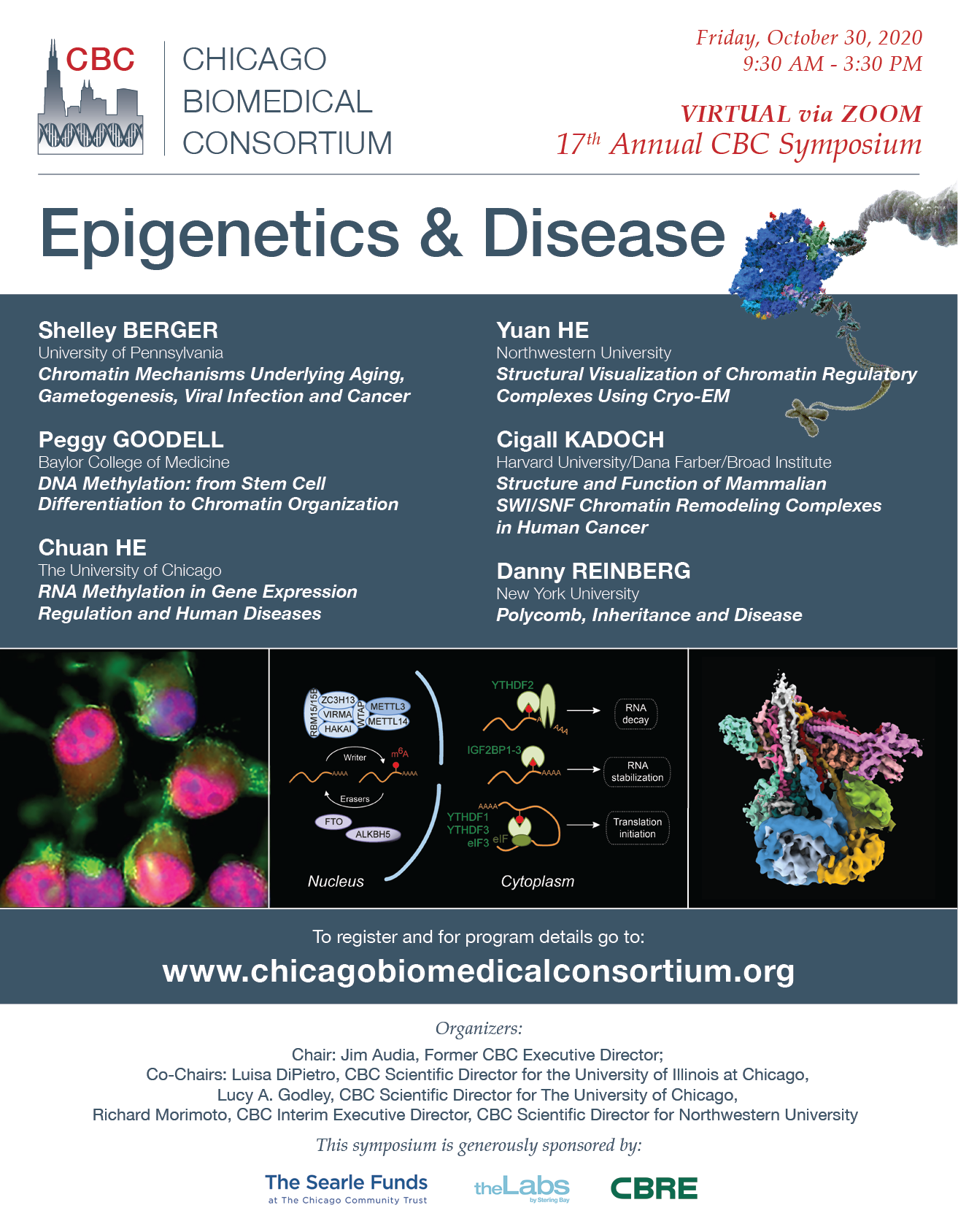 VIRTUAL via ZOOM
DATE: Friday, October 30, 2020
TIME: 9:30 AM – 3:30 PM
(Zoom waiting area opens at 9:15 AM)
TWITTER: @CBCsymp2020, #CBCsymp2020
SPEAKERS:
Shelley Berger (University of Pennsylvania), Peggy Goodell (Baylor College of Medicine), Chuan He (The University of Chicago), Yuan He (Northwestern University), Cigall Kadoch (Harvard/Dana Farber/Broad Institute) and Danny Reinberg (New York University).
ORGANIZERS:
Jim Audia (Chair; Former CBC Executive Director), Luisa DiPietro (Co-Chair; CBC Scientific Director for UIC), Lucy A. Godley (Co-Chair; CBC Scientific Director for UChicago) and Rick Morimoto (Co-Chair; CBC Interim Executive Director & CBC Scientific Director for NU).
The symposium program has been finalized and is available from the symposium webpage. We have also posted a symposium promo video! Click on the link below and enjoy!
The symposium is free of charge, however, online registration is required. Please share with your colleagues all are welcome and encourage them to register!
The meeting will include a virtual poster session via the CBC website and via the Twitter platform. To learn more and to submit an abstract, click on the link below.
This year's symposium is generously sponsored by the Searle Funds at The Chicago Community Trust and CBRE.
---
CBC Awards $1.5 Million for COVID-19 Research
Three multi-institutional teams of investigators from NU, UIC and UChicago will each receive $500,000 to pursue cutting-edge research!
The Chicago Biological Consortium (CBC) is pleased to announce the recipients of three CBC COVID-19 Response Awards totaling $1.5 million:
---
New CBC Accelerator Awards Announced
The CBC is pleased to announce the recipients of the newest Accelerator Awards, round 4 (Spring 2020) application cycle:
---
New Catalyst Awards Announced
The CBC is pleased to announce that three teams received Catalyst Awards in the R29 (Spring 2020) application round:
---
Stay Tuned for News from CBC
Bookmark the CBC webpage
Sign up for CBC news
Follow us on Twitter @CBC_ChiBiomed
Like us on Facebook
---