June 27, 2011
CBC funding opportunities, educational events and introduces our two new Scientific Directors
---
The spring of 2011 was a busy time for the CBC. CBC Science Day, a celebration of CBC-sponsored research held on April 22, 2011, was an all day event attended by over 200 Chicago-area researchers. The day was a smashing success with attendees learning about CBC-supported research and infrastructure, forming new collaborations, finding new resources and meeting people to enrich their research.
The newsletter includes information about CBC funding opportunities, educational events and introduces our two new Scientific Directors. To aid scientists in applying for CBC funding, we are offering a CBC Catalyst Workshop on Tuesday, July 5, 2011, at UChicago campus. Mark your calendars for the CBC Ninth Annual Symposium, Engineering Biology: From tools to insights, which will be held on Friday, October 21, 2011, at the UIC Forum.
We wish to thank Dr. Brenda Russell for the scientific leadership, program development, and collaborative spirit she has provided the CBC since its inception in 2002. Dr. Russell is stepping down as the UIC CBC Scientific Director and will take a hiatus from UIC this summer but will return in September to continue her NIH-funded research program in the area of cardiac and skeletal muscle growth and adaptation. Dr. Russell will be missed as a scientific director, advisor, colleague, and friend. The CBC family wishes Dr. Russell a relaxing summer and the continuation of an active research and teaching career.
Enjoy browsing through the newsletter and exploring the topics you find interesting!
Karen Snapp
CBC Associate Director
Email:
Jola Glotzer
CBC Program Manager at UChicago
Email:
---
New CBC Scientific Directors: Shohei Koide (UChicago) and Brian Kay (UIC)
The CBC is pleased to announce that Shohei Koide, PhD and Brian K. Kay, PhD have become the new CBC Scientific Directors for the University of Chicago and UIC, respectively. Dr. Koide was nominated by the University of Chicago Provost Thomas Rosenbaum and his appointment was approved by Northwestern Provost Daniel Linzer and UIC Interim Provost Jerry Bauman. Dr. Koide's official term began April 1, 2011. Analogously, Dr. Kay's nomination by UIC Acting Provost Jerry Bauman met the approval of the University of Chicago and Northwestern Provosts and his term began June 1, 2011.
Dr. Koide and Dr. Kay join Scientific Director Rick Morimoto from Northwestern. The CBC Scientific Directors work closely with the philanthropists, faculty researchers, administrators, and CBC staff members who together advance the CBC's mission of fostering and strengthening collaborative research.

Dr. Koide, Professor of Biochemistry & Molecular Biology at the University of Chicago, is well known for his research in protein engineering, design and folding. His current research focuses on designing proteins with novel functions and utilizing such 'designer' proteins toward understanding biology and controlling aberrant proteins responsible for human diseases. Dr Koide's research is interdisciplinary, integrating approaches in structural biology, directed evolution, protein biochemistry, spectroscopy and cell biology — research areas that fit well with the CBC mission and span the Physical and Biological Sciences Divisions at the University of Chicago.
Brian K. Kay, PhD, Professor & Head of the UIC Department of Biological Sciences, specializes in the research area of molecular recognition — the science of specific interactions between two or more molecules.
His work focuses on studying cellular protein-protein interactions and employs selective 'designer affinity reagents'. Similar to antibodies in their properties, the selective affinity reagents are generated using phage-displayed libraries of combinatorial peptides, antibody fragments, and engineered proteins. Such synthetic affinity reagents are subsequently used as tools to affinity-purify target proteins, study intracellular protein expression and function, and probe conformational changes of proteins inside cells. Dr. Kay's research is broadly interdisciplinary, spanning areas such as structural biology, biochemistry, cell biology, and physiology.
Dr. Koide has accepted the responsibilities formerly held by Jonathan Silverstein, MD, one of the founders of the CBC. Dr. Silverstein stepped down from his role as the University of Chicago CBC Scientific Director in January 2011, to join NorthShore University HealthSystems Research Institute as the Vice President for Clinical Research Informatics.
Dr. Kay takes over the UIC CBC Scientific Director position from Brenda Russell, PhD who has been with the CBC since its inception in 2002. Dr. Russell retired from her duties in UIC academic administration on May 31, 2011, and will return in the fall to her NIH-funded lab and teaching in the Department of Physiology and Biophysics.
Dr. Koide and Dr. Kay join CBC Program Managers Jola Glotzer and Tarra Barot, respectively, as the primary UChicago and UIC liaisons with the CBC. Welcome Shohei and Brian!
See also:
---
Catalyst Award Program Updates and 2011-2012 Funding Deadlines
The CBC Catalyst Award program offers funding of up to $200K for one- or two-year new and highly innovative inter-institutional collaborative research projects. Projects should focus on systems biology and address an important biological/biomedical question. Although not limited to the areas of Imaging, Proteomics, and Informatics, these are topics of interest to the CBC. Catalysts are not intended to support incremental progress — the proposed research should be innovative and risky. Preliminary data is not required. Collaborations involving senior and junior faculty members are given special consideration. Research teams must be composed of Principal Investigators from at least two CBC Institutions.
Catalyst funding may be used to generate data for a variety of funding sources, including NIH R-level grants. Catalyst proposals should include a plan for obtaining future support. 

Applications are reviewed for creativity and scientific merit by the CBC Scientific Review Board, which is composed of three senior scientists from each of the CBC institutions.
2011 Spring Round CBC Catalyst Award Recipients:
Adilson Motter (NU), Sean Crosson (UChicago) for the project: An approach to identify drug targets that select against antibiotic resistance.
Hiroaki Kiyokawa (NU), Jun Yin (UChicago) for the project: Identify cell cycle-regulatory substrates ubiquitinated by the apoptosis inhibitor BRUCE.
Catalyst Program Key Dates for 2011 and 2012
| | | | |
| --- | --- | --- | --- |
| Application Round | Online Submission Opens | Proposal Submission Deadline | Expected Decision |
| Fall 2011 | August 22, 2011 | August 31, 2011 | November 18, 2011 |
| Spring 2012 | February 27, 2012 | March 7, 2012 | May 16, 2012 |
| Fall 2012 | August 20, 2012 | August 28, 2012 | November 14, 2012 |
see also:
▸ CBC Catalyst Award RFA
▸ CBC-funded Catalyst Awards to-date
▸ CBC Scientific Review Board
---
NEW: Catalyst Workshop, July 5, 2011
Date: Tuesday, July 5, 2011
Time: 4:00-5:00pm
Location: Knapp Center for Biomedical Discovery (KCBD), Room 1103
University of Chicago
900 East 57th Street, Chicago, IL 60637
CBC invites faculty from UChicago, Northwestern, and UIC to attend a Workshop on the CBC Catalyst Award program. This workshop aims to demystify the Catalyst program and help the CBC community members prepare strong proposals for the next deadline (August 31, 2011) and beyond. Principal investigators from UChicago who received CBC Catalyst Awards will present case studies to illustrate successful collaborations and proposals, and a member of the CBC Scientific Review Board will provide a reviewer's perspective. CBC personnel will be available to answer questions.
With questions about the workshop contact Jola Glotzer, CBC Program Manager at UChicago: Phone: 773.834.5132; Email:
see also:
▸ CBC Catalyst Award RFA
▸ CBC-funded Catalyst Awards to-date
---
Now accepting applications for CBC Summer Workshop in Proteomics and Informatics, July 25-29, 2011
Date: July 25-29, 2011
Location: The CBC/RRC Proteomics and Informatics Services Facility
University of Illinois at Chicago (UIC)
833 South Wood Street, Chicago, IL 60612
CBC invites students, staff, and faculty to participate in the 4th annual hands-on Summer Workshop in Proteomics and Informatics at the CBC/UIC Proteomics and Informatics Services Facility. This intensive course will offer a theoretical and practical introduction to tandem mass spectrometry proteomics, including the key experimental methods and computational tools needed to pursue analysis of complex proteomic samples. Attendees will participate in 5 full days of training, including sample preparation, peptide separation, mass spectrometry, and data analysis. The workshop will be team-taught by CBC/RRC staff and faculty from the UIC, University of Chicago and Northwestern University. Only 20 attendees can be admitted to this workshop — the organizers will select participants to achieve a broad representation of institutions, range of scientific fields, and levels of experience in proteomics. We anticipate that space will fill up fast. Please submit your application as soon as possible.
Registration:
 To be considered for the workshop, please send your CV and a short summary of your research to Dr. Karen Snapp at . Graduate students and post-doctoral fellows should have their PI send a statement describing how proteomics will be used in the trainee's research. Attendees will be selected starting on July 5, 2011, and can hold a space in the course with a tuition fee of $400. If you have any questions please contact Dr. Karen Snapp.
see also:
▸ Workshop Announcement
▸ PISF website
▸ Past CBC-sponsored Workshops
---
Ninth Annual CBC Symposium, October 21, 2011
Date: Friday, October 21, 2011
Location: UIC Forum
University of Illinois at Chicago (UIC)
725 West Roosevelt Road, Chicago, IL 60607
The Ninth Annual CBC Symposium, Engineering Biology: From tools to insights, will be held on Friday, October 21, 2011, at the UIC Forum, which is located on the UIC east campus. David Eddington (UIC), Lonnie Shea (NU), and Joel Collier (UChicago) have collaborated to organize this scientific event. The organizational committee has recruited three outstanding external keynote speakers: Christopher Chen (University of Pennsylvania), Douglas Lauffenburger (MIT) and Melody Swartz (Ecole Polytechnique Federale de Lausanne (EPFL), Switzerland). The symposium will also feature exceptional Chicago-area speakers: David Eddington (UIC), Joshua Leonard (NU) and Dorothy Sipkins (UChicago).
The symposium will include a poster session, which provides an excellent forum for graduate students and postdoctoral fellows to present their current research. The event is free of charge but pre-registration is required. Registration and poster abstract submission will open on the CBC webpage on July 29, 2011. Deadline for both, registration and abstract submission is noon, Friday, September 23, 2011. Program and registration details will be posted on the symposium webpage when they become available.
see also:
---
Connecting at CBC Science Day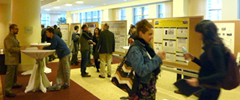 CBC Science Day took place on Friday, April 22, 2011, at the Prentice Women's Hospital Conference Center in downtown Chicago. Over 200 people attended this all-day exposition of CBC-supported science. The meeting included talks and posters describing research by CBC-Award teams, CBC supported infrastructure and core facilities, faculty Recruitment Awards and CBC Scholars' thesis projects.
True to the CBC mission, new seeds of collaboration were planted during CBC Science Day as scientists were finding new resources and meeting people to enhance their research. As one participant put it: Friday's CBC Science Day was truly great. The talks were great, but most importantly, those 2 hours of interaction time in the middle of the day were PURE GOLD. I know that I and others made some great connections that have the potential to become cross-Chicagoland collaborations!
Science Day aimed to showcase and celebrate CBC activities from 2004 to 2011. Thank you to all the attendees and presenters for making the event a great success!
see also:
▸ Connecting at the CBC Science Day
▸ CBC-Funded Awards
▸ CBC-Supported Facilities
---
CBC Scholars Program Update
Currently there are 14 students in the CBC Scholars program and they continue to foster collaboration and excellence at the graduate student level at their universities and in the greater Chicago area.
Nine of the CBC Scholars volunteered as judges at The 61st Chicago Public Schools (CPS) Student Science Fair (SSF) held at the Museum of Science and Industry on March 24-27, 2011. This annual event is designed to stimulate scientific interests among Chicago-area youth, to emphasize the value of original research, and to connect gifted CPS seniors with college scholarships. Each year approximately 300 individuals from a variety of Chicago-based academic, scientific, and business institutions serve as volunteer judges. The fact that nine (out of 14) CBC Scholars volunteered their time and energy at this truly remarkable event, demonstrates their commitment to promote science education and scientific exchange within the Chicago-area community.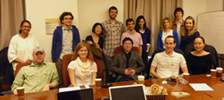 On April 7, 2011 the CBC Scholars met at the NU Chicago Campus to present and discuss their dissertation research during the Second Annual CBC Scholars Scientific Exchange. Each Scholar gave a short talk that was designed to focus on the "Big Picture" aspect of his/her thesis. Afterwards, the Scholars discussed their future endeavors. These oral presentations served as a "dress rehearsal" for the posters that the Scholars presented at Science Day.
Two second-year CBC Scholars, Sam Nalle and Matt Curtis, have successfully defended their research theses. Sam Nalle's (UChicago, Department of Pathology, PI Jerry Turner) defense took place on May 5, 2011 and his thesis title was: Intestinal Damage and Barrier Dysfunction are Critical to Graft-versus-Host Disease. On May 19, 2011, Matthew Curtis (UIC, Department of Physiology and Biophysics, PI Brenda Russell) presented his thesis work entitled: Engineered Microdomains Regulate the Molecular, Biological and Mechanical Function of Cardiac Cells. Both Sam and Matt will remain in their current labs for a few additional months to finish crucial experiments and complete manuscripts.
see also:
▸ CBC Scholars Judge at the CPS Student Science Fair
▸ Second Annual CBC Scholars Scientific Exchange
▸ CBC Scholars webpage
---
Agile Diagnosis wins the 4th Annual CBC Business Plan Competition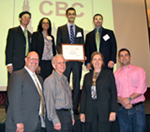 Agile Diagnosis, a company founded by students and faculty at UChicago, received the $10K CBC prize by winning the 4th Annual CBC Business Plan Competition held on May 20, 2011 at the UIC Student Center East. Five MBA student-led teams from business and management schools at the three CBC-affiliated institutions participated in the competition: Dermeditech and Ubi Diagnostics (NU, Kellogg School of Management, Center of Biotechnology Management); Agile Diagnosis and mHealth Solutions (UChicago Booth School of Business, Polsky Center for Entrepreneurship); and Stabilis (The Liautaud Graduate School of Business, UIC Institute for Entrepreneurial Studies).
The five teams presented business plans describing their companies and products to a panel of judges selected from Chicago-area venture capital firms, angel investors, and biotechnology and pharmaceutical companies. This year's judges were: Joseph Barrett (Baxter Healthcare Corporation), Thomas Hawes (Sandbox/Blue Cross Blue Shield Plan), Ron Kirschner (Heartland Angels) and Donna Williamson (Ceres Venture Fund).
Agile Diagnosis is a platform of software tools that help healthcare professionals make better decisions by intelligently guiding them step-by-step from symptom to diagnosis. Agile Diagnosis builds on years of research at the Pritzker School of Medicine and provides instant access to expert opinion boiled down into clear, best, next step recommendations.
---
Two CBC-community members elected as AAAS Fellows

The American Academy of Arts and Sciences (AAAS) announced the newly elected 2011 AAAS Fellows on April 19, 2011. Among the new members is Rick Morimoto, the CBC Scientific Director at Northwestern University. Rick is the Bill and Gayle Cook Professor of Biology in the Weinberg College of Arts and Sciences, a professor of Molecular Biosciences at Northwestern, and the director of the Rice Institute for Biomedical Research. He is widely recognized for his research on the regulation of the heat shock stress response and the function of molecular chaperones. His current research focuses on understanding how organisms sense and respond to physiologic and environmental stress.

Chad Mirkin, one of the Principal Investigators on the CBC Lever Award to the Chicago Center of Cancer Nanotechnology Excellence, was also elected to the American Academy of Arts and Sciences. Chad is director of the International Institute for Nanotechnology, the George B. Rathmann Professor of Chemistry in the Weinberg College of Arts and Sciences and a professor of Medicine and of Material Sciences and Engineering at Northwestern.
Rick and Chad are among 212 extraordinary leaders who have been elected to the Academy this year for their pathbreaking work in the sciences, social sciences, the humanities, the arts, business and public affairs.
Congratulations Rick and Chad!
see also:
---