Updated: January 16, 2014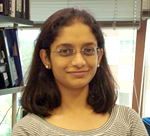 Haripriya Ramu
CBC Scholar: Class of 2010
Center for Pharmaceutical Biotechnology, UIC, Advisor: Alexander Mankin
MANKIN LAB WEBPAGE
EDUCATION:
Postdoctoral Fellow, George Thomas Lab
Knight Cancer Institute at Oregon Health and Science University, Portland
2012
University of Illinois at Chicago
PhD, Pharmaceutical Biotechnology
2008 – 2011
University of Illinois at Chicago
M.S., Pharmaceutical Biotechnology
2001 – 2004
Tamil Nadu Doctor M.G.R. Medical University, India
Bachelor of Pharmacy, Pharmaceutical Biotechnology, Pharmacology, Pharmaceutics
1997 – 2001
RESEARCH INTERESTS:
Haripriya successfully defended her dissertation titled "Molecular Mechanism of Drug and Nascent Peptide- Dependent Ribosome Stalling" in June 2011.
While in Mankin's Lab at UIC Haripriya's thesis research focused on:
— Putative regulatory ORFs upstream of inducible macrolide resistance genes were identified.
— Programmed ribosome stalling sites at various regulatory ORFs were identified using in vitro primer extension inhibition analysis.
— Nascent peptide sequence elements necessary for ribosome stalling were identified by mutational analysis.
— Evidence for a direct effect of the nascent peptide on the A-site of the ribosomal peptidyl transferase center was obtained.
— A model for the molecular mechanism of ribosome stalling was proposed, which could be applicable to other regulatory nascent peptides as well.
PUBLICATIONS:
Vázquez-Laslop N, Klepacki D, Mulhearn DC, Ramu H, Krasnykh O, Franzblau S, Mankin AS. Role of antibiotic ligand in nascent peptide-dependent ribosome stalling. Proc Natl Acad Sci U S A. 2011 Jun 28;108(26):10496-501. (PubMed)
Ramu H, Vázquez-Laslop N, Klepacki D, Dai Q, Piccirilli J, Micura R, Mankin AS. Nascent peptide in the ribosome exit tunnel affects functional properties of the A-site of the peptidyl transferase center. Mol Cell. 2011 Feb 4;41(3):321-30. (PubMed)
Vázquez-Laslop N, Ramu H, Klepacki D, Kannan K, Mankin AS. The key function of a conserved and modified rRNA residue in the ribosomal response to the nascent peptide. EMBO J. 2010 Sep 15;29(18):3108-17. (PubMed)
Ramu H, Mankin A, Vazquez-Laslop N. Programmed drug-dependent ribosome stalling. Mol Microbiol. 2009 Feb;71(4):811-24.(PubMed)
Maguire BA, Beniaminov AD, Ramu H, Mankin AS, Zimmermann RA. A protein component at the heart of an RNA machine: the importance of protein l27 for the function of the bacterial ribosome. Mol Cell. 2005 Nov 11;20(3):427-35.(PubMed)
AWARDS:
CBC Scholar, 2010-2011
Van Doren Scholar, 2009, UIC College of Pharmacy Graduate Student Award
Best poster award, 2009, ASBMB Experimental Biology