Updated: December 3, 2015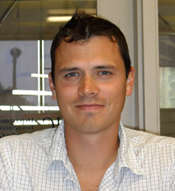 Brian Rudolph Shy
CBC Scholar: Class of 2013
MD/PhD Candidate, Department of Biochemistry & Molecular Genetics, University of Illinois at Chicago, Advisor: Brad Merrill
MERRILL LAB WEBPAGE
RESEARCH INTERESTS:
In embryonic stem cells, the Wnt signaling pathway promotes the maintenance of pluripotency. This occurs primarily through inactivation of a transcriptional repressor called Tcf7l1. Simply put, cells differentiate when Tcf7l1 is high and maintain their potency when it is low. Poorly differentiated breast cancers (referred to as "triple-negative" or "basal") exhibit a similar mechanism. My focus is on exploring the details of this mechanism in embryonic stem cells and using that information to identify therapeutic targets for this largely untreatable group of aggressive tumors.
PUBLICATIONS:
Shy BR, Wu CI, Khramtsova GF, Zhang JY, Olopade OI, Goss KH, Merrill BJ. Regulation of Tcf7l1 DNA Binding and Protein Stability as Principal Mechanisms of Wnt/β-Catenin Signaling. Cell Rep. 2013 Jul 11;4(1):1-9. (PubMed)
Saporta MA, Shy BR, Patzko A, Bai Y, Pennuto M, Ferri C, Tinelli E, Saveri P, Kirschner D, Crowther M, Southwood C, Wu X, Gow A, Feltri ML, Wrabetz L, Shy ME. MpzR98C arrests Schwann cell development in a mouse model of early-onset Charcot-Marie-Tooth disease type 1B. Brain. 2012 Jul;135(Pt 7):2032-47. (PubMed)
Wu C, Hoffman JA, Shy BR, Ford EM, Fuchs E, Nguyen H, Merrill BJ. Function of Wnt/β-catenin in counteracting Tcf3 repression through the Tcf3-β-catenin interaction. Development. 2012 Jun;139(12):2118-29. (PubMed)
Yi F, Pereira L, Hoffman JA, Shy BR, Yuen CM, Liu DR, Merrill BJ. Opposing effects of Tcf3 and Tcf1 control Wnt stimulation of embryonic stem cell self-renewal. Nat Cell Biol. 2011 Jun 19;13(7):762-70. (PubMed)
AWARDS, HONORS, ACTIVITIES:
Judge, Chicago Public Schools Student Science Fair, March 2013
Chicago Biomedical Consortium (CBC) Scholar, 2013-2014
Medical Scientist Training Program (MSTP), 2008 – present
University of Illinois at Chicago
The MSTP provides support throughout medical and graduate training for students committed to combined careers in research and medicine. Students at all levels of their training are brought together throughout the year for seminars, retreats, and informal meet-ups.
Inventor: "Pop-out power strip"
Licensed to Genius Crowds, Inc., January 2011
This design solves the problem of crowded power strips by allowing the user to pop out individual outlets and move them a short distance away from the rest of the outlets. Thus, a bulky plug can be attached outside of the main strip and not cover additional positions.
Inventor: "Digits"
Licensed to Quirky, Inc., March 2010
Digits are pins encased in conductive silicon. When attached to winter gloves they allow you to use a touch screen phone without removing your gloves. They are currently manufactured by Quirky, Inc. with over 20,000 sold.
• Interview: "Inventor Brian Shy won't let cold weather stop him from texting". UIC News, February 2012.
• Interview: WGN Radio, January 2012.
• Interview: "Cold texting with the right touch". Chicago Sun Times, December 2011.
• Interview: "Get paid for gadget ideas". Chicago Tribune, March 2011.
Travel award and fellowship, July 2007
Biennial Peripheral Nerve Society meeting
Shy BR, Ferri C, Southwood C, Pennuto M, Li J, Wu X, Feltri ML, Gow A, Shy ME, Wrabetz L. R69C knockin mice are a model for early onset CMT1B.
Graduated with honors, May 2006
Dean's list 2001-2006
Michigan State University