Updated: November 18, 2014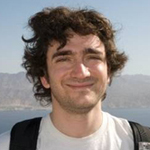 Bryan Singer
CBC Scholar: Class of 2011
PhD Candidate, Committee on Neurobiology (BSD), UChicago, Advisor: Paul Vezina
VEZINA LAB WEBPAGE
On November 5, 2012, Bryan successfully defended his thesis: "Neuroadaptations Underlying Drug Conditioning." Bryan will be moving to Ann Arbor in December 2012 to postdoc with Terry Robinson and Brandon Aragona at the University of Michigan. Congratulations!
RESEARCH INTERESTS:
I am conducting anatomical, molecular, and behavioral experiments to study the neuronal plasticity underlying psychostimulant sensitization.
Repeated exposure to psychostimulants such as amphetamine leads to an enhancement of their behavioral and biochemical effects, known as sensitization. The expression of behavioral sensitization may come under strong conditioned stimulus control so that sensitized responding is only apparent when animals are tested in the presence of environmental stimuli previously paired with the drug. My research aims to isolate neuroadaptations corresponding to either sensitization or conditioning phenotypes. To do so, I compare the anatomical, behavioral, and biochemical consequences of repeated systemic or ventral tegmental area (VTA) injections of amphetamine. This comparison is useful because, while exposure to repeated systemic amphetamine produces both sensitization and conditioning, VTA amphetamine exposure produces sensitization in the absence of conditioning.
PUBLICATIONS:
Singer BF, Forneris J, Vezina P. Inhibiting cyclin-dependent kinase 5 in the nucleus accumbens enhances the expression of amphetamine-induced locomotor conditioning. Behav Brain Res. 2014 Sep 4;275C:96-100. (PubMed)
Singer BF, Neugebauer NM, Forneris J, Rodvelt KR, Li D, Bubula N, Vezina P. Locomotor conditioning by amphetamine requires cyclin-dependent kinase 5 signaling in the nucleus accumbens. Neuropharmacology. 2014 Jun 2;85C:243-252. (PubMed)
Singer BF, Scott-Railton J, Vezina P. Unpredictable saccharin reinforcement enhances locomotor responding to amphetamine. Behav Brain Res. 2012 Jan 1;226(1):340-4. (PubMed)
Singer BF, Loweth JA, Neve RL, Vezina P. Transient viral-mediated overexpression of α-calcium/calmodulin-dependent protein kinase II in the nucleus accumbens shell leads to long-lasting functional upregulation of α-amino-3-hydroxyl-5-methyl-4-isoxazole-propionate receptors: Dopamine type-1 receptor and protein kinase A dependence. Eur J Neurosci. 2010 Apr;31(7):1243-51. (PubMed)
Loweth JA, Singer BF, Baker LK, Wilke G, Inamine H, Bubula N, Alexander JK, Carlezon WA Jr, Neve RL, Vezina P. Transient overexpression of α-Ca2+/calmodulin-dependent protein kinase II in the nucleus accumbens shell enhances behavioral responding to amphetamine. J Neurosci. 2010 Jan 20;30(3):939-49. (PubMed)
Singer BF, Tanabe LM, Gorny G, Jake-Matthews C, Li Y, Kolb B, Vezina P. Amphetamine-induced changes in dendritic morphology in rat forebrain correspond to associative drug conditioning rather than nonassociative drug sensitization. Biol Psychiatry. 2009 May 15;65(10):835-40.(PubMed)
Hunter JD, Hanan DM, Singer BF, Shaikh S, Brubaker KA, Hecox KE, Towle VL. Locating chronically implanted subdural electrodes using surface reconstruction. Clin Neurophysiol. 2005 Aug;116(8):1984-7. (PubMed)
AWARDS AND SERVICE:
Judge, Chicago Public Schools Student Science Fair, March 2012
Represented UChicago Neurobiology Programs at the Chicago Chapter 2012 Annual Meeting of the Society for Neuroscience, March 29, 2012
Board Member, Science for Society (formerly Save Our Science), April 2011 – Present
Advisor, Mendeley, February 2011 – Present
Judge, Chicago Public Schools Student Science Fair, March 2011
CBC Scholar 2011-2012
Ruth L. Kirschstein National Research Service Award for Individual Predoctoral Fellow (PA F31),
Score 20, Percentile 7, December 2010