Updated: June 12, 2015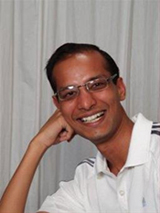 Chaitanya Aggarwal
CBC Scholar: Class of 2012
PhD Candidate, Center for Pharmaceutical Biotechnology, College of Pharmacy, UIC; Advisor: Michael Federle
FEDERLE LAB WEBPAGE
RESEARCH INTERESTS:
My research focuses on identifying peptide pheromones secreted by Streptococcus pyogenes which are involved in regulating virulence and biofilm formation by this pathogen. Success will establish the foundation for our understanding of the role that quorum sensing plays in virulence gene regulation in GAS, a phenomenon that has never before been explored for this bacterial pathogen. The long term implication of his research is to develop anti-quorum sensing molecules which can act as novel antibiotics.
PUBLICATIONS:
Aggarwal C, Jimenez JC, Lee H, Chlipala GE, Ratia K, Federle MJ. Identification of Quorum-Sensing Inhibitors Disrupting Signaling between Rgg and Short Hydrophobic Peptides in Streptococci. MBio. 2015 May 12;6(3). (PubMed)
Aggarwal C, Federle MJ. Peptide pheromones and their protein receptors: Cellular signaling in Gram-positive bacteria. In: Molecular Life Sciences: An Encyclopedic Reference. Ed. Ellis Bell. Springer 2015. (springer)
Parashar V, Aggarwal C, Federle MJ, Neiditch MB. Rgg protein structure-function and inhibition by cyclic peptide compounds. Proc Natl Acad Sci U S A. 2015 Apr 21;112(16):5177-82. (PubMed)
Aggarwal C, Jimenez JC, Nanavati D, Federle MJ. Multiple Length Peptide-Pheromone Variants Produced by Streptococcus pyogenes Directly Bind Rgg Proteins to Confer Transcriptional Regulation. J Biol Chem. 2014 Aug 8;289(32):22427-36. (PubMed)
Lasarre B, Aggarwal C, Federle MJ. Antagonistic Rgg Regulators Mediate Quorum Sensing via Competitive DNA Binding in Streptococcus pyogenes. MBio. 2013 Jan 2;3(6). (PubMed)
Chang JC, LaSarre B, Jimenez JC, Aggarwal C, Federle MJ. Two group A streptococcal peptide pheromones act through opposing Rgg regulators to control biofilm development. PLoS Pathog. 2011 Aug;7(8):e1002190. (PubMed)
AWARDS, HONORS, ACTIVITIES AND SERVICE:
March 2013: Judge, Chicago Public Schools Student Science Fair
March 2012: Judge, Chicago Public Schools Student Science Fair
January 2012: CBC Scholar 2012-2013
November 2011: Recipient of Chancellor's graduate research fellowship at UIC
April 2011: Recipient of Chancellor's Student Service and Leadership Award (CSSLA) at UIC
February 2011: First prize in scientific poster session at College of Pharmacy Research Day 2011 for presenting most original and important research
February 2011: Recipient of Charles Wesley Petranek Scholarship, student honor in Pharmacognosy program, UIC
October 2010-Present: Elected as Vice Chair of American Association of Pharmaceutical Scientists (AAPS) student chapter at UIC. Involved in organizing industry visits for students and guest lectures in college of pharmacy.