Updated: September 24, 2015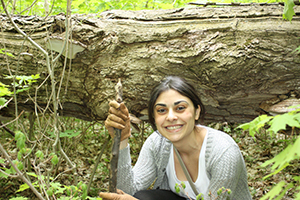 Jamie Rayahin
CBC Scholar: Class of 2014
PharmD/PhD Candidate, Department of Biopharmaceutical Sciences, University of Illinois at Chicago, College of Pharmacy
Advisor: Richard A. Gemeinhart
GEMEINHART LAB WEBPAGE
---
RESEARCH INTERESTS:
Nature has developed, modified, and refined itself for over 3.6 billion years. Many of these natural products, such as proteins and polymers, have very potent modulating effects when applied to several different diseases. My research is inspired by natural molecule interactions, specifically: what these interactions are, how the interactions can be used to stabilize proteins and protein formulations, what pharmaceutical benefit the interactions have, and what the interactions can tell us about disease development, progression, and treatment. More specifically, I am working on therapeutic interactions of the natural polymer, hyaluronic acid, and melittin, a toxic peptide from the honeybee, in the context of arthritic disease. To supplement my understanding of the disease, I am also collaborating with the MAK-3 study at Northwestern to identify factors associated with disease progression of osteoarthritis in humans. A holistic understanding of the disease, both molecularly as well as its natural history, will elucidate the most promising routes for development of disease modifying therapeutics.
---
PUBLICATIONS:
Rayahin JE, Buhrman JS, Zhang Y, Koh TJ, Gemeinhart RA. High and low molecular weight hyaluronic acid differentially influence macrophage activation. ACS Biomater Sci Eng. 2015 Jul 13;1(7):481-493. (PubMed)
Rayahin JE, Buhrman JS, Gemeinhart RA. Melittin-glutathione S-transferase fusion protein exhibits anti-inflammatory properties and minimal toxicity. Eur J Pharm Sci. 2014 Sep 21;65C:112-121. (PubMed)
Rayahin JE, Chmiel JS, Hayes KW, Almagor O, Belisle L, Chang AH, Moisio K, Zhang Y, Sharma L. Factors Associated with Pain Experience Outcome in Knee Osteoarthritis. Arthritis Care Res (Hoboken). 2014 Jul 21. [Epub ahead of print] (PubMed)
Buhrman JS, Rayahin JE, Cook LC, Federle MJ, Gemeinhart RA. Active, soluble recombinant melittin purified by extracting insoluble lysate of Escherichia coli without denaturation. Biotechnol Prog. 2013 Sep-Oct;29(5):1150-7. (PubMed)
Buhrman JS, Cook LC, Rayahin JE, Federle MJ, Gemeinhart RA. Proteolytically activated anti-bacterial hydrogel microspheres. J Control Release. 2013 Nov 10;171(3):288-95. (PubMed)
Buhrman JS, Rayahin JE, Köllmer M, Gemeinhart RA. In-house preparation of hydrogels for batch affinity purification of glutathione S-transferase tagged recombinant proteins. BMC Biotechnol. 2012 Sep 18;12:63. (PubMed)
Rayahin JE, Buhrman JS, Gemeinhart RA. Hybrid nanocrystals: University of Kentucky US20060280680A1. Expert Opin Ther Pat. 2012 Mar;22(3):341-8. (PubMed)
Kim M, Rooper L, Xie J, Rayahin J, Burdette JE, Kajdacsy-Balla AA, Barbolina MV. The lymphotactin receptor is expressed in epithelial ovarian carcinoma and contributes to cell migration and proliferation. Mol Cancer Res. 2012 Nov;10(11):1419-29. (PubMed)
Chang J, Schul W, Butters TD, Yip A, Liu B, Goh A, Lakshminarayana SB, Alonzi D, Reinkensmeier G, Pan X, Qu X, Weidner JM, Wang L, Yu W, Borune N, Kinch MA, Rayahin JE, Moriarty R, Xu X, Shi PY, Guo JT, Block TM. Combination of α-glucosidase inhibitor and ribavirin for the treatment of dengue virus infection in vitro and in vivo. Antiviral Res. 2011 Jan;89(1):26-34. (PubMed)
---
PATENT AND DISCLOSURES:
Gemeinhart RA, Buhrman JS, Rayahin JE. Modular and Stoichiometric Loaded Protease-Sensitive Recombinant Protein Hydrogels. Disclosed (DF120; 02/20/2012), provisional patent application submitted (06/06/2012), and full application submitted (06/06/2013).
---
AWARDS AND HONORS:
2014 Chicago Biomedical Consortium (CBC) Scholar
2013 Honorable mention, UIC College of Medicine Research Forum
2013 W.E. van Doren Scholar
2012-2014 UIC Chancellor's Research Fellowship
2012 Riback Research Fellowship
2011 Polymers in Medicine and Biology (ACS Symposium) Poster Award, 3rd Place
2011 Riback Research Fellowship
2007-present Deans List scholar
---
SERVICE:
---
ACTIVITIES/HOBBIES:
Mycology, Hiking, Cooking, Painting