Updated: June 12, 2014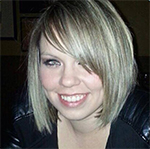 Leah Mayo
CBC Scholar: Class of 2014
PhD Candidate, Committee on Neurobiology, University of Chicago
Advisor: Harriet de Wit
DE WIT LAB WEBPAGE
---
RESEARCH INTERESTS:
My research interests focus on the relationships formed between environmental stimuli (cues) and drugs of abuse in healthy, non-dependent human volunteers. It has long been known that drug-associated cues can greatly influence drug-related behaviors, but little is currently known about the formation of these associations in humans. Instead, most laboratory studies focus on responses to already-established drug cues in dependent or abstinent drug users. This not only prevents exploration into the acquisition of these associations, but also leaves the experimenter no control over the context of both drug and cue exposure, number of exposures, drug dose, and other critical factors. To remedy this, I'm currently studying the acquisition and expression of responses to de novo drug cues in non-dependent humans using a novel human drug conditioning paradigm. Responses to drug-associated cues are assessed using subjective self-reports, cognitive-behavioral measures, psychophysiological (facial electromyography and electrooculography) recordings, and functional magnetic resonance imaging (fMRI). In addition, I am assessing individual variation in these responses, as well as the potential relationship between these responses and other risk factors for problematic drug use, including acute drug effects, impulsivity, and drug use history.
---
PUBLICATIONS:
Peer-Reviewed Articles
Mayo LM, de Wit H. Acquisition of Responses to a Methamphetamine-Associated Cue in Healthy Humans: Self-Report, Behavioral, and Psychophysiological Measures. Neuropsychopharmacology. 2015 Jun;40(7):1734-41. (PubMed)
Mayo LM, Fraser D, Childs E, Momenan R, Hommer D, de Wit H, Heilig M. Conditioned preference to a methamphetamine-associated contextual cue in humans. Neuropsychopharmacology. 2013 May;38(6):921-9. (PubMed)
Wardle MC, Treadway MT, Mayo LM, Zald DH, de Wit H. Amping up effort: Effects of d-Amphetamine on human effort-based decision making. J Neurosci. 2011 Nov 16;31(46):16597-602. (PubMed)
García-Fuster MJ, Flagel SB, Mahmood T, Mayo LM, Thompson RC, Watson SJ, Akil H. Decreased proliferation of adult hippocampal stem cells during cocaine withdrawal: possible role of the cell fate regulator FADD. Neuropsychopharmacology. 2011 Oct;36(11):2303-17. (PubMed)
Flagel SB, Clark JJ, Robinson TE, Mayo L, Czuj A, Willuhn I, Akers CA, Clinton SM, Phillips PE, Akil H. A selective role for dopamine in stimulus-reward learning. Nature. 2011 Jan 6;469(7328):53-7. (PubMed)
Book Chapters
Mayo LM, Palmer AA, de Wit H. Subjective responses to drugs as intermediate phenotypes. In: Genetic Influences on Addiction: An Intermediate Phenotype Approach. Eds. MacKillop, J., Munafo, M. Cambridge, MA: MIT Press, 2013. pp. 121-140.
---
AWARDS AND HONORS:
Bursary Award; European Behavioural Pharmacology Society – Sep 2013
Senior Student Award; Committee on Neurobiology, University of Chicago – Aug 2013
University of Chicago representative; Graduate Student Symposium, Society for Neuroscience Chicago Chapter – Mar 2013
Early Career Investigator Award; National Institute on Drug Abuse (NIDA), Society for Neuroscience – Oct 2012
Minority Early Stage Investigator Award; College on Problems of Drug Dependence – Jun 2012
Selected Oral Presenter; Behavior, Biology, and Chemistry: Translational Research in Addiction Conference – Mar 2012
NIDA and Howard Hughes Medical Institute (HHMI) Award; Genetics of Addiction Short Course at the Jackson Laboratory – Aug 2012
---
SCHOLARSHIPS AND FELLOWSHIPS:
Chicago Biomedical Consortium Scholarship – 2014-2015
Neuroscience Scholars Program Fellowship; Society for Neuroscience – 2012-2015
HHMI Med-into-Grad Translational Training Program; University of Chicago – 2011-2013
Pritzker Fellowship in Neuroscience for Academic Achievement; University of Chicago – 2011
NIDA Training Program in Substance Abuse Research; University of Chicago – 2010-2013
Scholar Recognition Award (Academic Scholarship); University of Michigan – 2005-2009
College of Literature, Science, & the Arts Dean's Merit Scholarship; University of Michigan – 2005-2009