Updated: February 6, 2013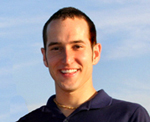 Matthew Curtis
CBC Scholar: Class of 2010
Department of Physiology and Biophysics, UIC, Advisor: Brenda Russell
RUSSELL LAB WEBPAGE
On May 19, 2011, Matt successfully defended his thesis: "Engineered Microdomains Regulate the Molecular, Biological, and Mechanical Function of Cardiac Cells." Congratulations!

Currently, Matt works at Carl Zeiss Microscopy as the midwest 3D imaging specialist, based in Chicago.
PUBLICATIONS:
Doroudian G, Curtis MW, Gang A, Russell B. Cyclic strain dominates over microtopography in regulating cytoskeletal and focal adhesion remodeling of human mesenchymal stem cells. Biochem Biophys Res Commun. 2013 Jan 18;430(3):1040-6. (PubMed)
Curtis MW, Budyn E, Desai TA, Samarel AM, Russell B. Microdomain heterogeneity in 3D affects the mechanics of neonatal cardiac myocyte contraction. Biomech Model Mechanobiol. 2013 Jan;12(1):95-109. (PubMed)
Curtis MW, Russell B. Micromechanical regulation in cardiac myocytes and fibroblasts: implications for tissue remodeling. Pflugers Arch. 2011 Jul;462(1):105-17. (PubMed)
Curtis MW, Sharma S, Desai TA, Russell B. Hypertrophy, gene expression, and beating of neonatal cardiac myocytes are affected by microdomain heterogeneity in 3D.Biomed Microdevices. 2010 Dec;12(6):1073-85. (PubMed)
Russell B, Curtis MW, Koshman YE, Samarel AM. Mechanical stress-induced sarcomere assembly for cardiac muscle growth in length and width. J Mol Cell Cardiol. 2010 May;48(5):817-23. (PubMed)
Curtis MW, Russell B. Cardiac tissue engineering.J Cardiovasc Nurs. 2009 Mar-Apr;24(2):87-92. Review. (PubMed)
AWARDS AND SERVICE:
CBC Scholar 2010-2011
Volunteer Judge, 61st Annual Chicago Student Science Fair, March 2011
Guest Judge (Undergraduate Life Sciences), University of Illinois Student Research Forum, April 2011.