Updated: September 24, 2015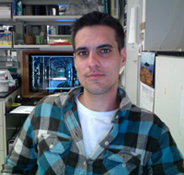 Michael Stephen Werner
CBC Scholar: Class of 2013
PhD Candidate, Department of Molecular Genetics and Cell Biology, University of Chicago, Advisor: Alexander Ruthenburg
RUTHENBURG LAB WEBPAGE
RESEARCH INTERESTS:
Over the last decade it has become apparent that non-coding microRNA, and more recently long non-coding RNA (lncRNA), are intricately woven into regulatory gene networks. One of the most exciting discoveries to come out of these studies is that certain lncRNAs can recruit repressive histone-modifying complexes to specific genes, and thereby affect epigenetic silencing. There are now hints that parallel mechanisms may exist to recruit activating histone-modifying complexes. I am exploring the hypothesis that lncRNAs serve as a bridge between the human histone methyltransferase complex Mixed Lineage Lukemia (MLL) and its gene targets. I am also interested in deciphering how lncRNAs recruit histone-modifying enzymes to gene targets in molecular detail, and if there are common RNA structural motifs that define a methyltransferase 'binder'. By utilizing the tools of molecular biology, bioinformatics, and biochemistry, we hope to contribute towards a consensus model for the largest subclass of the genome's "dark matter."
PUBLICATIONS:
Werner MS, Ruthenburg AJ. Nuclear Fractionation Reveals Thousands of Chromatin-Tethered Noncoding RNAs Adjacent to Active Genes. Cell Rep. 2015 Aug 18;12(7):1089-98. (PubMed)
Werner M, Ruthenburg AJ. The United States of histone ubiquitylation and methylation. Mol Cell. 2011 Jul 8;43(1):5-7. (PubMed)
AWARDS AND HONORS:
Chicago Biomedical Consortium (CBC) Scholar, 2013-2014
BSD Travel Award, 2013
Teaching Assistant Prize, University of Chicago, 2011-12
Honorable Mention, Ford Foundation Pre-doctoral Fellowship, 2011
Honorable Mention, NSF Pre-doctoral Fellowship, 2010
NSF Research Experience Undergraduate (REU) Fellowship, 2008
OUTREACH:
Judge, Chicago Public Schools Student Science Fair, March 2013
Mercy Home tutor, 2011-current
ACTIVITIES:
Marathons, Rock Climbing, Guitar, and spending time with my dog.