Updated: March 13, 2013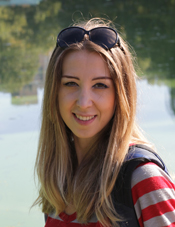 Sevim Yildiz Arslan
CBC Scholar: Class of 2011
PhD Candidate, Department of Microbiology and Immunology, UIC; Advisor: Howard Lipton
LIPTON LAB WEBPAGE
On December 11, 2012, Sevim successfully successfully defended her thesis: "Regulation of Theiler's Virus Induced Cell Death." Congratulations!
RESEARCH INTERESTS:
My research objectives are to gain a more detailed knowledge of the possible role of Theiler's murine encephalomyelitis virus (TMEV)-induced cell death during TMEV persistence in the mouse central nervous system (CNS). Studying the cellular mechanisms involved in regulation of viral infectivity is crucial for understanding the persistent CNS infection. However, the involvement of cellular genes that regulate TMEV persistence remains largely unexplored. Extensive evidence demonstrates that the anti-apoptotic Bcl-2 family plays a major role in regulating apoptosis in immune cells. I am studying the mode of BeAn virus-induced cell death in BHK-21 cells, the role of Bcl-2 family pro-survival proteins and the effect of apoptosis and necrosis on TMEV replication. To investigate the role of Bcl-2 family proteins on TMEV-induced cell death in greater details, we generated a stable transfected BHK-21 cell line that expresses low levels of these proteins. Analysis of one-step growth kinetics in knock-down cells will be performed to determine virus titers. These studies will provide a better understanding of the regulation of TMEV-induced cell death and help elucidate the nature of the persistent CNS infection.
The loss of infectivity during BeAn-infection of murine macrophages has been demonstrated to be temporally associated with apoptosis. However, the mechanism that leads to the loss of infectious virus is not understood. I am also studying viral RNA replication, protein synthesis and viral assembly in various cell lines that undergo apoptosis or necrosis. These studies hopefully will shed some light on the mechanism of how apoptotic cell death regulates the TMEV life cycle that results in loss of capsid integrity and of infectivity.
PUBLICATIONS:
Arslan SY, Son KN, Lipton HL. The anti-apoptotic Mcl-1 protein controls the type of cell death in Theiler's virus-infected BHK-21 cells. J Virol. 2012 Feb;86(4):1922-9. (PubMed)
Arslan SY, Leung KP, Wu CD. The effect of lactoferrin on oral bacterial attachment. Oral Microbiol Immunol. 2009 Oct;24(5):411-6. (PubMed)
Fan J, Son KN, Arslan SY, Liang Z, Lipton HL. Theiler's murine encephalomyelitis virus leader protein is the only nonstructural protein tested that induces apoptosis when transfected into mammalian cells. J Virol. 2009 Jul;83(13):6546-53. (PubMed)
Imbesi M, Yildiz S, Dirim Arslan A, Sharma R, Manev H, Uz T. Dopamine receptor-mediated regulation of neuronal "clock" gene expression. Neuroscience. 2009 Jan 23;158(2):537-44. (PubMed)
Imbesi M, Arslan AD, Yildiz S, Sharma R, Gavin D, Tun N, Manev H, Uz T. The melatonin receptor MT1 is required for the differential regulatory actions of melatonin on neuronal 'clock' gene expression in striatal neurons in vitro. J Pineal Res. 2009 Jan;46(1):87-94. (PubMed)
Imbesi M, Uz T, Yildiz S, Arslan AD, Manev H. Drug- and region-specific effects of protracted antidepressant and cocaine treatment on the content of melatonin MT(1) and MT(2) receptor mRNA in the mouse brain. Int J Neuroprot Neuroregener. 2006. 2: p. 185-9. (PubMed)
Dimitrijevic N, Dzitoyeva S, Satta R, Imbesi M, Yildiz S, Manev H. Drosophila GABA(B) receptors are involved in behavioral effects of gamma-hydroxybutyric acid (GHB). Eur J Pharmacol. 2005 Sep 20;519(3):246-52. (PubMed)
AWARDS AND ACTIVITIES:
Judge, Chicago Public Schools Student Science Fair, March 2012
American Heart Association Midwest Affiliate Predoctoral Fellowship, 2011-2013
W.C. and May Deiss Award for Biomedical Research, 2011-2012
American Society for Virology (ASV) Student Travel Grant, 2011
Chicago Biomedical Consortium (CBC) Scholar Recipient, 2011-2012
Judge, Chicago Public Schools Student Science Fair, March 24-27, 2011, Museum of Science and Industry, Chicago, IL