Updated: December 3, 2015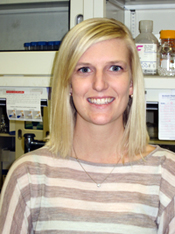 Susan Klosterman
CBC Scholar: Class of 2012
PhD Candidate, Department of Biological Sciences (MCDB); Advisor: Janet Richmond
RICHMOND WEBPAGE
On December 6, 2012, Susan successfully successfully defended her thesis: "Control of Synaptic Transmission through SNARE Complex Regulation." Congratulations!
RESEARCH INTERESTS:
Since joining the Richmond lab in 2009, I have been examining molecular components that regulate the assembly and function of the SNARE complex in Caenorhabditis elegans. The SNARE complex is the core machinery required for synaptic vesicle fusion competence, so regulators of this process can impact synaptic transmission, learning, and memory. Our lab has established that tomosyn (TOM-1) negatively regulates synaptic function by interacting with the SNARE complex to inhibit vesicle fusion competence. I have been working to identify novel factors that regulate TOM-1, and to determine how it is trafficked to the synapse. I have identified a protein (VPS-39) which alters the expression of a TOM-1::GFP reporter construct, and has a functional role in synaptic transmission. I have examined the endogenous expression pattern of VPS-39 by cloning it under its own promoter, and established that it is expressed in neurons and many other tissues. I am currently conducting experiments to determine the consequences of deleting this gene, and conversely over-expressing this protein in an intact living organism. We plan to fully characterize VPS-39 by conducting behavioral, pharmacological, electrophysiological, and ultrastructural analyses.
I have also been studying the genetic interaction between Synaptotagmin (SNT-1), a protein which associates with the SNARE complex and its binding partner, Snapin (SNPN-1). Our phenotypic analyses of loss-of-function mutants suggest that both proteins are involved the promotion of synaptic vesicle fusion. Currently, we are working to address whether these proteins are acting in the same pathway or if they are functioning independently of each other. SNT-1 is also a known binding partner of TOM-1, and so most recently I have been interested in determining the significance of this interaction.
PUBLICATIONS:
Yu SC, Klosterman SM, Martin AA, Gracheva EO, Richmond JE. Differential roles for snapin and synaptotagmin in the synaptic vesicle cycle. PLoS One. 2013;8(2):e57842. (PubMed)
Burdina AO, Klosterman SM, Shtessel L, Ahmed S, Richmond JE. In Vivo Analysis of Conserved C. elegans Tomosyn Domains. PLoS One. 2011;6(10):e26185. (PubMed)
AWARDS:
Judge, Chicago Public Schools Student Science Fair, March 2012
CBC Scholar 2012
UIC Teaching Excellence Award