Updated: May 15, 2012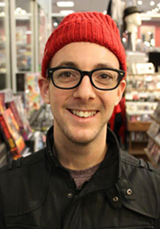 Timothy Best
CBC Scholar: Class of 2012
PhD Candidate, The Committee on Cancer Biology, UChicago; Advisor: Kenan Onel
ONEL LAB WEBPAGE
On April 26, 2012, Tim successfully successfully defended his thesis: "Cancer Risk at the Interface of Genomics and the Environment." Congratulations!
RESEARCH INTERESTS:
Timothy is interested in understanding genetic susceptibility to Hodgkin's lymphoma and to late adverse outcomes following successful treatment. In a genome-wide association study of Hodgkin's lymphoma, he demonstrated that multiple independent alleles at the HLA locus on chromosome 6 were associated with the disease. Hodgkin's lymphoma is frequently treated with high dose radiation, which, while often curative, has has been linked to the development of second primary cancers later in life. To identify genetic risk factors for these radiation-induced cancers he performed another genome-wide association study in Hodgkin's lymphoma survivors, of whom half developed a second malignancy. He showed that variants localizing to the PRDM1 gene locus were significantly and reproducibly associated with radiation-induced cancers. Further, he demonstrated that carriage of these variants had a profound effect on PRDM1 expression following ionizing radiation. He is currently working on elucidating the mechanistic regulators of PRDM1 expression in the context of radiation exposure.
PUBLICATIONS:
Cozen W, Li D, Best T, Van Den Berg DJ, Gourraud PA, Cortessis VK, Skol AD, Mack TM, Glaser SL, Weiss LM, Nathwani BN, Bhatia S, Schumacher FR, Edlund CK, Hwang AE, Slager SL, Fredericksen ZS, Strong LC, Habermann TM, Link BK, Cerhan JR, Robison LL, Conti DV, Onel K. A genome-wide meta-analysis of nodular sclerosis Hodgkin lymphoma identifies risk loci at 6p21.32. Blood. 2012 Jan 12;119(2):469-75. (PubMed)
Doçi CL, Mankame TP, Langerman A, Ostler KR, Kanteti R, Best T, Onel K, Godley LA, Salgia R, Lingen MW. Characterization of NOL7 Gene Point Mutations, Promoter Methylation, and Protein Expression in Cervical Cancer. Int J Gynecol Pathol. 2012 Jan;31(1):15-24. (PubMed)
Best T, Li D, Skol AD, Kirchhoff T, Jackson SA, Yasui Y, Bhatia S, Strong LC, Domchek SM, Nathanson KL, Olopade OI, Huang RS, Mack TM, Conti DV, Offit K, Cozen W, Robison LL, Onel K. Variants at 6q21 implicate PRDM1 in the etiology of therapy-induced second malignancies after Hodgkin's lymphoma. Nat Med. 2011 Jul 24;17(8):941-3. doi: 10.1038/nm.2407. (PubMed)
Best T, Skol AD, Onel K. The Translation Potential of Genomics in Cancer. ASCO Educational Book. 2011.
AWARDS AND HONORS:
Judge, Chicago Public Schools Student Science Fair, March 2012
CBC Scholar, 2012
Chicago Cancer Research Foundation Elaine Ehrman Award, 2011
Schreyer Honors College, 2003-2007
Academic Excellence Scholarship, 2003-2007
Braddock Scholarship for Scientific Excellence, 2003-2007
National Merit Scholarship Finalist, 2003
TEACHING EXPERIENCE:
Teaching Assistant, Genomics and Systems Biology in Cancer, The University of Chicago, Chicago, IL, Spring 2011
Teaching Assistant, Cell Biology, The University of Chicago, Chicago, IL, Autumn 2010
Teaching Assistant, Signal Transduction and Model Organisms, The University of Chicago, Chicago, IL, Spring 2010
Teaching Assistant, Cell Biology, The University of Chicago, Chicago, IL, Autumn 2009
Tutor, Math and Science, Morgan Academic Center for Student-Athletes, The Pennsylvania State University, University Park, PA, 2004-2007
Teaching Assistant, Physical Chemistry, The Pennsylvania State University, University Park, PA, Spring 2006
ACTIVITIES:
Avid marathon runner