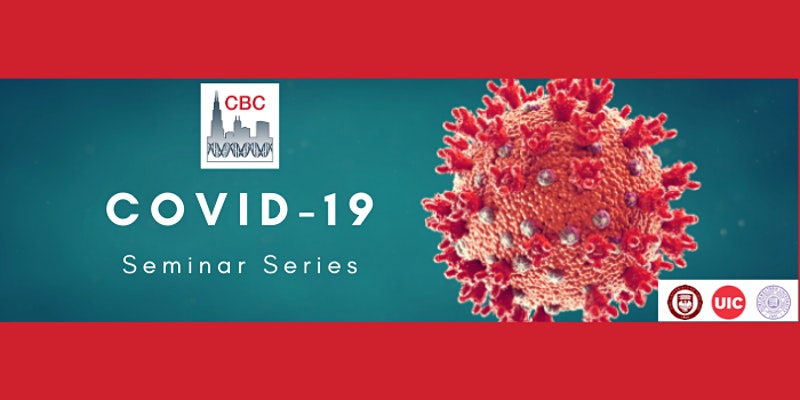 The Chicago Biomedical Consortium (CBC) and the CBC COVID-19 Response Award recipients present a series of virtual (via ZOOM) townhall meetings during which our invited speakers will discuss ongoing SARS-CoV-2/COVID-19 biomedical research. The intent of this seminar series is to create a Chicago-centric forum that brings together people around the many aspects of COVID-19 and provide a new form of interaction to exchange ideas and commentary.
The CBC COVID-19 Seminar Series will occur every fourth Thursday of the month. Below, please find a list of the meeting dates and save the dates to your calendar. Registration and meeting details will be made available at the first of every month.
---
COMING UP NEXT:
Date: Thursday, April 22, 2021
Time: 4:00PM – 5:00PM
Location: Virtual via ZOOM
Speaker: Savas Tay, PhD
Associate Professor of Molecular Engineering
Pritzker School of Molecular Engineering
The University of Chicago
Talk Title: Drug repurposing for COVID-19 and future pandemics
Registration is required. A link to the webinar will be provided upon registration.
▸ Register here
---
​​Dr. Savas Tay is Associate Professor at the Pritzker School of Molecular Engineering, and the Institute for Genomics and Systems Biology, at The University of Chicago. His scientific goal is to understand "how life works" from an engineer's perspective, and to manipulate biological systems to solve major problems in medicine. Dr. Tay adopts a Systems Biology and Biotechnology approach to biological research, by developing technologies for high-throughput quantitative measurements of single live cells, and by integrating experimental biology and mathematical modeling.
An overview of Dr. Tay's talk:
There is an urgent need for anti-viral agents that treat SARS-CoV-2 infection, as current drugs have been ineffective in clinical trials, and vaccines are not effective for already infected patients. The ideal drug would be effective, safe, and orally available for treatment of patients before they are admitted to the hospital. The shortest path to clinical drug use is repurposing of drugs that have an established safety profile in humans. After screening a library of 1,900 known drugs, we found nearly 50 candidate drugs that have broad anti-viral activity against SARS-CoV-2 and the common cold virus OC43. One of these drugs is masitinib, which was previously developed to treat cancer. Masitinib strongly inhibits two distinct beta-coronaviruses and multiple picornaviruses that cause human disease. Masitinib is an orally available drug (unlike Remdesivir), which makes it a very strong candidate for use in patients who are not hospitalized, and acts by inhibiting the main protease of the virus, which makes it less likely to be affected by mutations on the spike protein. I will also talk about our drug discovery pipeline and the technological developments in high throughput screening, and how these tools could be applied to future pandemics for rapid discovery of repurposed and effective drugs.
---
SAVE THE DATE!
Thursday, May 27, 2021
▸ SARS-CoV-2 Viral Genomics And Variation In The Chicago Region
Speaker: Egon Ozer, Assistant Professor of Medicine, NU
Thursday, June 24, 2021
▸ Autoantibodies Against Angiotensinii Generated by COVID Infection and its Correlation With Disease Severity and Blood Pressure Dysregulation in Hospitalized Patients
Speaker: Melody Swartz, William B. Ogden Professor of Molecular Engineering and Deputy Dean for Faculty Affairs, UChicago
Thursday, July 22, 2021
▸ Long Haul COVID-19
Speakers from UIC, NU & UChicago
---
Below, please find a list of past talks from the seminar series. By clicking on the title, you will access the full video presentation of the talk.
---