CBC Science Day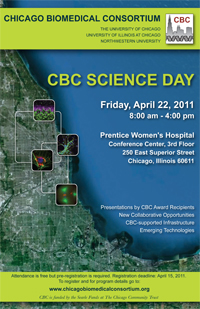 DATE: April 22, 2011
TIME: 8:00 AM – 4:00 PM
LOCATION: Prentice Women's Hospital Conference Center
250 East Superior Street, Chicago, Illinois 60611
---
CBC investigators and CBC-supported projects will be represented in scientific presentations and/or the poster session. The main goal of Science Day is to highlight the impact of CBC awards on research progress and to provide a platform for scientific exchange to researchers at CBC universities. In addition, Science Day will feature CBC-supported facilities, and the CBC Scholars will present posters describing their thesis research. The event is free of charge and is open to all researchers from UChicago, UIC and NU but pre-registration is required and will be limited to the first 250 attendees.
Come and join the CBC in this event!
Discounted parking will be available to Science Day attendees in C-Lot which is located directly south of Prentice Women's Hospital. C-Lot can be entered from either East Superior (a one way running East) or from East Huron (a one way running west). The entrances to C-Lot are 222 East Superior and 222 East Huron. Please request a parking voucher at the Science Day registration desk located in the 3rd floor conference center of Prentice Women's Hospital. Additional parking information can be found here.
Map of Prentice location and parking lot C.
To download the CBC Science Day 2011 announcement (pdf) click here.
PROGRAM
8:00 – 8:45 AM
Registration, Continental Breakfast and Poster set-up
8:45 – 8:50 AM
Welcome and Opening Remarks

Katie Stallcup, CBC Executive Director

Levin Bernick Auditorium
PLENARY SESSION I: CBC-SUPPORTED INFRASTRUCTURE
Moderator, Rick Morimoto, NU CBC Scientific Director
(20 minute presentations, 15 minutes for discussions)
Levin Bernick Auditorium
8:50 – 9:10 AM
Chicago Center for Systems Biology (CCSB)
Kevin White (UChicago)
9:10 – 9:25 AM Discussion
9:25 – 9:45 AM
Chicago Tri-Institutional Center for Chemical Methods and Library Development (CTCMLD)
Sergey Kozmin (UChicago)
9:45 – 10:00 AM Discussion
10:00 – 10:30 AM
Coffee Break
Atrium
10:30 – 10:50 AM
Nanomaterials for Cancer Diagnostics and Therapeutics: Center for Cancer Nanotechnology Excellence (CCNE)
David Eddington (UIC)
10:50 – 11:05 AM Discussion
11:05 – 11:25 AM
Proteomics Center of Excellence (PCE)
Neil Kelleher (NU)
11:25 – 11:40 AM Discussion
11:45 – 1:45 PM
LUNCH AND POSTER SESSION
Atrium
11:45 – 12:45 PM Even Numbered Posters
12:45 – 1:45 PM Odd Numbered Posters
PLENARY SESSION II: COOL TECHNOLOGIES
Moderator, Brenda Russell, UIC CBC Scientific Director
(10 minute presentations, 5 minutes for discussions)
Levin Bernick Auditorium
1:45 – 1:55 PM
Using High-affinity Synthetic Reagents to Study Cellular Dynamics
Tony Kossiakoff (UChicago)
1:55 – 2:00 PM
Discussion
2:00 – 2:10 PM
High-resolution Cryo-capable STEM for Element-specific Cellular Imaging
Tom O'Halloran (NU)
2:10 – 2:15 PM Discussion
2:15 – 2:25 PM
Magnetic Resonance Imaging and Visualization Agents
Tom Meade (NU)
2:25 – 2:30 PM Discussion
2:30 – 2:40 PM
Visualization Technique for Protein:Protein Interactions in Cells
Larry Miller (UIC)
2:40 – 2:45 PM Discussion
2:45 – 2:55 PM
New Insights into the Biologic Role of Noncoding RNA
Erik Sontheimer (NU)
2:55 – 3:00 PM Discussion
3:00 – 3:10 PM
Changes in Cellular Signaling Pathways Measured by High Throughput Screening
Debra Tonetti (UIC)

3:10 – 3:15 PM Discussion
3:15 – 4:00 PM
Reception
Atrium
4:00 PM
Adjourn

SEE ALSO:
---