3rd Annual CBC Symposium
"Proteomics and Informatics"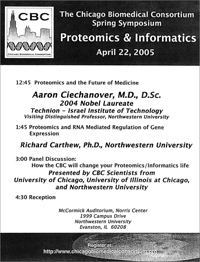 DATE: April 22, 2005
TIME: 12:45 PM – 4:30 PM
LOCATION: Northwestern University
McCormick Auditorium, Norris Center
1999 Campus Drive
Evanston, IL
---
Nobel Laureate Aaron Ciechanover, PhD delivered the keynote address at a free public symposium, "Proteomics and Informatics," on Friday, April 22, sponsored by the Chicago Biomedical Consortium.
The CBC acquired a Fourier Transform Mass Spectrometer (FTMS), the world's most powerful tool for studying the structures of proteins and other biomolecules. The special symposium focused on how researchers can take advantage of the new technology and related analytic techniques when addressing the basic questions of proteomics (the study of proteins and their functions).
Ciechanover, who, together with two others, received the 2004 Nobel Prize in Chemistry for the discovery of a key way cells destroy unwanted proteins, spoke on "Proteomics and the Future of Medicine." Ciechanover, Distinguished Professor at the Rappaport Family Institute for Research in the Medical Sciences at the Technion (Israel Institute of Technology), Haifa, was visiting professor at Northwestern University Feinberg School of Medicine.
Following Ciechanover's address, Richard Carthew, PhD, professor of biochemistry, molecular biology and cell biology at Northwestern, spoke on "Proteomics and RNA Mediated Regulation of Gene Expression." Dr. Carthew's talk was followed by Alexander Schilling, PhD, Director, Proteomic and Informatics Services Proteomic Services Facility, UIC. The event concluded with a panel discussion entitled "How the CBC Will Change Your Proteomics/Informatics Life."
---
see also:
---