10th Annual CBC Symposium
"Epigenomics"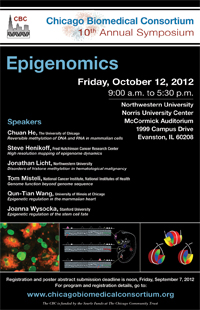 DATE: Friday, October 12, 2012
TIME: 9:00 AM – 5:30 PM
LOCATION: Northwestern University
Norris University Center, McCormick Auditorium
1999 Campus Drive, Evanston, IL 60208
---
Symposium Recap
Epigenomics Experts lead the 10th Annual CBC Symposium
November 14, 2012
Scientific leaders in the field of Epigenomics presented their research at the 10th Annual CBC Symposium: Epigenomics, which was held on Friday, October 12, 2012, at the Norris University Center on the Northwestern University Evanston campus. The scientific organizers of this event were Jason Brickner (NU), Alex Ruthenburg (UChicago), Tom Diekwisch (UIC) and Shohei Koide (UChicago CBC Scientific Director). The organizers recruited 6 outstanding speakers, 3 from the CBC universities and 3 from external institutions.
Shohei Koide, CBC Scientific Director at UChicago, gave the introductory remarks and opened the meeting. The outside speakers included Steve Henikoff, a Howard Hughes Investigator from Fred Hutchinson Cancer Research Institution in Seattle, Washington. The title of Steve's talk was "High resolution mapping of epigenome dynamics." Tom Misteli, a senior investigator at the National Cancer Institute, gave an eloquent talk on "Genome function beyond genome sequence." The meeting concluded with a talk entitled "Epigenetic regulation of the stem cell fate" by Joanna Wysocka, an Assistant Professor in the Department of Chemical and Systems Biology at Stanford University. The symposium also featured talks by exceptional scientists from the three CBC universities. Jonathan Licht, a Professor of Medicine at Northwestern University, presented his research on "Disorders of histone methylation in hematological malignancy." A talk entitled, "Reversible methylation of DNA and RNA in mammalian cells," was given by Chuan He, a Professor of Chemistry at UChicago. UIC researcher Qun-Tian Wang, an Assistant Professor in the Department of Biological Sciences, presented her work on "Epigenetic regulation of the stem cell fate."
A "Data Blitz" featuring short talks by selected poster presenters concluded the morning session. The selected speakers were Michael Beshiri (UIC, graduate student in Elizaveta Benevolenskaya Lab), Kara Foshay (UChicago, post-doc in Brian Lahn Lab), Gokul Gopinath (UIC, post-doc in Tom Diekwisch Lab), Takamitsu Hattori (UChicago, post-doc in Shohei Koide lab), William Light (NU, post-doc in Jason Brickner lab) and Zhaolin Zhang (NU, post-doc in Ann Harris lab).
The symposium also included an interactive poster session. Thirty posters were presented during the session and provided an excellent forum for graduate students and postdoctoral fellows to discuss their current research. The meeting was attended by 249 attendees and concluded with a networking reception at which cake was shared to celebrate the 10th Annual CBC Symposium.
PHOTOS: Joanna Wysocka (Stanford) talks on "Epigenetic regulation of the stem cell fate" (left). CBC celebrates the 10th Annual Symposium. (Photos: CBC)
---
see also
▸ Symposium program
▸ Symposium announcement
---