April 11, 2011
The CBC welcomes new Scientific Director for the University of Chicago, Shohei Koide
---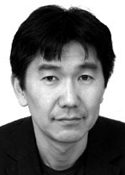 The CBC is pleased to announce that Shohei Koide, PhD has become the new CBC Scientific Director for the University of Chicago. Dr. Koide was nominated by the University of Chicago Provost Thomas Rosenbaum and his appointment was approved by Northwestern Provost Daniel Linzer and UIC Acting Provost Jerry Bauman. Dr. Koide's official term began April 1, 2011. He joins Scientific Directors Rick Morimoto and Brenda Russell, from Northwestern and UIC, respectively. The CBC Scientific Directors work closely with the philanthropists, faculty researchers, administrators, and CBC staff members who together advance the CBC's mission of fostering and strengthening collaborative research.
Dr. Koide, Professor of Biochemistry & Molecular Biology at the University of Chicago, is well known for his research in protein engineering, design and folding. His current research focuses on designing proteins with novel functions and utilizing such 'designer' proteins toward understanding biology and controlling aberrant proteins responsible for human diseases. Dr Koide's research is interdisciplinary, integrating approaches in structural biology, directed evolution, protein biochemistry, spectroscopy and cell biology – research areas that fit well with the CBC mission and span the Physical and Biological Sciences Divisions at the University of Chicago.
Dr. Koide will follow in the footsteps of Jonathan Silverstein, MD, one of the founders of the CBC. Jonathan stepped down from his role as the University of Chicago CBC Scientific Director in January 2011, to join NorthShore University HealthSystems Research Institute as the Vice President for Clinical Research Informatics.
Dr. Koide joins CBC Program Manager Jola Glotzer as the primary University of Chicago liaisons with the CBC. Welcome, Shohei!
---