April 15, 2014
Fifth Annual CBC Scholars Scientific Exchange
---

The Fifth Annual CBC Scholars Scientific Exchange was held on March 28, 2014. Sixteen CBC Scholars from Northwestern University (NU), University of Chicago (UChicago), and the University of Illinois at Chicago (UIC) gathered at the Gleacher Center for the annual all day meeting. The Scientific Exchange provided a scholarly, but informal, environment for the graduate students to share research results and ideas. This event was also an opportunity for the scholars to discuss ideas for future CBC Scholar activities and ways to foster additional interactions between the three CBC universities.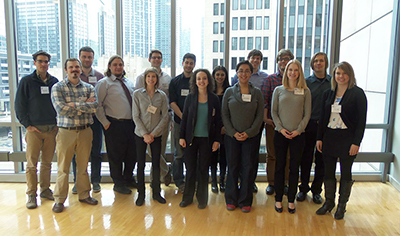 The presentations covered a broad range of science topics including Chemistry, Biomedical Engineering, Neurobiology, Molecular Genetics, Biopharmaceutical Sciences and many more. Each Scholar presented a ten-minute 'glimpse' of their dissertation projects followed by a Q&A discussion. One UChicago student described his work using nanowires in intracellular interactions, which could ultimately lead to these materials being used as intracellular force probes. A NU Scholar is investigating transplant tolerance using antigen-loaded biodegradable PLG particles with the hope that this will lead to the development of a specific tolerance therapy for modern day transplantation procedures. And one UIC student is using a variety of technologies to identify potential drug targets on the influenza A virus which could lead to the development of small molecule inhibitors that block viral entry, the first step in virus infection.
The event ended with many Scholars staying afterwards to explore potential research collaboration between various labs.
---
SEE ALSO
---