April 7, 2014
"Bringing STEM Home" – CBC Scholars volunteer at 64th Annual CPS Science Fair
---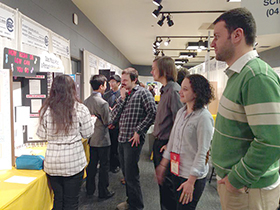 Once again, members of the CBC Scholars Program volunteered their time and knowledge to help judge at the 64th Annual Chicago Public Schools (CPS) Science Fair. On March 23rd, 2014, nine CBC Scholars took a morning off from the laboratory and headed to the Museum of Science and Industry to take a look at what the next generation of scientists has been working on in the past year. Four Scholars from the Class of 2013 and five from the Class of 2014 judged middle school and high school science projects in fields ranging from Biochemistry and Physics to Microbiology and Chemistry. Each Scholar evaluated 5 to 7 projects in total. Each project was assessed based on creativity, scientific method, the hypothesis to be tested, the overall experimental design and the conclusions drawn from the data.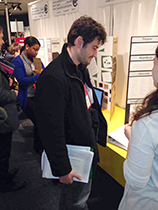 Many of the projects at the Fair were quite impressive and the topics presented were very diverse. A few favorites included one project presented by a middle school student who investigated how carbon dioxide levels impact the rate of plant cell division; another that involved work aimed to experimentally determine how antibiotic treatment can lead to the development of antibiotic resistance in bacteria; and yet another which looked at how different salt solutions could be used to power model cars. Other exciting projects tackled the growing problem of diabetes with one student investigating how well yeast can grow on artificial sweeteners, with the aim of identifying potential sugar substitutes for making bread, while a second student conducted experiments to quantify the amount of sugar present in a variety of milkshakes. A few other promising young scientists explored how an acetylation inhibitor can impact cellular differentiation and conducted experiments to determine the efficiency of biodiesel production using just vegetable oil, methanol and a catalyst.
Overall, the Scholars were not only impressed with the diversity and quality of the projects but also enjoyed the opportunity to interact with the next generation of scientists.
PHOTOS: Chicago Public Schools 64th Annual Science Fair at the Museum of Science and Industry, Hyde Park, Chicago, March 23, 2014. (Text: UChicago CBC Scholar Michael Gebhardt; Photos: UIC CBC Scholar Aleksandar Antanasijevic)
---
SEE ALSO
▸ 64th Annual Chicago Public Schools (CPS) Science Fair
---