January 8, 2013
Welcome Aboard CBC Scholars Class of 2013!
---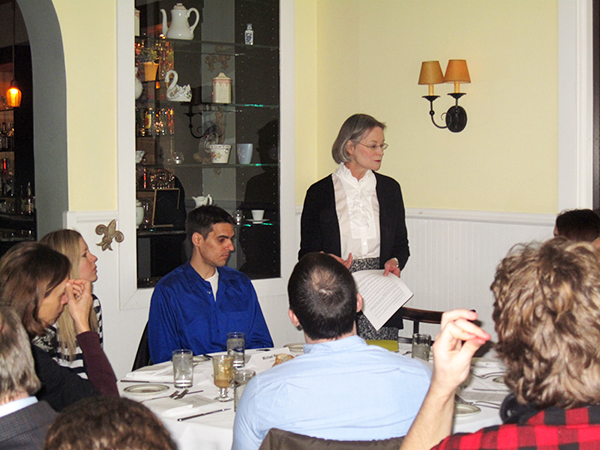 Nine new CBC Scholars were welcomed to the CBC at a luncheon on January 7, 2013 at Bistrot Margot in Chicago's Old Town neighborhood. The new Scholars – three from each of the CBC universities — were joined by the Class of 2012, the CBC Scientific Directors and members of the CBC staff. The CBC Scholars Program is in its fourth year of operation and aims to develop a leadership forum for students from the three CBC universities to advance the CBC mission of fostering collaboration and excellence.
During the lunch, each Scholar presented a short summary of their thesis research and discussed future events that the Scholars would like to organize and participate in. Their 2013 agenda includes fostering the 'Loop Connections' seminar series, serving as judges at the Chicago Public Schools Science Fair, attending the Annual Scholars Scientific Exchange at which short research talks are given by each Scholar and expanding their involvement in the CBC Annual Symposium. The Scholars also expressed interest in developing new outreach programs geared towards undergraduates and in career development workshops.
The CBC is delighted to introduce the Class of 2013:
Northwestern University:
Kelan Hlavaty, Department of Chemical and Biological Engineering, PI: Lonnie Shea
Kristan Leech, Department of Physical Medicine and Rehabilitation, PI: T. George Hornby
Daniel Wells, Department of Engineering Sciences and Applied Mathematics, PIs: William Kath and Adilson Motter
University of Illinois at Chicago:
Sarah Baumgarten, Department of Physiology and Biophysics, PI: Carlos Stocco
Fatima A. Khaja, Department of Biopharmaceutical Sciences, PI: Hayat Onyuksel
Brian Shy, Department of Biochemistry and Molecular Genetics, PI: Bradley Merrill
The University of Chicago:
Michelle Boland, Committee on Molecular Metabolism and Nutrition (BSD*) PI: Kay F. Macleod
James T. Payne, Department of Chemistry (PSD*), PI: Jared C. Lewis
Michael S. Werner, Department of Molecular Genetics and Cell Biology (BSD*), PI: Alex Ruthenburg
*BSD – Biological Sciences Division; PSD – Physical Sciences Division
---