CBC Tech Day 2014 Drives Science Forward
DATE: June 16, 2014
LOCATION: Prentice Women's Hospital
Conference Center, 3rd floor
250 East Superior Street, Chicago, Illinois 60611
---
Tech Day Recap
July 2, 2014
The CBC hosted its second Tech Day event "Cutting-Edge Technologies – Driving Science Forward", on June 16, 2014. Over 220 researchers attended the panel discussions and short presentations, which highlighted current biomedical technologies, exciting new and advanced technologies, and ideas for future cores.  The event had three key purposes:
to showcase the core facilities that are available at the three CBC universities
to provide a platform for learning about hot emerging technologies
to foster engagement between the core facilities and the larger research community in the city
The invited speakers and panelists addressed a broad range of topics, including Synthetic Antibodies, Nanomaterials, Genomics, Molecular and Cellular Imaging, Small Molecule Screening, Metabolomics and other new emerging technologies. Teng-Leong Chew (HHMI at Janelia) ended the talks with an overview of the new imaging technologies currently found at the Advanced Imaging Center (AIC) at Janelia Farms and the description of a new AIC grant program that offers selected researchers an opportunity to access the Janelia instruments free of charge.
The subsequent lunch and poster session were very well attended.  Researchers were able to view 58 posters, interact with core facility representatives, and learn about different projects utilizing these facilities. Interest among the attendees was high, as the poster session remained crowded and lively until the end of the event.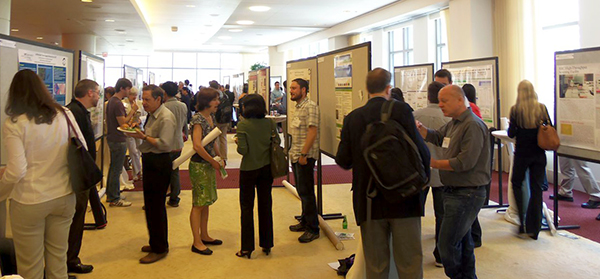 Tech Day achieved the goal of publicizing the broad range of core facilities across the CBC universities.  In addition, thanks to the recently approved Open Access Initiative, CBC-affiliated researchers will not have to pay overhead charges when using core facilities at other CBC universities – thus increasing access to an array of outstanding technologies.
---
SEE ALSO:
▸ Directory of biomedical-related core facilities available to the CBC community
---