July 26, 2017
Members of the CBC Accelerator Network (CBCAN) discuss the new CBC Accelerator Award program at the second CBCAN meeting
---
The second CBCAN meeting took place on July 20, 2017 at the Prentice Women's Hospital in downtown Chicago.
Like the inaugural CBCAN meeting, the July 20 meeting was by invitation only. Close to 90 people attended, including faculty and administration representatives of the three CBC universities, representatives of local industry such as AbbVie, Baxter, and Eli Lilly, biotech startups such as ClostraBio and Novalex Theurapeutics, additional companies including Shamrock Structures, and representatives of the local biomedical community, including members of MATTER, iBIO, PROPEL and Flavin Ventures.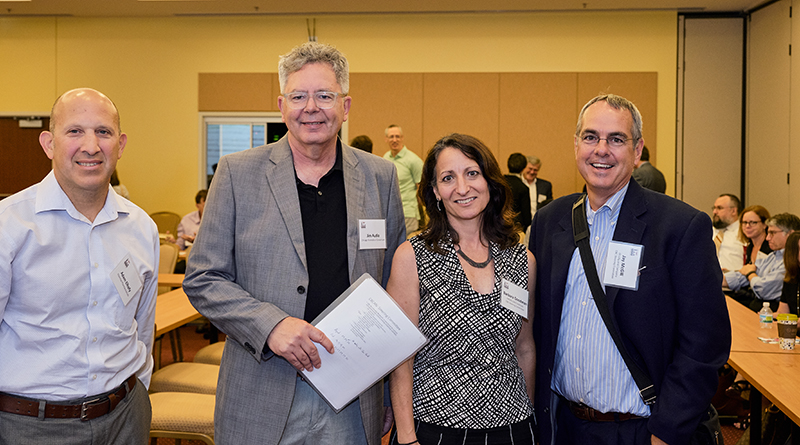 Katie Stallcup, CBC Executive Director, opened the meeting by welcoming all guests and introducing Jim Audia (second from the left), the incoming CBC Executive Director, who will assume his new role effective August 1, 2017. Jim spoke of his excitement about joining the Chicago research community and summarized his vision of the CBCAN program "as a new forum to nurture entrepreneurial culture among university scientists." Jim emphasized that in the greater Chicago area, all the right ingredients are already in place to create a vibrant community of industry experts, university tech transfer officers, and researchers with discoveries that may have commercial potential. All could greatly benefit from interacting and connecting at CBCAN meetings. Jim highlighted the importance of CBCAN in facilitating the "early commercial guidance" that university-based researchers need to move promising discoveries into and forward in the pipeline towards commercialization.
Lucy Godley, CBC Scientific Director (UChicago), introduced the first of the new CBC Phase 2 Award programs, CBC Accelerator Awards that are designed to support research that has strong translational potential. In addition to funding, Award recipients will be matched with mentors who will provide "early commercial guidance" towards key milestones for successful translation. The Accelerator program will be tightly integrated with CBCAN and Accelerator awardees will provide project updates at CBCAN meetings. Accelerator Awards will provide $100,000 for one year, with the possibility of a second year of funding for projects that have made significant advances towards or have met proposed milestones during the first year. The RFA for the CBC Accelerator Award Program will be announced this fall.
Following Lucy's description of the Accelerator Award program, two panels consisting of representatives from industry and university tech transfer offices, university faculty and other members of the Chicago biomedical community addressed the following questions:
---
Panel 1: How can Accelerator Awards mesh with other funding mechanisms to facilitate commercialization and entrepreneurship?
Moderated by: Lucy Godley, CBC Scientific Director, UChicago
PANELISTS:
Scott Brun (AbbVie), Vice President of Scientific Affairs and Head, AbbVie Ventures
Nancy Harvey (UChicago), Managing Director, Polsky Center for Entrepreneurship and Innovation
Alicia Loffler (NU), Associate Provost for Innovation and New Ventures
Suseelan Pookote (UIC), Interim Director, Office of Technology Management
Nancy Sullivan (IllinoisVENTURES), CEO and Managing Director
---
Panel 2: How does CBC engage and enlist other members of the ecosystem in selecting and mentoring Accelerator projects?
Moderated by: Brian Kay, CBC Scientific Director, UIC
PANELISTS:
Steve Davidsen (AbbVie), Vice President, Oncology Discovery
Barbara Goodman (iBIO Institute), Senior Vice President, PROPEL
Steve Gould (Chicago Innovation Mentors at MATTER), Mentor-in-Residence
Jay McGill (Lilly), Senior Director, Science and Technology Partnerships, Lilly Research Labs
Thomas O'Halloran (NU), Professor of Chemistry; Director, Chemistry of Life Processes Institute
---
A networking reception followed the two panel discussions.
The next CBCAN meeting is scheduled for October 26, 2017. The October meeting will be devoted to discussing the second new CBC program—Entrepreneurial Fellows—that will aim to identify and support a cohort of young researchers who are keen to work in the biotech start-up space of Chicago. Stay tuned for future updates!
This slideshow requires JavaScript.
Photos: Brian Kay, CBC
---
See also:
▸ CBCAN July 20, 2017 Program
▸ CBCAN March 30, 2017 Web Report
---