June 11, 2012
Research Networking Tools
---
New research networking tools have recently become available to the CBC community. These tools could facilitate finding inter-university collaborators – thus making projects eligible for CBC awards.
Research networking tools are extensive university-specific databases encompassing up-to-date profiles of individual faculty members. Each profile consists of a researcher's interests, publications, past and current NIH grants, affiliations and contact information. Each profile thus represents a 'scholarly fingerprint' of a scientist, which is unique and identifiable by keywords, providing a platform for specific searches.
Such databases are of obvious use to researchers looking for an expert in a different, less familiar field. Many others may find the tools useful as well, such as potential recruits or new hires trying to evaluate the university scientific scope, or students looking for a lab to join or seeking mentoring advice. And, since these databases are public, the networking opportunities extend past each individual university and offer a tremendous resource for those seeking a new collaborator or a specific core facility that could expand and enhance the quality of his/her research.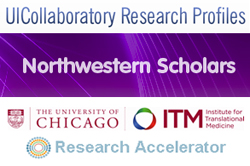 Each of the CBC universities has either already launched a networking tool or is in the process of building / modifying an existing one. UIC launched the UICollaboratory Research Profiles in March 2010. In February 2012, NU released an analogous networking tool called Northwestern Scholars. At UChicago, the Research Accelerator tool is available to researchers affiliated with the Institute for Translational Medicine (ITM): UChicago, Rush, IIT, NorthShore, Access Community Health Network, and Argonne National Lab. Another tool, ITM Profiles, is expected to go live at UChicago in the summer of 2012.
Both the UICollaboratory and Northwestern Scholars were developed using Elsevier's SciVal Experts (formerly known as Collexis). In the case of Northwestern Scholars, the publication-relevant data are generated automatically from Elsevier's Scopus database, containing (but not limited to) PubMed entries. Additional publication and book data are entered from CVs. Other data (research interests, affiliations, grants, contact info) are collected from preexisting university-specific databases, at the central, school, or department level. The UICollaboratory gathers publications directly from PubMed and grant information from NIH Exporter. UChicago's Research Accelerator site was originally developed at Yale and ITM Profiles at Harvard (Harvard Profiles).
Northwestern Scholars is supported in part by an NIH Clinical and Translational Science Award to the NU Clinical and Translational Sciences (NUCATS) Institute. UICollaboratory is sponsored by the UIC Center for Clinical and Translational Studies (CCTS). Research Accelerator and ITM Profiles are a part of the Institute for Translational Medicine (ITM) initiative at UChicago.
The three CBC universities are working together to establish a citywide (and statewide) networking platform that would facilitate further collaborative interactions among researchers from different institutions.
Research Networking Tools:
---