June 24, 2011
CBC Scientific Director's transition at UIC: farewell to Brenda Russell, welcome to Brian Kay
---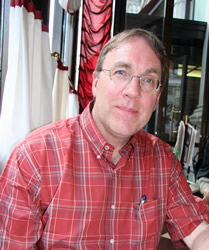 The CBC is pleased to announce that, as of June 1, 2011, Brian K. Kay, PhD (right) has become the new CBC Scientific Director for the University of Illinois at Chicago (UIC). Dr. Kay was nominated by the UIC Acting Provost Jerry Bauman and his appointment was approved by Northwestern and UChicago Provosts, Daniel Linzer and Thomas Rosenbaum, respectively. He joins Scientific Directors Shohei Koide (UChicago) and Rick Morimoto (NU). The CBC Scientific Directors work closely with the philanthropists, faculty researchers and administrators at the three CBC universities, to advance the CBC mission of fostering and strengthening collaborative research in the Chicago area. Dr. Kay joins CBC Program Manager Tarra Barot as the primary UIC liaisons with the CBC.
Brian K. Kay, PhD, Professor & Head of the UIC Department of Biological Sciences, specializes in the research area of molecular recognition — the science of specific interactions between two or more molecules. His work focuses on studying cellular protein-protein interactions and employs selective 'designer affinity reagents'. Similar to antibodies in their properties, the selective affinity reagents are generated using phage-displayed libraries of combinatorial peptides, antibody fragments, and engineered proteins. Such synthetic affinity reagents are subsequently used as tools to affinity-purify target proteins, study intracellular protein expression and function, and probe conformational changes of proteins inside cells. Dr. Kay's research is broadly interdisciplinary, spanning areas such as structural biology, biochemistry, cell biology, and physiology.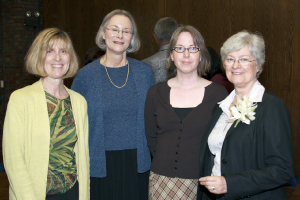 Dr. Kay takes over the UIC CBC Scientific Director position from one of the founders of the CBC, Brenda Russell, PhD. Dr. Russell retired from her duties in UIC academic administration on May 31, 2011, and stepped down as the UIC CBC Scientific Director. Dr. Russell will take a hiatus from UIC this summer but will return in the fall to her NIH-funded research and teaching in the Department of Physiology and Biophysics at UIC. We wish to thank Dr. Russell for the scientific leadership, program development, and collaborative spirit she has provided the CBC since its inception in 2002. Dr. Russell will be missed as a scientific director, advisor, colleague, and friend. The CBC wishes Dr. Russell all the best in the continuation of her active research and teaching career.
GROUP PHOTO: Farewell to Dr. Brenda Russell at UIC. From left to right: Karen Snapp, CBC Associate Director, Katie Stallcup, CBC Executive Director, Kimber Corn, CBC Business Administrator, and Brenda Russell, UIC CBC Scientific Director (2002-2011).
---