---
October 7, 2021
Dear Members of the CBC Community,
CBC would like to share the Fall 2021 Newsletter which describes information sessions, funding, educational and networking opportunities available to the CBC community this coming fall and winter.
Thank you,
CBC team
---
CBC ENTREPRENEURIAL FELLOWS AWARD INFORMATION SESSIONS
Eight EF Information Sessions will be held in October 2021 – Any interested person can attend ANY one of the sessions!
The Chicago Biological Consortium (CBC) is pleased to announce the recipients of three CBC COVID-19 Response Awards totaling $1.5 million:
The CBC Entrepreneurial Fellows Award (EF) program identifies and supports the professional development of academic researchers who are keen to develop the skills and experiences needed to move translational projects from a university lab toward commercialization and potentially into a Chicago-based biotech start-up. The CBC will host 8 information sessions in October at multiple universities in the greater Chicago area. EF Award program information, eligibility requirements and the application process will be provided and ample time will be allowed for Q & A. The sessions will be held in a hybrid format in person and via Zoom.
Four sessions will be held at the CBC universities:
Oct 8: UChicago, BSLC, Rm 008, 924 E 57th Street, Chicago (1 – 2 PM)
Oct 12: NU-Evanston Campus, Rm 3118 Cook Hall, 2220 Campus Dr Evanston, (1 – 2PM)
Oct 14: NU-Chicago Campus, SQBRC Conference Rm 2-200, 302 E Huron St (10:30 AM)
Oct 14: UIC, MBRB, Rm 1152, 900 South Ashland Ave (1:15 – 2 :15 PM)
Please check the CBC homepage for additional logistical information on the four sessions to be held at other Chicago area universities:
Oct 20: Rush University Medical Center – Field Auditorium, Cohn Building (1735 W Harrison St, Chicago, (12 -1 PM)
Oct 22: Illinois Institute of Technology – Tellabs Innovation Alley, Kaplan Institute, 3137 S Federal St (12:45 – 1:45 PM)
Oct 26: Loyola University – CTRE RM 304 Maywood (1 – 2 PM)
Oct 28: Rosalind Franklin University – Hybrid Ply Conference RM IRP122, Innovation and Research Park Bldg, North Chicago (1 – 2 PM)
▸ ADDITIONAL INFORMATION ABOUT THE EF PROGRAM
---
FUNDING OPPORTUNITIES
CBC Entrepreneurial Fellows (EF) Award Program
Applications for the EF program will open October 15th and close November 17th @ 5PM. Fellows will start in early 2022 and are exposed to a breadth of real-world experiences across the CBC institutions. Fellows will be recent PhD/MD/MA/MSc or will have recently completed an initial post doc in the biomedical sciences.
Supports the professional development of academic researchers who are keen to develop the skills and experiences needed to move translational projects from a university lab toward commercialization.
Exposure to all aspects of drug development, supporting projects at NU, UIC and UChicago having therapeutic and commercial potential.
Fellows assist in development of faculty proposals, collect and assess data supporting unmet medical need, develop a work plan to advance the science toward pre-clinical proof-of-concept while assessing drug discovery/development risks.
Description of appointment:
Includes a highly competitive salary with fringe benefits.
Appointments are for 12 months; may be renewed for an additional 12 months by mutual agreement.
Additional information about the EF Award program and the application process can be found in the EF RFA.
*Please make sure you are conforming to the MOST RECENT RFA (October 3, 2021)
---
CBC Catalyst Award Program (Fall 2021 – Round 31)
The CBC Catalyst Award program supports new collaborations focused on basic biological / biomedical research that is high risk/high reward, innovative and transformative. Catalyst teams must include principals that are tenured or on a tenure track from at least two of the CBC institutions. Catalysts are one-time incentive awards (up to $250,000) and not intended to support incremental progress, obvious next steps, or NIH-ready projects.
Catalyst application submission portal is now OPEN. The application submission deadline is October 29, 2021, @5PM.
*Please make sure you are conforming to the MOST RECENT RFA (September 22, 2021).
---
EDUCATIONAL OPPORTUNITIES
18th Annual CBC Symposium: Immunology and Immuno-engineering Response to COVID-19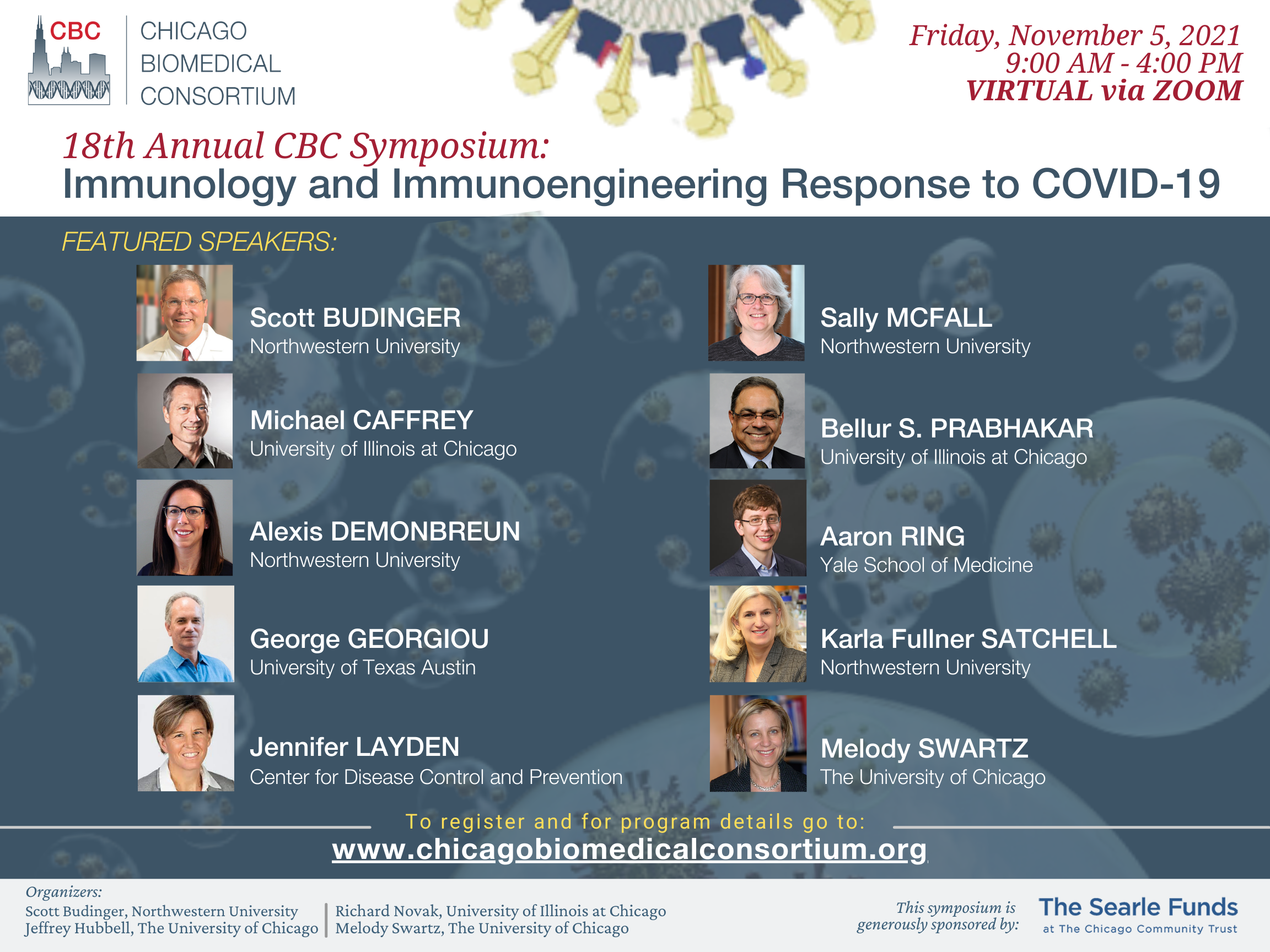 VIRTUAL via ZOOM
DATE: Friday, November 5, 2021
TIME: 9:00 AM – 4:00 PM
(Zoom waiting area opens at 8:45 AM)
TWITTER: @CBCsymp2021, #CBCsymp2021
SPEAKERS:
Scott Budinger (Northwestern University), Michael Caffrey (University of Illinois at Chicago), Alexis Demonbreun (Northwestern University), George Georgiou (University of Texas Austin), Jennifer Layden (CDC; UIC), Sally McFall (Northwestern University) and Bellur S. Prabhakar (University of Illinois at Chicago), Aaron Ring (Yale School of Medicine), Karla Fullner Satchell (Northwestern University), and Melody Swartz (The University of Chicago).
ORGANIZERS:
Scott Budinger Chief of Pulmonary and Critical Care in the Department of Medicine, Ernest S. Bazley Professor of Airway Diseases and Professor of Medicine (Pulmonary and Critical Care) and Cell and Developmental Biology (NU), Jeffrey Hubbell Eugene Bell Professor in Tissue Engineering and Deputy Dean for Development (UChicago), Richard Novak Chief of Infectious Diseases (UIC) and Melody Swartz William B. Ogden Professor of Molecular Engineering and Deputy Dean for Faculty Affairs (UChicago).
This all-day virtual event is organized by a team of co-chairs representing the CBC institutions. The organizational committee has recruited external and Chicago-area scientists who will describe their COVID-19 research on multiple topics including: 1) serological response to infection, 2) immune consequences of infection, and 3) discovery and diagnostics. The event will take place virtually as a Zoom Webinar. The meeting will also include a virtual poster session and breakout topics.
Additional details about the event is available from the symposium webpage. Click on the link below and enjoy!
The symposium is free of charge, however, online registration is required. Please share with your colleagues and encourage them to register!
The meeting will include a virtual poster session via VirtualPosterSession.org. To learn more and to submit an abstract, click on the link below.
This year's symposium is generously sponsored by the Searle Funds at The Chicago Community Trust.
---
NETWORKING OPPORTUNITIES
CBC Accelerator Network (CBCAN)
The CBC Accelerator Network (CBCAN) program brings together industry experts, university tech transfer officers, researchers, and others from the local and extended biomedical community to discuss discoveries that may have commercial potential. The aim is to move promising discoveries into and forward in the pipeline towards commercialization, providing early commercial guidance that universities and university-based researchers need.
The next CBCAN meeting will be held during the first week of December. The program will focus on Accelerator Awardees who will be presenting their Year 1 accomplishments and pitching for a second year of funding. The CBCAN program will also include a fireside chat, moderated by Michelle Hoffmann, and will end with a community networking reception.
For more information about the CBCAN and for additional updates, please click on the link below.
---
Chicagoland Life Sciences Investor Forum
Chicagoland is building a vibrant life sciences community and the Chicago Biomedical Consortium is doing its part. From Fulton Labs in the West Loop to the Bronzeville Lakefront and the Illinois Tech Park in the Southside, to Lincoln Yards on the North Side, to the Illinois Medical District near the West Side, all the way to Rosalind Franklin in Lake County, we are in a networked life sciences hub which encompasses all of Chicagoland. This forum, developed by World Business Chicago, P33, the Chicagoland Accelerators (including The Prysm Institute, Portal Innovations, MATTER, The Chicago ARC, the Illinois Medical Network), will highlight the Chicagoland innovators leading the charge in the life sciences and healthcare arena.
This exclusive event was designed to connect vetted venture-ready startups – including some of the CBC's own faculty startups – with select investors and will feature:
Targeted matchmaking between VCs and startups
Exclusive virtual showcase to engage promising entrepreneurs who are actively fundraising in 2021 and beyond
The first forum will take place October 19th at 2:00 – 3:30PM. Follow us on social media for more details.
---
Stay Tuned for News from CBC
Bookmark the CBC webpage
Sign up for CBC news
Stay in touch and interact with CBC via Social Media
Follow us on Twitter @CBC_ChiBiomed
Follow us on LinkedIN @Chicago Biomedical Consortium
Like us on Facebook
Follow us on Instagram @cbc_chibiomed
---