May 22, 2012
Unveiling Hidden DNA Code
Congratulations to the CBC Catalyst Team: Chuan He (UChicago) and Jung-Hyun Min (UIC) on their recent publication in the May 17, 2012 issue of Cell, "Base-Resolution Analysis of 5-Hydroxymethylcytosine in the Mammalian Genome." The published work relates to the CBC Catalyst Award that He and Min received in the Fall 2011 Round: "Capturing Kinetically Labile Multiprotein Assemblies on DNA by Chemical Crosslinking."
He and Min, together with other researchers from the University of Chicago, the Ludwig Institute for Cancer Research at the University of California San Diego, Emory University, and UIC developed a new technique to read two modifications of cytosine, one of the four bases in DNA. The technique, called Tet-assisted bisulfite sequencing (TAB-Seq), allows the precise determination of the cell type and tissue specific distribution of these cytosine modifications — 5-methylcytosine (5-mC) and 5-hydroxymethylcytosine (5-hmC).
Up to this point, correlating the distribution of these cytosine modifications with their function was not possible. The Cell paper shows that with TAB-Seq, it is now feasible to directly measure 5-hmC and presents the first map of the entire genome of 5-hmC at single-base resolution. "They [cysteine modifications] regulate gene expression and have a broad impact on stem cell development, various human diseases such as cancer, and potentially on neurodegenerative disease. They may even shape the development of the human brain," said He.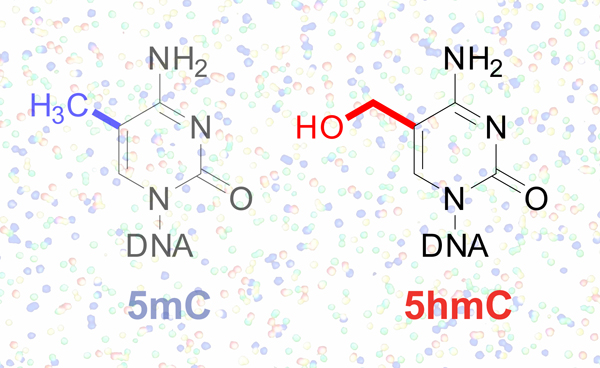 IMAGE: A comparison of the chemical structure of the 5-methylcytosine (5mC) base (left) and the 5-hydroxymethylcytosine (5hmC) base. (Credit: Chuan He)
---
Publication attributed to a CBC Catalyst Award (2011): "Base-Resolution Analysis of 5-Hydroxymethylcytosine in the Mammalian Genome," Cell, May 17, 2012.
CBC Catalyst Award (2011): Chuan He (UChicago) and Jung-Hyun Min (UIC) for project:
▸ Capturing Kinetically Labile Protein Assemblies on DNA
---
see also:
"New Technique Reveals Unseen Information in DNA Code," UChicago News Office Press Release, May 17, 2012.
"Technique reads hidden details in DNA," Futurity, UChicago/Emory Press Release, May 17, 2012.