Summer 2014 Workshop in Proteomics and Informatics

DATE: August 11-14, 2014
LOCATION: Mass Spectrometry Metabolomics and Proteomics Facility (MMPF), UIC
---
Workshop Recap
September 29, 2014
The seventh CBC Summer Workshop in Proteomics and Informatics took place August 11-14 at the CBC/UIC Mass Spectrometry Metabolomics and Proteomics Facility (MMPF) on UIC's West Campus.  The intense 4-day course included in-depth training in the basics of mass spectrometry, proteomics and bioinformatics, with the final days of the workshop being devoted to advanced topics in these areas.  Eighteen participants took part in the workshop, with the majority from the three CBC universities, but attendees also included trainees from North Carolina State University and Medical College of WI. 
Workshop instructors included Chicago-based proteomics and informatics specialists:
Alex Schilling, the Director of the UIC MMPF Core Facility
Kolla Kristjansdottir, Assistant Professor, Biomedical Sciences at Midwestern University
Paul Thomas, Assistant Director of the Proteomics Center of Excellence and Assistant Research Professor in Molecular Biosciences at Northwestern University
Don Wolfgeher, Sr. Research Scientist, Proteomics Core Lab at the University of Chicago
Rod Davis, Senior Research Specialist in Mass Spectrometry in the MMPF
Caleb Nienow, Senior Research Specialist in Mass Spectrometry in the MMPF
Three guest speakers were also invited to present lectures: 
Dr. Richard van Breemen, Professor of Medicinal Chemistry at UIC, gave an overview of the history of mass spectrometry in proteomics,
Dr. David Tabb, Associate Professor of Biochemistry and Biomedical Informatics at Vanderbilt University School of Medicine, talked about matching peptides to MS/MS data and controlling false discovery rate, and
Dr. Vicki Wysocki, Professor of Chemistry and Biochemistry at The Ohio State University, discussed mobile proton model for peptide fragmentation and predictions based on model peptides.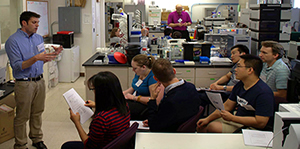 Workshop lectures and group discussions provided a theoretical and practical overview of tandem mass spectrometry proteomics, data analysis and database searching, and various laboratory technologies used in protein structure analysis.  Tutorials in data analysis and multiple mass spectrometry techniques were presented during the laboratory demonstrations. Workshop attendees gained hands-on experience analyzing proteomics data in the computer lab and the wet labs provided training in sample preparation and running of samples on various MS instrumentation.  The students worked in groups to prepare PowerPoint presentations describing how they would apply the methods they studied to investigate a specific biological question.  Course instructors and attendees provided constructive feedback to each student team. 
Workshop feedback was positive, with one attendee summarizing her experience in a single sentence: "I've learned more about mass spec and proteomics than I ever thought I needed to know!"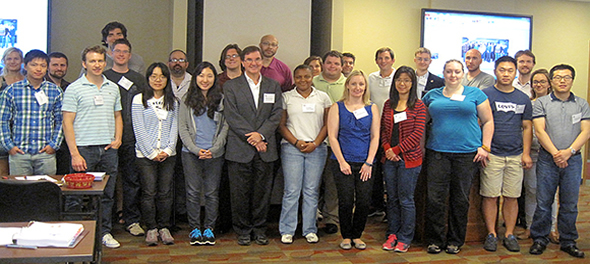 PHOTOS: Attendees and staff of the 2014 CBC Summer Workshop in Proteomics and Informatics held at the UIC College of Pharmacy (above) and Instructor Don Wolfgeher (UChicago) giving a talk during lab rotation (above right). Photos: CBC.
---