Three CBC HTS Award Workshops

DATE: August 12, 14 and 16, 2013
LOCATION: Northwestern, UIC and The University of Chicago
---
Workshops Recap
August 19, 2013 (updated October 23, 2013)
The CBC is offering a High Throughput Screening (HTS) Supplemental Grant Program to help fund discovery of innovative small-molecules probes and drugs. The intent of this program is to support pilot projects involving biomedically-relevant targets that will be conducted at a HTS facility located at one of the CBC universities: Northwestern, UIC and The University of Chicago. CBC university affiliates of any rank (e.g. faculty sponsored graduate students, fellows, research faculty, or tenure-track faculty) are eligible to apply.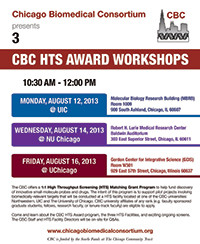 The CBC hosted 3 HTS Award workshops in August of 2013:
MONDAY, AUGUST 12, 2013 @ UIC
Molecular Biology Research Building (MBRB)
Room 1009
900 South Ashland, Chicago, IL 60607
WEDNESDAY, AUGUST 14, 2013 @ NU (Chicago Campus)
Robert H. Lurie Medical Research Center
Baldwin Auditorium 
303 East Superior Street, Chicago, IL 60611
FRIDAY, AUGUST 16, 2013 @ UChicago
Gordon Center for Integrative Science (GCIS)
Room W301
929 East 57th Street, Chicago, Illinois 60637
Close to thirty researchers came to the workshops to learn about the CBC HTS Award program, the three HTS Facilities, and exciting ongoing screens.
The CBC Staff and HTS Facility Directors were on-site for Q&As.
To assist you in determining if HTS is a viable resource to use in your research and to determine which HTS facility best meets your needs, we have posted slides highlighting the HTS facilities associated with the CBC universities and a brief overview of HTS.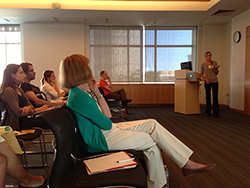 ---
PHOTO: Kiira Ratia, Director of the UIC HTS Facility gives the facility overview at the UChicago workshop. (Photo: CBC)
SEE ALSO:
---