Summer 2013 Workshop in Proteomics and Informatics

DATE: July 22-26, 2013
LOCATION: Mass Spectrometry Metabolomics and Proteomics Facility (MMPF), UIC
---
Workshop Recap
August 8, 2013
The CBC Summer Workshop in Proteomics and Informatics kicked off its sixth year on July 22-26, 2013. The popular hands-on workshop took place at the CBC/UIC Mass Spectrometry Metabolomics and Proteomics Facility (MMPF) on UIC's West Campus. Twenty-one students, post-doctoral fellows, faculty members and staff from the three CBC universities and also researchers from Loyola, Rush, and J.R. Simplot Plant Sciences (Boise, ID) attended the intense weeklong workshop.
Dr. Alex Schilling, the Director of the UIC MMPF Core Facility, along with proteomics and informatics specialists from all three CBC universities structured the workshop to include a combination of lectures, computer training in data analysis, demonstrations and hands-on-laboratories in multiple mass spectrometry techniques. The main objective of the workshop was to provide a theoretical and practical introduction to tandem mass spectrometry proteomics, including the key experimental methods and computational tools needed to pursue analysis of complex proteomic samples.
The workshop started with an informative introduction and historical overview of mass spectrometry in proteomics by Dr. Richard van Breemen, a Professor of Medicinal Chemistry in the UIC College of Pharmacy and Assistant to the Director of the RRC for Mass Spectrometry. Rod Davis, Bryan Zahaykalo and Dr. Jerry White from UIC gave a number of talks and laboratory demonstrations throughout the week. Multiple lectures and lab assistance were given by Dr. Kolla Kristjansdottir from Midwestern University, Dr. Emma Doud from Northwestern University and Dr. Paul Thomas, the Associate Director of the NU Proteomics Center of Excellence and an expert in Top Down Proteomics. Dr. Larry Helseth, a Bioinformatician from the Center of Molecular Medicine at NorthShore University Health System and The University of Chicago presented information on Database Search Repositories and assisted participants as they used various software programs to search databases. The workshop also featured three invited speakers, Dr. Josh Coon from the Department of Chemistry and Biomolecular Chemistry at the University of Wisconsin-Madison, Dr. Larry Tobacman, from the Department of Medicine, Physiology, and Biophysics at UIC and Taylor Poor, a MD/PhD student who is part of Dr. Robert Lamb's lab in the Department of Molecular Biosciences at Northwestern University. The three guest speakers gave lectures on specific aspects of mass spectrometry based approaches for complex protein analysis and included examples and data from their current research.
Workshop members had a chance to "talk shop" with the instructors and network with each other during the daily working dinners. They were also asked to incorporate what they had studied by taking part in a team research presentation. Each of three teams described how they would apply proteomic and informatics techniques they learned to investigate a relevant biological question. Each team's PowerPoint presentation workflow included sample presentation, instrumentation usage, data analysis and a discussion of advanced spectrometric techniques that could provide additional information. Workshop instructors and other attendees gave insightful feedback and suggestions.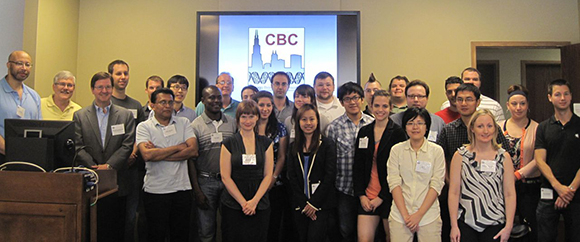 PHOTO: Attendees and staff of the 2013 CBC Summer Workshop in Proteomics and Informatics held at the UIC College of Pharmacy. (Photo: CBC)
---