Summer 2011 Workshop in Proteomics and Informatics

DATE: July 25-29, 2011
LOCATION: Proteomics and Informatics Service Facility (PISF), UIC
---
Workshop Recap
August 12, 2011
The annual CBC Summer Workshop in Proteomics and Informatics took place at the CBC/UIC Proteomics and Informatics Service Facility (PISF) on July 25-29, 2011. The intensive hands-on workshop was attended by 29 students, faculty members and staff from the three CBC universities and also researchers from Rush, Loyola, Ohio State University, Iowa State University, University of Texas-San Antonio, Stroger Hospital and Simplot Plant Science in Boise, Idaho.
The workshop organized by Dr. Larry Helseth, the Associate Director of the PISF, and Dr. Kolla Kristjansdottir of the University of Chicago, was a combination of lectures, demonstrations, hands-on-laboratory in multiple mass spectrometry techniques, and computer training in data analysis. Proteomics and informatics specialists from all three CBC universities contributed to the workshop. Lectures were given by Rod Davis and Drs. Alex Schilling, Richard van Breemen, Carrie Crot and Larry Helseth from UIC, Dr. Kolla Kristjansdottir from UChicago and Drs. Paul Thomas and Philip Compton from Northwestern University. The workshop also featured two invited speakers, Dr. Michael MacCoss from the Department of Genome Sciences at the University of Washington and Dr. Forest White, Department of Biological Engineering at Massachusetts Institute of Technology. In addition to presenting talks on specific aspects of mass spectrometry based approaches for protein analysis, both guest scientists gave seminars on the on-going research in their labs.
All workshop attendees participated in team research presentations. The workshop members were divided into three groups that described how they would apply proteomic and informatics techniques learned during the week to investigate a specific biological question. The presentation workflow included sample preparation, instrumentation usage, data analysis and a discussion of advanced spectrometric techniques that could provide additional information. The last day concluded with a final lecture by Dr. Shilling followed by workshop participants meeting one-on-one with PISF staff members to discuss individual projects.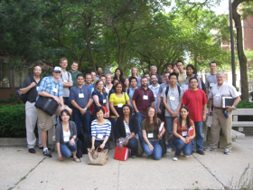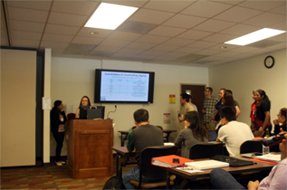 LEFT: Attendees and staff of the 2011 CBC Summer Workshop in Proteomics and Informatics outside the UIC College of Pharmacy (Photo by CBC). RIGHT: Workshop attendees applying the knowledge they learned in the workshop to investigate a relevant biological question (photo by K. Kristjansdottir).
---