CBC Tech Day
"Cutting-Edge Technologies — Driving Science Forward"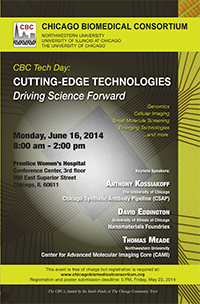 DATE: Monday, June 16, 2014
TIME: 7:45 AM – 2:00 PM
LOCATION: Prentice Women's Hospital
Conference Center, 3rd floor
250 East Superior Street, Chicago, Illinois 60611
CBC invites all to attend CBC Tech Day. The main goal of Tech Day is to provide the Chicago research community with information about the core facilities and cutting-edge technologies available at the CBC universities. The following technologies will be highlighted: Synthetic Antibodies, Nanomaterials, Genomics, Molecular and Cellular Imaging, Small Molecule Screening and Metabolomics. New emerging technologies will be presented. The meeting will also include a poster session. The event is free of charge but pre-registration is required.
---
REGISTRATION:
To accommodate CBC Tech Day attendees, online registration will remain open until the day of the meeting and we will also accept on-site registration. However, to meet the printers deadline for the program and abstract booklet, the names of attendees who register after the May 30th deadline will not be included in the printed program.
Online registration is now closed.
---
POSTER SESSION:
Please note: space is limited to 50 posters. Submission is now CLOSED.
The poster session will highlight biomedically relevant research conducted at CBC university core facilities.  Submitted abstracts must identify the core(s) where the experiments were performed and provide a summary of the data.  All abstracts will be evaluated for relevance to the meeting topic and acceptance decisions will be emailed to submitters by Wednesday, June 4, 2014. The posters must include the hypothesis being tested, descriptions of the methods used at the core facility, and the resulting experimental data and conclusions. Please note that the poster boards are 4' (H) x 6' (W).
---
PROGRAM:
7:45 – 8:45 AM
Registration, Breakfast and Poster Set-up
8:45 – 9:00 AM
Welcome and Opening Remarks
(Shohei Koide – UChicago CBC Scientific Director)
9:00 – 10:00 AM
CBC-SUPPORTED CUTTING-EDGE TECHNOLOGIES
Chicago Synthetic Antibody Pipeline (CSAP)
Anthony Kossiakoff (UChicago)
Nanomaterials Foundries (Microenvironmental, Nanopatterning and Matrix Synthesis)
David Eddington (UIC)
Advanced Molecular Imaging
Tom Meade (NU)
10:00 – 10:15 AM
Coffee Break
10:15 – 11:15 AM
DISCOVERY TECHNOLOGIES AT CORE FACILITIES (Rick Morimoto – NU CBC Scientific Director)
Small Molecule Screening
Moderator:  Eric Weiss (NU)
Panelists:  Sam Bettis (UChicago), Kiira Ratia (UIC), Chi-Hao Luan (NU)
Cellular Imaging
Moderator:  Jonathan Art (UIC)
Panelists:  Vytas Bindokas (UChicago), Peter Toth (UIC), Joshua Rappoport (NU)
Genomics
Moderator:  Yoav Gilad (UChicago)
Panelists:  Pieter Faber (UChicago), Stefan Green (UIC), Matthew Schipma (NU)
11:15 – 11:45 AM
EMERGING TECHNOLOGIES (Brian Kay – UIC CBC Scientific Director)
Metabolomics
Nissim Hay (UIC)
Genome Editing using CRISPR
Brad Merrill (UIC)
SAMDI Technology
Milan Mrksich (NU)
11:45 – 12:00 PM
NEW IMAGING TECHNOLOGIES AT JANELIA FARMS
Teng-Leong Chew (HHMI at Janelia)
12:00 – 2:00 PM
Closing Remarks (Brian Kay – UIC CBC Scientific Director)
Lunch and Poster Viewing
---
PARKING:
The CBC will provide discounted parking vouchers on the day of the event.
The vouchers are ONLY valid at the two parking garages listed below.

DISCOUNTED PARKING RATES are as follows:
$11 for less than (7) seven hours.
$25 for (7) seven to (24) hours.
Visitor Parking
Visitors can park at a discounted rate. The main parking structure is located at 222 E. Huron Street. Located between Superior and Huron streets, the public garage is across from Feinberg and Galter Pavilions. Second-floor bridges connect the garage to both pavilions.
Visitors can also park at 321 E. Ontario Street for the same discounted rate. Located between Erie and Ontario Streets, the public garage is located on the southeast corner across from the Feinberg Pavilion.
Visit Google Maps to view parking locations on campus.
---
FLYER:
To download the CBC Tech Day 2014 announcement (pdf) click here.
---
QUESTIONS?
If you have any questions please contact CBC Senior Associate Director, Karen Snapp at:
Come and join the CBC in this event!
---
SEE ALSO:
---