6th Annual CBC Symposium
"Frontiers in Molecular Imaging: From Promise to Practice"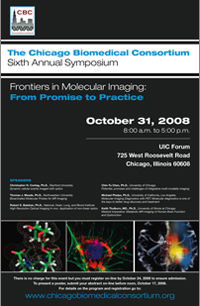 DATE: October 31, 2008
TIME: 8:00 AM – 4:00 PM
LOCATION: University of Illinois at Chicago
UIC Forum
---
The Sixth Annual Chicago Biomedical Consortium Symposium, Frontiers in Molecular Imaging: From Promise to Practice, was held Friday, October 31, 2008 at the UIC Forum. CBC annual symposia feature outstanding guest speakers and also highlight local researchers, focusing on a specific subject area.
This year's symposium included distinguished guest speakers Christopher Contag, PhD (Stanford University), winner of the Society for Molecular Imaging Achievement Award; Robert S. Balaban, PhD, Scientific Director of the National Heart, Lung, and Blood Institute intramural program; and Michael Phelps, PhD (UCLA), recipient of multiple accolades including the Enrico Fermi Presidential Award presented by President Clinton. Local researchers highlighted in the program include Thomas Meade, PhD, Northwestern University; Chin-Tu Chen, PhD, The University of Chicago; and Keith Thulborn, MD, PhD, University of Illinois at Chicago.
Approximately 200 people attended the 2008 Symposium. Along with informative presentations, opportunities for networking at this daylong event were offered during lunch and at a closing reception. Twenty-four posters prepared by researchers at Northwestern University, University of Illinois at Chicago, and The University of Chicago were presented during the poster session. Two were selected as best poster and the authors received an iPod.
---
see also
---