7th Annual CBC Symposium
"The Biology of Non-Coding RNAs: Old Molecules, New Actions"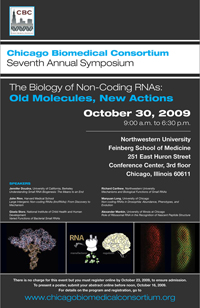 DATE: October 30, 2009
TIME: 9:00 AM – 6:30 PM
LOCATION: Northwestern University
Northwestern Memorial Hospital, Feinberg Pavilion Conference Center
251 East Huron Street, Chicago, Illinois, 60611
---
One of the most amazing discoveries in the last decade is the realization that non-coding RNAs perform a wide variety of cellular functions. The days are long gone when RNAs were only considered as information carriers of DNA. Today, we know RNA molecules control many cellular processes including chromatin organization, splicing, translation, and viral defense. Functional non-coding RNA molecules range from hundreds in bacteria to possibly tens of thousands in humans.
"The Biology of Non-Coding RNAs: Old Molecules, New Actions" was the topic of the Seventh Annual Chicago Biomedical Consortium Symposium held Friday, October 30, 2009 at the Feinberg Pavilion Conference Center, Northwestern Memorial Hospital in Chicago. Each year CBC annual symposia focus on a specific research area featuring outstanding guest speakers and highlighting local researchers. This year's symposium brought together speakers who are at the forefront of non-coding RNA research:
Jennifer Doudna, PhD
Howard Hughes Investigator and Professor of Biochemistry and Molecular Biology, University of California Berkeley; Winner of 2000 Alan T. Waterman Award
Gisela Storz, PhD
Head of the Section on Environmental Gene Regulation, National Institute of Child Health and Human Development
John Rinn, PhD
Assistant professor of Pathology, Harvard Medical School
Richard Carthew, PhD
Professor of Biochemistry, Molecular Biology and Cell Biology, Northwestern University
Alexander Mankin, PhD
Professor, Center for Pharmaceutical Biotechnology, University of Illinois at Chicago
Manyuan Long, PhD
Professor, Department of Ecology and Evolution, University of Chicago.
The topics ranged from regulatory and functional RNAs in bacteria to small and large non-coding RNAs in eukaryotes.
Close to 200 participants attended this year's symposium. The day also included a morning poster session and a closing reception. Nicholas Reiter from the Department of Biochemistry, Molecular Biology and Cell Biology, Northwestern University, received first prize for his poster titled: Structural studies of an RNase P/tRNA ternary complex.
---
see also
▸ Symposium program
▸ Symposium announcement
---