April 12, 2013
CBC Junior Investigator, Sadie Wignall, Wins Major Cancer Research Award
---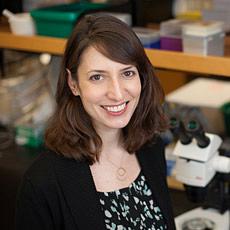 Sadie Wignall, PhD, a CBC Junior Investigator who accepted a faculty position at Northwestern University in 2010 as an Assistant Professor of Molecular Biosciences, is one of seven winners of the Damon Runyon-Rachleff Innovation Award.
Wignall, who was named the Lau/Palihapitiya Innovator, will receive a $450,000 grant over three years from the Damon Runyon Cancer Research Foundation.
The award funds cancer research by exceptionally creative thinkers with high-risk/high-reward ideas who lack sufficient preliminary data to obtain traditional funding.
Wignall's award-winning proposal is titled, "Probing centrosome-clustering mechanisms to identify targets for new cancer therapies." Her research will focus on a pathway required for the division of cancerous cells, but not normal ones.
When cells divide, structures called centrosomes help form a structure called a spindle to facilitate the division of genetic material. Normal cells only have two centrosomes per spindle, while cancerous cells have many more, which form clusters. According to Wignall, the centrosome-clustering process is what allows cancer cells to continue dividing despite having abnormal centrosome numbers. She believes halting the clustering process would halt the growth of cancer, while not affecting normal cells since they have the correct centrosome number.
Current cancer treatments work to stop all cell multiplication, attacking both cancerous and non-cancerous cells, but Wignall hopes a greater understanding of the clustering process gained through her research ultimately will lead to treatments that attack cancer cells only, minimizing adverse side effects for patients.
The Damon Runyon Cancer Research Foundation has invested more than $250 million and funded more than 3,350 young scientists since it was founded in 1946.
Eleven scientists supported by the foundation have received the Nobel Prize, and others are heads of cancer centers and leaders of renowned research programs. The foundation will commit approximately $12 million in new awards to outstanding young investigators this year.
Sadie is also a recipient of a 2012 V Scholar Grant for the project: "Targeting centrosome-clustering mechanisms to selectively kill cancer cells." Congratulations Sadie!
Adapted from: "NU prof wins major cancer research award", Evanston Now, Apr 11, 2013
---