July 6, 2010
Semiannual Newsletter Reporting on a Variety of Activities that Have Made for a Busy Spring
---
The CBC is pleased to share our semiannual newsletter reporting on a variety of activities that have made for a busy spring.
A major accomplishment has been the successful implementation of the Junior Investigator Award program, designed to help outstanding young researchers start their faculty careers at CBC universities. Be sure to read about the new Assistant Professors who have received these $500K recruitment awards.
The newsletter also has articles about CBC funding opportunities, educational activities, and improvements in our website, and we introduce Karen Snapp, our new Associate Director. Mark your calendar for the Eighth Annual CBC Symposium, Protein Folding and Misfolding in Health and Disease, set for October 29 at UChicago.
Please browse through the newsletter and explore the topics that you find interesting. As always, your comments and suggestions are welcome.
Enjoy!
Karen Snapp
Associate Director
Email:
Jola Glotzer
Program Managar at UChicago
Email:
---
Headlines
---
ANNOUNCEMENTS
FUNDING OPPORTUNITIES
EDUCATION
NEWS REPORTS
---
Full Articles
---
Four New Faculty Receive CBC Junior Investigator Awards
The CBC is proud to announce that five outstanding researchers who had been approved for CBC Junior Investigator Awards have accepted faculty positions at CBC universities and thus will receive $500K to be used for their research programs. The Junior Investigator Awards were inaugurated this year. CBC Provosts were invited to select and nominate candidates with demonstrated records of excellence who are entering their first faculty positions as tenure-track assistant professors. The CBC's Recruitment Resources Board is charged with evaluating nominees and recommending awards. Awards are finalized once the faculty member arrives on campus, and up to two awards are available to each university.
Jun Cheng, PhD, will be joining the Department of Bioengineering at UIC in August 2010. Dr. Cheng received his PhD in Physics at the University of Michigan. He subsequently joined the research groups of Dr. Alan Hunt in Bioengineering and Dr. Yukiko Yamashita in Cell and Developmental Biology at the University of Michigan as a post-doctoral fellow. He has developed an innovative live-imaging microscopy system to study the stem cell's regulatory mechanism to maintain tissue homeostasis.
Daniel Dombeck, PhD, will be joining the Department of Neurobiology and Physiology at NU in early 2011. Dr. Dombeck received his PhD in Physics from Cornell University and completed postdoctoral research in applied physics in the laboratory of Dr. Watt Webb at Cornell and at the Neuroscience Institute and Department of Molecular Biology in the research group of Dr. David Tank at Princeton. He has developed an experimental system in which one can visualize the coordinated activity of populations of individual neurons in the brain of an awake, behaving mouse.
Alex Ruthenburg, PhD, will be joining the Department of Molecular Genetics and Cell Biology at UChicago in July 2010. After completing his PhD in Structural and Chemical Biology at Harvard, Dr. Ruthenburg joined the laboratory of Dr. David Allis at Rockefeller University, where he characterized the structural and biophysical properties of histone binding protein complexes with a focus on multivalency and cooperative binding. He will continue his work on defining the molecular basis for recognition of modified histones by various nuclear regulators as he develops his research program at UChicago.
Sadie Wignall, PhD, has accepted a faculty position in the Department of Biochemistry, Molecular Biology and Cell Biology at NU. Dr. Wignall received her PhD in Molecular and Cell Biology at the University of California, Berkeley. Her post-doctoral training was with Dr. Anne Vileneuve in the Department of Developmental Biology at Stanford University. She uses C.elegans as an experimental system to study spindle formation and chromosome segregation during the asymmetric divisions of oocyte meiosis.
FROM LEFT TO RIGHT: Jun, Daniel, Alex and Sadie.




---
Eighth Annual CBC Symposium, Protein Folding and Misfolding in Health and Disease
October 29, 2010
9:00 AM – 6:30 PM
The University of Chicago
Ida Noyes Hall, 1212 E. 59th Street, Chicago, IL 60637
The CBC invites faculty, staff and students to attend the Eighth Annual CBC Symposium, Protein Folding and Misfolding in Health and Disease, that will be held on Friday, October 29, 2010 at the University of Chicago Hyde Park campus. Each year the CBC annual symposium focuses on a specific research topic and features outstanding speakers from both CBC and non-CBC universities plus a poster session. The poster session is an excellent forum for graduate students and post-doctoral fellows to present their current research. The symposium speakers will judge the posters and a prize will be awarded for the best poster. Thanks to an excellent team of organizers, Sam Sisodia (UChicago), Rick Morimoto (NU) and Scott Brady (UIC), the Eighth CBC Symposium will include research talks by a stellar group of scientists:
For up-to-date program and registration details, please, bookmark the symposium page.
---
Spotlight on a Leveraged CBC Catalyst Award
In 2007, the CBC Catalyst team of Joseph Bass, MD, PhD from NU, Nissim Hay, PhD from UIC and Graeme Bell, PhD from UChicago received one year of funding for a project entitled "Chicago Consortium in Diabetes and Obesity Genetics." At the time of the award, the three laboratories were creating an interdisciplinary approach to "understanding the interplay between behavioral and molecular genetic pathways controlling sleep, activity, feeding and metabolism." Support from the CBC allowed the team to combine their talents and expertise in new and "high-risk/high-yield" studies, creating new synergies between the laboratories which positioned the Catalyst team to compete for additional funding. As a result, the Catalyst team members have received multiple external awards, totaling $12.3M, from a variety of sources including the NIH, the American Diabetes Association, the Juvenile Diabetes Research Foundation, and several pharmaceutical companies. The three team members are involved with a NIH P60 grant (Bell, PI) titled "Diabetes Research and Training Center," with Dr. Bass as Co-Director of the Enrichment Core and Dr. Hay as a member of the Research Base.
The team's CBC funding has yielded 6 publications, including a recent Nature article, "Disruption of the clock components CLOCK and BMAL1 leads to hypoinsulinaemia and diabetes." This manuscript describes a role for the beta-cell clock in coordinating insulin secretion with the sleep-wake cycle, and reveals that ablation of the pancreatic clock can trigger the onset of diabetes mellitus. Dr. Bass said "This is the first evidence of how the circadian clock may affect the development of diabetes," and he also commented that disruption of the local biological clock in the pancreas can occur even though the body's primary circadian clock, located deep in the brain's suprachiasmatic nuclei, is functioning normally. The research initiated by the 2007 CBC Catalyst Award continues to span the three CBC universities as new insights are gained in the fields of obesity, diabetes, circadian biology and metabolism.
---
Catalyst Program Update:
New Catalyst Applications Invited for Fall 2010 Round: Online submission opens August 23, 2010; submission deadline is September 3, 2010; decisions expected by October 29, 2010
The CBC Catalyst Award program offers funding of up to $200K for one- or two-year collaborative research projects. Catalyst Awards aim to support creative new inter-institutional collaborations in basic biomedical research. Projects should address an important biological/biomedical question, and the CBC's preferred focus is systems biology. Although not limited to the areas of Imaging, Proteomics, and Informatics, these are topics of interest to the CBC. Catalysts are not intended to support incremental progress — the proposed research should be innovative and risky. Preliminary data is not required. Collaborations involving senior and junior faculty members are given special consideration.
To qualify as a substantial collaborative effort, research teams must be composed of Principal Investigators from at least two of the CBC Institutions (NU, UChicago, and UIC). Catalyst funding may be used to generate data for a variety of funding sources, including NIH R-level grants. Catalyst proposals should include a plan for obtaining future support. 
Catalyst applications are reviewed for creativity and scientific merit by the CBC Scientific Review Board, which is composed of three senior scientists from each of the CBC institutions.
Three new Catalysts authorized in Spring 2010 Round: Sixteen research teams submitted Catalyst applications for the spring 2010 submission round. The CBC is pleased to announce that three projects were authorized for funding, pending final approval by university research administrators. The projects were selected based on creativity, scientific merit, and the potential for broad impact, and each research team will receive $200K. Including these latest projects, the CBC has funded a total of 23 Catalyst teams (56 investigators) since the program's inception in 2006.
---
Spark Awards Program is Accepting Submissions
The Chicago Biomedical Consortium's Spark Award program offers funding of up to $400K for one- or two-year collaborative research projects. Spark Awards aim to fund exceptional inter-institutional collaborative projects with the potential to be transformative. Bold and highly innovative proposals must have the potential to produce a major impact in basic biomedical research. Projects should focus on systems biology and address an important and relatively large biological/biomedical question. Spark projects aim to be transformative rather than incremental. Preliminary data is not usually required.
Examples of potential high impact research could include: examining a scientific question that could open a new field of research and/or lead to a major shift in understanding; establishing a powerful and unusual research resource; or launching a high-profile and cutting-edge collaboration that has the potential to bring national recognition and large-scale external funding to the Chicago research community.
To qualify as a substantial collaborative effort, research teams must be composed of Principal Investigators from at least two of the CBC Institutions. While the CBC intends to fund projects that are much more creative than what is typically funded by the NIH, the NIH multi-PI project awards serve as a convenient reference for the scale of a Spark project. The larger scale and higher impact expected in a Spark project are key features that distinguish a successful Spark application. A plan that describes how future support of a Spark-initiated research project will be funded with an appropriately-sized mechanism should be described.
The Spark program is designed to be nimble and responsive to new and breaking opportunities within CBC-institution laboratories. Applicants may submit a one-page Phase I pre-proposal (concept paper) for a Spark Award at any time. Pre-proposals are evaluated on a rolling basis, with the outcome typically communicated within four weeks. If the project is deemed appropriate for the Spark program, a three-page Phase II full proposal will be invited. Full proposals are carefully reviewed for impact and scientific merit by multi-disciplinary teams of senior researchers. The CBC Spark Council meets as needed for the final step in review. The CBC reserves the right to step outside the usual constraints of federal-style evaluation procedures and work with Principal Investigators to shape proposals in a constructive and interactive manner.
---
CBC Website Offers Up-To-Date and Highly Utilized Information for NU, UChicago and UIC Biomedical Events and Core Facilities
The CBC website is being continuously upgraded and improved to serve as an up-to-date, comprehensive source of information for the CBC community. Two features of the CBC website that are receiving increasing interest are the Core Facilities and Events sections. The CBC Facilities section has been re-designed to become a one-stop-shopping site for researchers seeking information and access to specific facilities and services available in the Chicago area. The section includes links to the Core Facilities at the three CBC universities, as well as a comprehensive list of CBC-Funded Facilities available to both CBC and non-CBC affiliated researchers. Please take advantage of this resource by visiting the facilities webpage.
The Events section provides up-to-date listings of scientific events (seminars, symposia, workshops, courses, etc.) scheduled at the three CBC campuses. Daily events scheduled at CBC-affiliated universities are listed on the CBC Homepage, thus providing rapid access for all users. It is rewarding to see that an increasing number of researchers are taking advantage of this resource. Please bookmark the upcoming events page if you would like to have a comprehensive overview of biomedical sciences related events occurring citywide.
If you have comments regarding the current CBC website features and/or general comments/suggestions on how to further improve the CBC website to better serve the CBC community, please contact Jola Glotzer at
---
Third CBC Summer Workshop in Proteomics and Informatics
August 2-6, 2010
The CBC/UIC Proteomics and Informatics Services Facility (PISF)
835 S. Wolcott Avenue, Chicago
CBC invites students, staff, and faculty to participate in its third annual hands-on Summer Workshop in Proteomics and Informatics at the CBC/UIC Proteomics and Informatics Services Facility (PISF). This intensive educational experience builds on last year's successful workshop. It will offer a theoretical and practical introduction to tandem mass spectrometry proteomics, including the key experimental methods and computational tools needed to analyze complex proteomic samples. Attendees will participate in 5 full days of training, including sample preparation, peptide separation, mass spectrometry, and data analysis. Graduate credit for the course will be available from the CIC Traveling Scholar Program. (For more information about this program please visit the CIC website).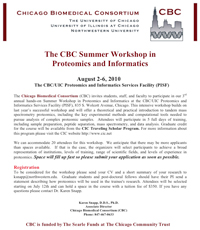 The workshop can accommodate 20 attendees. If the number of applicants exceeds spaces available, the organizers will select participants to achieve a broad representation of institutions, levels of training, range of scientific fields, and levels of experience in proteomics. Space fills up fast, so please submit your application as soon as possible.
To be considered for the workshop please send a CV and a short summary of your research to Karen Snapp, the CBC Associate Director at . Graduate students and post-doctoral fellows should have their mentor send a statement describing how proteomics will be used in the trainee's research. Attendees will be selected starting on July 12th and can secure a space in the course with a tuition fee of $350. If you have any questions please contact Dr. Karen Snapp.
Karen Snapp, D.D.S., Ph.D.
Associate Director
Chicago Biomedical Consortium (CBC)
Phone: 847.467.0633
---
High-Throughput Cellular Screening Workshop Introduces CBC Community to Resources Available at the Cellular Screening Center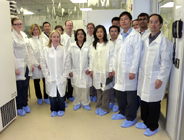 The High-Throughput Cellular Screening Workshop organized by the Institute for Genomics & System Biology (IGSB) at the University of Chicago took place on June 8, 2010. Approximately 30 researchers attended the workshop that was designed to familiarize scientists with the high-throughput RNAi and chemical screening technologies available at the Cellular Screening Center (CSC) located in the Gordon Center of Integrative Science at the UChicago campus. The CSC, opened in 2007 with support form the Chicago Biomedical Consortium and the University of Chicago Biological Sciences Division (BSD), facilitates drug discovery and development by defining the complex genetics underlying disease, isolating chemical compounds that affect specific cellular activities, and developing potential therapeutics to target disease pathways.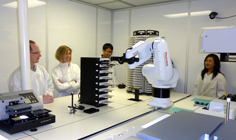 The workshop opened with a presentation by Sam Bettis, the Technical Director of the CSC, who gave an overview of the technology and instrumentation available at the CSC: the screening reagents (RNAi and small compound libraries), screening guidelines, assay development, formatting assays for automation, and readout parameters. His talk was followed by scientific reports from current CSC users. Afterwards, Sam led a tour of the CSC. During the tour, workshop participants had an opportunity to observe the precise and complex maneuvers performed by the robotic arm on the CSC robotic deck during a mock screening run. More information on CSC technology can be found here.
TOP: A group of workshop attendees at the Cellular Screening Center. BOTTOM: Workshop participants observe the robotic arm during a mock run. (Photos: CBC)
---
CBC Welcomes New Associate Director Karen Snapp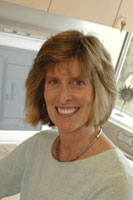 The Chicago Biomedical Consortium is pleased to welcome Karen Snapp, DDS, PhD, as Associate Director. Dr. Snapp brings an impressive background in biomedical research and scholarly activities to the CBC administration. Karen received both her DDS (specialty training in Prosthodontics) and PhD (Microbiology and Immunology) at the University of Iowa. Following postdoctoral training at both the Forsyth Research Institute in Boston and NU on the Chicago campus, she joined the Department of Pharmacology at UIC. In her NIH funded research, Karen investigated molecular mediators of selectin mediated adhesion. Karen joined the CBC in May 2010.
Since joining the CBC, Karen has been familiarizing herself with the three CBC campuses and the CBC-affiliated core facilities. Karen has also been participating in organizing CBC sponsored workshops and the upcoming symposium and meeting with CBC Award recipients. In addition, Karen is taking an active role in the Catalyst Award process and is working with the inaugural class of CBC Scholars. Karen works closely with Katie Stallcup, the CBC Executive Director, the CBC Program Managers on the UIC and UChicago campuses, and all three CBC Scientific Directors. Karen can be reached via email ( ) or by phone (847.467.0633).
---
Quantitative Insights, Inc Wins CBC 2010 Business Plan Competition
Quantitative Insights, Inc, a company founded by students and faculty at UChicago, won the $10K CBC prize by winning the CBC Third Annual Business Plan Competition held on May 17, 2010, at the University of Chicago Gleacher Center. Five graduate student-led teams from the business and management schools at the three CBC-affiliated institutions participated in the competition: Barron, Inc, and UroVention (Northwestern University, Kellogg School of Management, Center of Biotechnology Management); Quantitative Insights, Inc (The University of Chicago Booth School of Business, Polsky Center for Entrepreneurship); and Apana, and MMPe Technologies (The Liautaud Graduate School of Business, UIC Institute for Entrepreneurial Studies).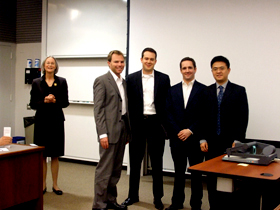 The five teams presented business plans describing their biomedical companies and products to a panel of judges selected from Chicago-area venture capital firms, angel investors, and biotechnology and pharmaceutical companies: Bob Altman (Marathon Pharma), George Arida (Venture Investors), Tom Churchwell (Midwest Venture Partners), Ron Kirschner (Heartland Angels), John Larson (Abbott Laboratories) and Donna Williamson (Ceres Venture Fund).
Quantitative Insights, Inc is developing a computer-aided diagnostic (CAD) software that assists radiologists in breast cancer diagnostics. The software, QuantX, uses an advanced neural network and provides new and expanded diagnostic information in characterization and assessment of lesions, leading to fewer missed and incorrectly diagnosed cancers. As the company moves forward, it plans to extend the QuantX platform to a variety of cancers and imaging modalities and to ultimately create the industry's first integrated multi-modality CAD application.
RIGHT: Katie Stallcup, the CBC Executive Director and the Quantitative Insights, Inc team members (from left to right: James Krocak, Ryan Richardson, Brian Luerssen, Yading Yuan). (Photo: CBC)
---