April 28, 2014
Neil Kelleher Named Allen Distinguished Investigator
Proteomics expert works on mapping human cell lineages to define wellness, disease
On April 11, 2014, the Paul G. Allen Family Foundation named CBC Investigator Neil Kelleher, PhD, as one of three recipients of the prestigious Allen Distinguished Investigators (ADI) award. The $1 million award will support Kelleher's pathbreaking work in the field of human cell lineage. Kelleher received a CBC Recruitment Resources Award in 2010 when he joined Northwestern University as a faculty member in both the Weinberg College of Arts and Sciences and the Feinberg School of Medicine. He is also Director of the Proteomics Center of Excellence (PCE).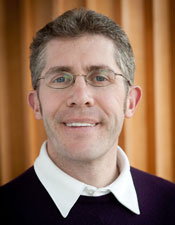 EVANSTON, Ill. — Northwestern University scientist Neil L. Kelleher has been selected to receive The Paul G. Allen Family Foundation's Allen Distinguished Investigator award for his work in human cell lineage, a field that traces the development of cells over time in individuals. Since 2010, the foundation has supported and empowered select high-risk, high-reward scientists who are positioned to take on the unconventional and unexpected.
Kelleher, a pioneer in top-down proteomics with one of the leading groups in the world that studies intact proteins, joins fellow honorees from Caltech and the University of Washington School of Medicine. Each Allen Distinguished Investigator (ADI) will receive between $1 million and $1.2 million in funding over three years to continue investigation into human cell lineage — a central and urgent quest in biology and medicine.
Stem cells within bone marrow mature into all types of white blood cells that guard against infection. A set of these white blood cells, known as B cells, protects individuals from specific infectious agents. Mature white blood cells are often classified using proteins at the cell's surface, but scientists have not systematically tracked the proteins of these blood cells as they mature.
"Defining protein barcodes along the B cell lineage in human blood will help clinicians to scan for normal and cancerous cells, leading to earlier and more precise diagnosis of disease," said Kelleher, director of Northwestern's Proteomics Center of Excellence. (Proteomics is the study and analysis of protein structure and function.)
Kelleher is the Walter and Mary Elizabeth Glass Chair in Life Sciences in the Weinberg College of Arts and Sciences' department of molecular biosciences. He also is a professor in Weinberg's department of chemistry and in the Feinberg School of Medicine's department of medicine. Kelleher is a member of the Robert H. Lurie Comprehensive Cancer Center of Northwestern University.
With support from The Paul G. Allen Family Foundation, Kelleher and his colleagues will use single-cell tracking methods to map the development of white blood cells, specifically B cells, to illuminate the canonical B cell differentiation pathway and to investigate how deviations from it result in autoimmune disorders and cancerous malignancies.
Kelleher and his team will devise an unbiased approach to map how B cells mature from their beginnings in our bone marrow to the point when they can protect us from infection. Specifically, the Northwestern-based team seeks to understand how any abnormalities in this process can result in cancers such as leukemia and multiple myeloma. Kelleher's research will inform and complement other efforts focused on cell-based therapies, personalized drugs and improved detection of human disease.
Kelleher's research advances a key goal of Northwestern's strategic plan, as stated in the 2011 document: to "gain a deeper understanding of life processes, revealing new ways to diagnose and treat disease in the biomedical sciences."
"ADI recipients are some of the most ambitious and cutting-edge scientists who are willing to lean into the untried and unexpected in search of results that will truly have an impact," said Jody Allen, co-founder and president of The Paul G. Allen Family Foundation. "We are pleased to be honoring the work of Neil Kelleher. We have every confidence in the value of his work and its potential to unlock some of the greatest mysteries of science."
Since 1998, The Paul G. Allen Family Foundation has invested nearly a half-billion dollars in improving communities throughout the Pacific Northwest and beyond, funding field-changing research and recognizing brave thinkers who have the ability to be catalysts for change.
Adapted from: "Neil Kelleher Named Allen Distinguished Investigator" by Megan Fellman, Northwestern University News, April 28, 2014.
---
SEE ALSO
▸ CBC Welcomes Newest "CBC Investigator" Neil Kelleher to NU in CBC Newsletter, Volume 2, January 2010
---