February 10, 2015
CIMposium: The Art of FDA Interactions
The second in the series of four Chicago Innovation Mentors (CIM) CIMposia planned for 2014-2015 was held at the Lurie Medical Research Center at Northwestern University (NU) on February 5, 2015. This series is focused on regulatory issues related to getting health care products approved by FDA.
The meeting was standing room only — approximately 120 people attended, including CBC representatives Katie Stallcup and Karen Snapp.
The program started with a welcome from Donald M Lloyd-Jones (Senior Associate Dean for Clinical & Translational Research, Chair, Department of Preventive Medicine & Director, NU Clinical and Translational Sciences Institute, NUCATS).
Speakers included:
George Allen Hides (Managing Partner at Geis-Hides Consulting LLC)
Ric Newman (RnD Services)
Mike Schlosser (President, MSR Pharma Services)
Joe Braido (Co-founder and VP of EdgeOne Medical's Quality and Regulatory Affairs)
Jerzy Wojcik (EdgeOne Medical, Director of Quality and Regulatory Affairs)
The meeting started with a brief summary of the first CIMposium, including the FDA regulatory process and timelines for drugs, biologics and medical devices. Information was provided on the chemistry, manufacturing and controls for drug development with an emphasis on lead optimization. Multiple parameters of the medical device pipeline were discussed including the different regulatory factors to consider across all stages of product development. The meeting ended with a lively and engaging Q & A session. UIC will host the next CIMposium and the final session will be held at MATTER.
For more information about CIM go to: http://www.chicagoinnovationmentors.org/index.html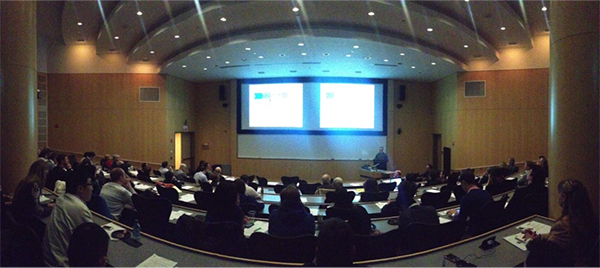 PHOTO: Courtesy of https://twitter.com/CIMChicago/media.
---