February 26, 2014
Tribute to the Searle Funds at The Chicago Community Trust
---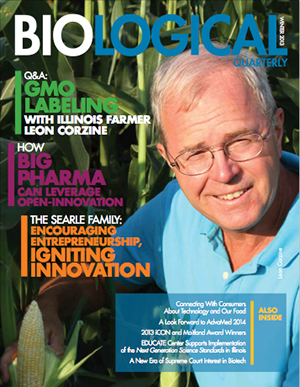 In an article titled "The Searle Family: Encouraging Entrepreneurship, Igniting Innovation," published in the Winter 2013 issue of BioLogical Quarterly (BQ)*, Jed Weiner** presents the Searle family as quiet but remarkably effective contributors to Chicago's growing scientific and entrepreneurial recognition.
Admiring many of the Searle philanthropic endeavors aimed specifically at improving the life sciences environment in metropolitan Chicago, Weiner focuses on the Searle Scholars Program at the Chicago Community Trust, the PROPEL Center of the iBIO Institute, and the Chicago Biomedical Consortium (CBC).
The author singles out the CBC as an "organization that has produced impressive results from the grants it has received from the Searle Funds at The Chicago Community Trust." He recalls that, as of July 2013, "the CBC-funded research has produced 725 peer-reviewed publications, primarily in high-impact journals, and the CBC has funded 56 collaborative teams, frequently joining junior and senior researchers, and almost always interdisciplinary by design." The CBC-supported projects "have gone on to garner an additional $275 million of follow-on funding from a variety of sources … leveraging $40 million in [Searle] grants into an economic impact of approximately $1 billion."
Weiner concludes his article by saying: "The quiet, behind-the-scenes work of the Searle Funds at The Chicago Community Trust has been underappreciated and mostly unrecognized. The philanthropic efforts of Searle family members will continue to serve as a catalyst for Chicago's scientific and economic growth. Ultimately, their dedication to fulfilling the visions of their ancestors will help improve the lives of future generations of people around the world."
The CBC is proud and honored to be part of fulfilling the vision of the late John G. Searle, who, in his will, specified that support from the Searle Funds be used "so far as feasible, on research in medicine, chemistry and the biological sciences."
---
The original article can be found on pp. 22-26 of the Winter 2013 issue of BioLogical Quarterly
---
*The purpose of BioLogical Quarterly (BQ), published by the Illinois Biotechnology Industry Organization (iBIO), is to promote community building and open discussion through awareness of the leadership displayed by Illinois life sciences organizations.
**Editor, BioLogical Quarterly
---