---
August 18, 2020
Dear Members of the CBC Community,
Chicago Biomedical Consortium (CBC) invites you to participate in its signature event – the annual symposium! Help us spread the word!
Thank you,
CBC team
---
17th Annual CBC Symposium: "Epigenetics & Disease"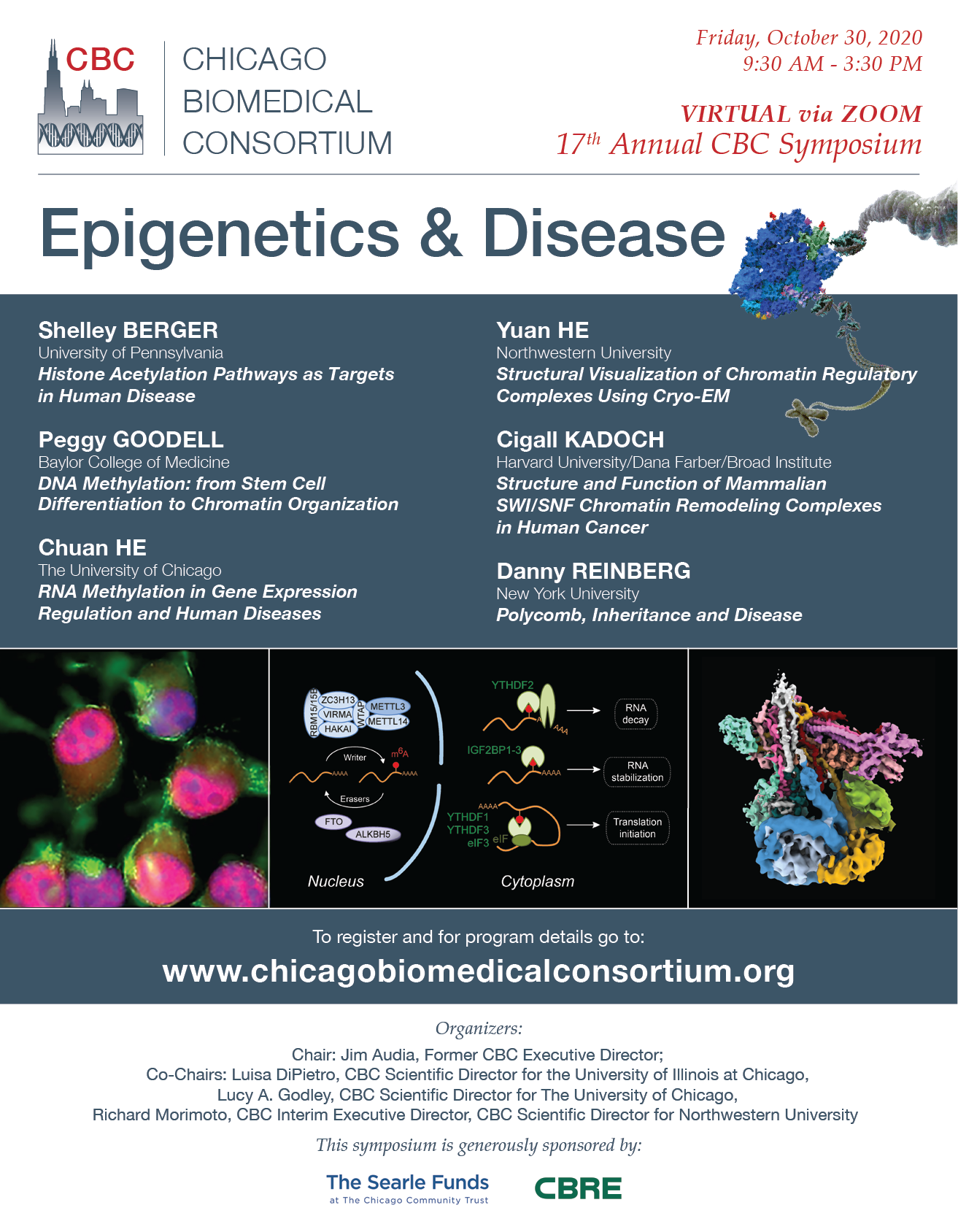 VIRTUAL via ZOOM
DATE: Friday, October 30, 2020
TIME: 9:00 AM – 3:00 PM
(tentative)
SPEAKERS:
Shelley Berger (University of Pennsylvania), Peggy Goodell (Baylor College of Medicine), Chuan He (The University of Chicago), Yuan He (Northwestern University), Cigall Kadoch (Harvard/Dana Farber/Broad Institute) and Danny Reinberg (New York University).
ORGANIZERS:
Jim Audia (Chair; Former CBC Executive Director), Luisa DiPietro (Co-Chair; CBC Scientific Director for UIC), Lucy A. Godley (Co-Chair; CBC Scientific Director for UChicago) and Rick Morimoto (Co-Chair; CBC Interim Executive Director & CBC Scientific Director for NU).
The meeting will also include a virtual poster session. Stay tuned for future updates!
The symposium is free of charge, however, online registration is required. Please share with your colleagues all are welcome and encourage them to register!
---
Stay Tuned for News from CBC
Bookmark the CBC webpage
Sign up for CBC news
Follow us on Twitter @CBC_ChiBiomed
Like us on Facebook
---