May 26, 2015
CBC Announces Sixth Lever Award
Vadim Backman (NU), Lucy Godley (UChicago) and Jack Kaplan (UIC) are co-Principal Investigators on the CBC's new $1.5M Lever Award:  "Chicago Center for Physical Science-Oncology Innovation and Translation."  Professors Backman, Godley, and Kaplan are members of a team led by Thomas O'Halloran (NU) and Jonathan Licht (NU) which recently won a $10M NCI U54 grant to fund the Chicago Region Physical Science-Oncology Center.  CBC Lever funds will support the Center's new instrumentation and shared resources.
For Immediate Release
Northwestern's Office for Research
New $10M Chicago Region Physical Science-Oncology Center Will Expand Personalized Medicine Beyond the Genome
Chicago Biomedical Consortium Lever Award Supports Center's New Instrumentation and Shared Resources
Scientists have long known that the transformation of healthy cells to cancer cells involves more than just mutations in our genetic DNA sequence. Now, thanks to a $10M grant from the National Cancer Institute, researchers in the Chicago Region Physical Science–Oncology Center (CR-PSOC) will advance our understanding of this disease by examining the role of physical and chemical forces involved in the transformation of a normal cell into a cancer-causing one. This team will develop new ways to interrogate changes in the "epigenome"— the chemical markers that influence the folding and condensation of DNA within the nucleus, and changes in the "metallome" – the metal ion content of the cell— that support the development of cancer.   

The "packaging" of DNA influences the local environment of genes and their regulation. DNA is packaged together with proteins, RNA and metal ions into a structure known as chromatin which is responsible for DNA folding and plays a vital role in gene expression. CR-PSOC investigators will deploy a series of physical science approaches and novel imaging methods to determine whether changes in chromatin folding result in aberrant patterns of gene expression that drive cancer progression. Then, they will translate these advances into a deeper understanding of cancer biology and, eventually, into novel cancer therapy.
The Center is led by a pair of Northwestern researchers. Renowned physical scientist Thomas V. O'Halloran, PhD, Morrison Professor of Chemistry in the Weinberg College of Arts and Science and Director of Northwestern's Chemistry of Life Processes Institute (CLP), is principal investigator. Collaborating with him is internationally recognized cancer researcher Jonathan D. Licht, MD, Director of the Division of Hematology and Oncology and Dobe Professor of Hematology-Oncology in the Feinberg School of Medicine.  They are both members of Northwestern's Robert H. Lurie Comprehensive Cancer Center.  
The CR-PSOC is composed of a multi-disciplinary team of 12 physical scientists and 8 cancer researchers from fields encompassing physics, chemistry, biomedical engineering, biophysics, biochemistry, pharmacology, and hematology-oncology from the Chicago region's premier research institutions: Northwestern University, the University of Chicago and University of Illinois at Chicago.  Project leaders recruited additional experts in the physical sciences and chromatin fields from outside Chicago, namely MIT, Memorial-Sloan Kettering Cancer Center, and the University of Massachusetts Medical School.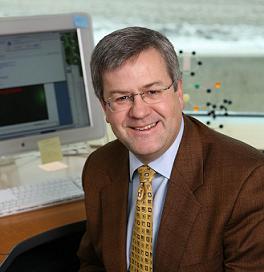 "Several thought-leaders in the physical sciences and oncology fields have joined forces to bring emergent ideas and cutting-edge methods and focus them on understanding  molecular changes that allow the cancer cell to grow out of control," said Dr. O'Halloran (right). "By harnessing these combined interdisciplinary strengths, this team will make significant progress in the diagnosis and treatment of several types of cancer."
Designed around the theme of "Spatio-Temporal Organization of Chromatin and Information Transfer in Cancer," the Center consists of three interrelated project areas, each focused on different aspects of chromatin structure and function, plus two core facilities, and pilot project, education and outreach programs.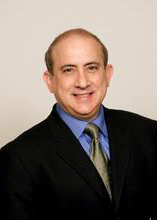 "What we're trying to do is understand the fundamental rules of misbehavior of cancer cells with a particular class of mutations," said Dr. Licht (left).
The Center will be a knowledge hub for training the next generations of scholars to make breakthroughs at the convergence of physical sciences and oncology. Center programming will include an extensive series of workshops, student forums, symposia, and journal clubs.  An institutional commitment by Northwestern University to support the training of graduate students and postdocs engaged in CR-PSOC research will further extend the Center's educational reach.
The Center is part of a cadre of Physical Science-Oncology Centers within the National Cancer Institute's collaborative Physical Sciences-Oncology Network. 
"We will have common cellular platforms, and we're going to have frequent group meetings, as well as periodic regional and national meetings where these findings are discussed and where inter-program collaboration is encouraged," said Dr. Licht. "We will have a kickoff meeting in mid-July."
The Center is supported by the resources and expertise of Northwestern's foremost engines for transdisciplinary research: CLP and the Robert H. Lurie Comprehensive Cancer Center. The breadth and scope of these resources will be substantially augmented by local consortium partners, the University of Chicago and University of Illinois at Chicago, and through a $1.5M Lever grant from the Chicago Biomedical Consortium that provides additional support for key shared resource facilities (see below). Vadim Backman (NU), Lucy Godley (UChicago) and Jack Kaplan (UIC) are co-Principal Investigators on the CBC's Lever Award: "Chicago Center for Physical Science-Oncology Innovation and Translation." 
"This new Center is part of a coalition assembled by the National Cancer Institute to address and bring breakthroughs in the physical sciences to bear on the problem of cancer" said Dr. O'Halloran. "Cancer patients expect us to increase the speed with which we apply discoveries in the basic sciences to the prevention, diagnosis and treatment of disease, and the PS-OC teams are embracing this important challenge."
---
Adapted with modifications from: "New $10M Chicago Region Physical Science-Oncology Center Will Expand Personalized Medicine Beyond the Genome," Press Release, Northwestern's Office for Research, May 20, 2015. Contact: Sheila Judge s-judge@northwestern.edu  847-491-5868
---
The CBC Lever award will support the following resource facilities:
---
see also:
▸ HOW DOES A NORMAL CELL BECOME A CANCER CELL?
National Cancer Institute awards Northwestern nearly $10 million for cancer research
Northwestern University News | June 4, 2015 | by Megan Fellman
---