November 14, 2014
Anti-Dicing Nuclease, a New Kid on the Block that Could Help Combat Cancer
Zain Paroo joined the UIC Center for Pharmaceutical Biotechnology in December 2010. He is a recipient of a CBC Junior Investigator Award. Paroo is a senior author on a publication in the November 20, 2014 issue of Cell Reports entitled, "Rescuing dicer Defects via Inhibition of an Anti-dicing Nuclease." The paper describes a pre-micro-RNA (pre-miRNA) degrading enzyme that competes with pre-miRNA processing by dicer. This pre-miRNA degrading enzyme could represent a novel therapeutic target for restoring miRNA levels in diseases associated with dicer deficiencies such as cancer.
Dicer is an endoribonuclease that cleaves pre-miRNA into mature miRNA. miRNAs assemble into RNA-induced silencing complexes (RISCs) that inhibit translation by targeting mRNA, a process known as RNA interference. Thus, dicer plays a critical role in gene expression during daily physiological processes and it has been implicated in pathological processes such as neurodegeneration, diabetes, viral immunity and cancer. Altered levels of both miRNA and Dicer have been implicated in tumorigenesis and correlate with poor patient prognosis. Hence, dicer has been a *hot* target of investigation for potential diagnostic and therapeutic applications.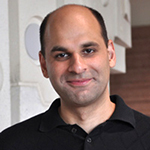 In the Cell Reports article, Paroo (right) and colleagues explain that dicer is not alone in regulating miRNA levels. The authors show that a ribonuclease complex called Translin/Trax (TN/TX) degrades pre-miRNA and competes with pre-miRNA processing by Dicer. In cells in which Dicer levels are reduced (e.g. dicer is frequently lost in tumor cells), TN/TX function suppresses miRNA expression. Thus, low levels of miRNA in dicer-deficient backgrounds are a combined effect of loss of dicer-dependent miRNA-generating activity and pre-miRNA degradation by TN/TX. Moreover, inhibition of TN/TX mitigated loss of both miRNA and tumor suppression in dicer haploinsufficiency.
Human diseases, including cancer and neurodegeneration, have been linked to genetic defects in dicer. The study by Paroo et al. demonstrates that TN/TX contributes to the loss of miRNA in dicer deficiency, revealing a possible therapeutic solution. Since nucleic acids-based miRNA therapies have been hindered by low cellular uptake and other pharmacodynamic challenges, these findings make TN/TX inhibition a promising druggable target for restoring miRNA function for dicer-related diseases. "This work is an example of how understanding basic mechanisms of biological function enables new therapeutic approaches for currently 'undruggable' cellular targets," said Paroo.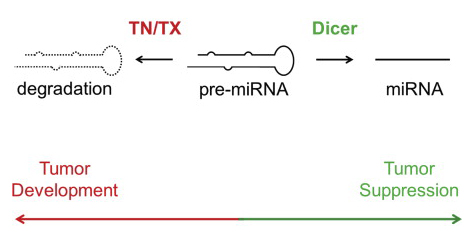 Image credit: Graphical abstract adapted from Asada K, Canestrari E, Fu X, Li Z, Makowski E, Wu YC, Mito JK, Kirsch DG, Baraban J, Paroo Z. Rescuing dicer Defects via Inhibition of an Anti-dicing Nuclease. Cell Reports. Available online 6 November 2014. (sciencedirect)
Recruitment Award (2010): Zain Paroo receives a CBC Junior Investigator Award

Publication attributed to the CBC Recruitment Award: Asada K, Canestrari E, Fu X, Li Z, Makowski E, Wu YC, Mito JK, Kirsch DG, Baraban J, Paroo Z. Rescuing dicer Defects via Inhibition of an Anti-dicing Nuclease. Cell Reports. Available online 6 November 2014. (sciencedirect)