February 10, 2011
Renewal of the CBC's Funding by the Searle Funds at The Chicago Community Trust for 2011-2015
---
The fall of 2010 was a very productive time for the CBC and we are pleased to share many of these activities with you in our Winter Newsletter. We are delighted to report the renewal of the CBC's Funding by the Searle Funds at The Chicago Community Trust for 2011-2015. As the CBC celebrates its fifth anniversary, we are proud to announce that over 200 publications have resulted from CBC funded research, and 40 grants totaling over $118 million have been awarded as a result of CBC funding.
The current newsletter includes articles about CBC funding opportunities, educational activities, and introduces two new CBC Junior Investigators. Mark your calendars for CBC Science Day scheduled for April 22, 2011, at Prentice Women's Hospital in downtown Chicago.
Finally, we wish to thank Jonathan Silverstein for the collaborative and scientific leadership he has provided the CBC from its earliest days. Jonathan is stepping down from his role as The University of Chicago CBC Scientific Director and will assume the position of Vice President for Clinical Research Informatics at NorthShore University HealthSystems Research Institute. The CBC community wishes Jonathan tremendous success as he embarks on this next phase in his research career.
Enjoy browsing through the newsletter and exploring the topics you find interesting!
Karen Snapp
CBC Associate Director
Email:
Jola Glotzer
CBC Program Managar at UChicago
Email:
---
Headlines
---
ANNOUNCEMENTS
FUNDING OPPORTUNITIES
EDUCATION
NEWS REPORTS
---
Full Articles
---
Renewal of Chicago Biomedical Consortium (CBC) Funding (2011-2015)
The Searle Funds at The Chicago Community Trust (CCT) has renewed its funding commitment to the CBC. "The Searle family is very pleased with the innovations the CBC has introduced to Chicago and the scientific community during the past five years, " said Karie Thomson, a member of the Searle family and a consultant to the Searle Funds at The Chicago Community Trust. "It makes sense to continue this collaborative work that is central to furthering Chicago's prominence as a leader in biomedical sciences and offers much hope for scientific advancements. We look forward to seeing what the next five years uncover."
The initial five-year funding commitment of $25 million, which concluded with a $5 million grant for 2010, supports and stimulates innovative multi-institutional collaborations in research and education that have propelled the Chicago area to become a leader in biomedical sciences, said Terry Mazany, president and chief executive officer of The Chicago Community Trust. "Based on a review of this initiative during its fourth year, the return on investment has been extraordinary, and the Searle family and The Chicago Community Trust have announced a five-year extension of the program beginning in January 2011." Mazany said.
Members of the Searle Family were instrumental in establishing the CBC and have supported the program through the Searle Funds at the CCT since the CBC's inception. The CBC thanks the Chicago area biomedical research community and the Searle Funds at The Chicago Community Trust for making the CBC's mission possible!
---
CBC Science Day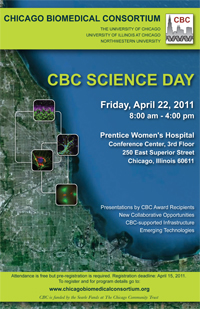 CBC Science Day will be held Friday, April 22, 2011, 8:30 AM – 4:00 PM, at the Prentice Women's Hospital, Conference Center, 250 East Superior Street, Chicago, Illinois 60611.
Come and join the CBC in this event! Almost all CBC investigators and CBC-supported projects will be represented in scientific presentations and/or the poster session. The main goal of Science Day is to highlight the impact of CBC awards on research progress and to provide a platform for scientific exchange to researchers at CBC universities. In addition, Science Day will feature CBC-supported facilities, and the CBC Scholars will present posters describing their thesis research. The event is free of charge and is open to all researchers from UChicago, UIC and NU but pre-registration is required and will be limited to the first 250 attendees. Online registration opens starting February 10, 2011. Please bookmark the CBC website for updates on the CBC Science Day program.
---
9th Annual CBC Symposium
The 9th Annual CBC Symposium, Engineering Biology: From tools to insights, will be held at the UIC Forum on Friday, October 21, 2011. David Eddington (UIC), Lonnie Shea (NU), and Joel Collier (UChicago) are joining forces with Brenda Russell (UIC CBC Scientific Director) to organize this scientific event. The organizational committee has recruited three outstanding external keynote speakers: Douglas Lauffenburger (MIT), Melody Swartz (Ecole Polytechnique Federale de Lausanne (EPFL), Switzerland) and Chris Chen (U Penn). As additional information becomes available, it will be posted on the CBC webpage.
---
CBC's third Lever Award will establish new research support facilities for the CBC universities
The team of Principal Investigators Chad Mirkin (NU), David Eddington (UIC), and Milan Mrksich (UChicago) have received a $2.1M CBC Lever Award for a proposal Nanomaterials for Cancer Diagnostics and Therapeutics. The CBC Award will establish core facilities (referred to as foundries), which will develop, fabricate, and disseminate standardized and well-defined matrices and substrates for culturing cancer cells. The CBC Lever Award matches a $12 million award from the National Cancer Institute (NCI) to help establish a collaborative network of Centers of Cancer Nanotechnology Excellence (CCNEs). The materials generated from the new facilities will be shared with CBC-affiliated research laboratories at no cost, broadening the impact of the CBC's collaborative efforts. To learn more about this and other CBC-sponsored infrastructure visit the CBC website.
---
Two new faculty receive CBC Junior Investigator Awards

The CBC is proud to introduce two new CBC Junior Investigators: Zain Paroo, PhD (UIC) and Michael Rust, PhD (UChicago). These awards complete a total of six CBC Junior Investigator Awards granted in 2010 (two awards were made to each CBC university): Jun Cheng (UIC), Alex Ruthenburg (UChicago), Daniel Dombeck (NU) and Sadie Wignall (NU). The Awards provide Junior Investigators with $500K to be used for their research programs and are finalized once the faculty member arrives on campus.
Zain Paroo, PhD, joined the Center for Pharmaceutical Biotechnology and Department of Biopharmaceutical Sciences at UIC in December 2010. Dr. Paroo received his PhD from the Faculty of Health Sciences at The University of Western Ontario for work on Gender-Specific Susceptibility to Myocardial Infarction. Subsequently, he joined the laboratory of Prof. Qinghua Liu at the Southwestern Medical Center in Dallas as a Postdoctoral Fellow to study RNA interference. The goal of his laboratory is to discover biochemical mechanisms of small RNA pathways and apply these advances to real world application.

Michael Rust, PhD, joined the Department of Molecular Genetics and Cell Biology and The Institute for Genomics and Systems Biology (joint appointment) at UChicago in January 2011. Dr. Rust received his PhD in Physics at Harvard University. He then joined the lab of Prof. Erin O'Shea at Harvard University as a Postdoctoral Fellow. In his work, Rust combines optical microscopy of living cells and single molecules with biochemistry and mathematical modeling to understand the function of small networks of strongly interacting biological molecules.
---
Catalyst Award program updates and 2011 funding deadlines
The CBC's Catalyst Award program offers funding of up to $200K for one- or two-year new inter-institutional collaborative research projects. Projects should focus on systems biology and address an important biological/biomedical question. Although not limited to the areas of Imaging, Proteomics, and Informatics, these are topics of interest to the CBC. Catalysts are not intended to support incremental progress — the proposed research should be innovative and risky. Preliminary data is not required. Collaborations involving senior and junior faculty members are given special consideration. Research teams must be composed of Principal Investigators from at least two CBC Institutions.
Catalyst funding may be used to generate data for a variety of funding sources, including NIH R-level grants. Catalyst proposals should include a plan for obtaining future support. 

Applications are reviewed for creativity and scientific merit by the CBC Scientific Review Board, which is composed of three senior scientists from each of the CBC institutions.
Twenty-two Catalyst applications were received in 2010 and five teams were granted Catalyst Awards (see the CBC webpage for a summary of all to-date funded Catalyst Awards).
2010 CBC Catalyst Award Recipients:
2010 Spring Round
2010 Fall Round
Catalyst Program Key Dates for 2011:
| | | | |
| --- | --- | --- | --- |
| Application Round | Online Submission Opens | Proposal Submission Deadline | Expected Decision |
| Spring 2011 | February 28, 2011 | March 9, 2011 | May 17, 2011 |
| Fall 2011 | August 22, 2011 | August 31, 2011 | November 8, 2011 |
---
Spark Awards Program is Accepting Submissions
September 1, 2009
The CBC's Spark Award program offers funding of up to $400K for one- or two-year collaborative research projects. Spark Awards aim to fund exceptional inter-institutional collaborative projects with the potential to produce a major, transformative impact on basic biomedical research. Bold and highly innovative proposals should focus on systems biology and address an important and relatively large biological/biomedical question. Preliminary data is not usually required.
To qualify as a substantial collaborative effort, research teams must be composed of Principal Investigators from at least two of the CBC Institutions and preferably three. While the CBC intends to fund projects that are much more creative than what is typically funded by the NIH, the NIH multi-PI project awards serve as a convenient reference for the scale of a Spark project. The larger scale and higher impact expected in a Spark project are key features that distinguish a successful Spark application. A plan that describes how future support of a Spark-initiated research project will be funded with an appropriately sized mechanism should be included.
Applicants may submit a one-page Phase I pre-proposal (concept paper) for a Spark Award at any time. Pre-proposals are evaluated on a rolling basis, with the outcome typically communicated within four weeks. If the project is deemed appropriate for the Spark program, a three-page Phase II full proposal will be invited. Full proposals are carefully reviewed for impact and scientific merit by multi-disciplinary teams of senior researchers. The CBC Spark Council meets as needed for the final step in review. The CBC reserves the right to step outside the usual constraints of federal-style evaluation procedures and work with Principal Investigators to shape proposals in a constructive and interactive manner.
---
Cutting-edge research and high turnout defined the 8th Annual CBC Symposium

The 8th Annual CBC Symposium took place on October 29, 2010, at Ida Noyes Hall on the University of Chicago campus. This year's symposium focused on Protein Folding and Misfolding in Health and Disease and addressed both the basic biology of protein folding in cells, and the role that misfolding plays in aging and the development of neurodegenerative disorders (such as Huntington's, Parkinson's and Alzheimer's diseases, and Amyotrophic Lateral Sclerosis).
As one of the symposium attendees put it, this year's symposium featured "a stellar line-up and important topics." The lectures were presented by four guest speakers: Ana Maria Cuervo (Albert Einstein College of Medicine), Steven Finkbeiner (University of California, San Francisco), 
Judith Frydman (Stanford University), 
Randal J. Kaufman (University of Michigan), 
and two Chicago-based scientists: 
Scott T. Brady (UIC)
 and Richard I. Morimoto (NU).
Over 200 scientists actively participated in this year's symposium. All three CBC universities were well represented among the symposium attendees who also included scientists from Rosalind Franklin University, Toyota Technological Institute at Chicago, Chicago State University, Illinois Institute of Technology, Rush University Medical Center, and University of Massachusetts Medical School. In addition, the symposium included a well-attended-poster session, which had a record number of twenty-eight presenters. (Read more on the CBC website).
---
Annual CBC sponsored PISF Summer Workshop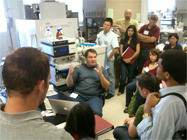 The CBC Summer Workshop in Proteomics and Informatics took place at the CBC/UIC Proteomics and Informatics Service Facility (PISF) on August 2-6, 2010. The workshop, organized by Larry Helseth, the Associate Director of the UIC PISF, and Kolla Kristjansdottir (UChicago), was a combination of lectures, demonstrations, hands-on laboratory training in multiple sample prep and mass spectrometry techniques, and computer training in data analysis. As with past workshops, the number of applicants exceeded the capacity of the workshop; the 28 students, faculty and staff that attended the workshop included participants from all three CBC universities and from industry. (Read more on the CBC website).
---
CBC Scholar update
The CBC Scholars advance the CBC mission of fostering collaboration and excellence at the graduate student level at their universities. Each CBC University selects up to 3 students per year to receive a grant of $5,000 per year for up to two years. This award is to be used for academically-related purposes, such as travel to conferences and participation in workshops.
The inaugural 2010 Class of CBC Scholars held its CBC Scholars Scientific Exchange on August 19, 2010, at Northwestern University. Each Scholar presented his/her dissertation research, focusing on its "Big Picture" significance. A summary of this meeting can be found on the CBC website.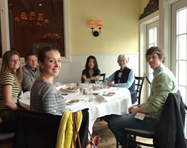 The CBC is delighted to introduce the 2011 Class of nine CBC Scholars. The first gathering of the 2011 Class took place on January 14, 2011, during a welcoming lunch at Bistrot Margot where they met the Scholars from the 2010 Class, CBC Scientific Directors and CBC staff members. In addition to getting to know each other, the participants took part in a lively discussion, which focused on scholarly and community-oriented activities for the Scholars to undertake this coming year. (Read more on the CBC website).
2011 Class of CBC Scholars:
Sevim Yildiz Arslan (UIC, Department of Microbiology and Immunology, PI-Howard Lipton)
Christina Chow (UIC, Department of Pharmacology, PI-Tohru Kozasa)
Louis (Lou) Dore (NU, Department of Medicine, PI-John Crispino)
Lila Gollogly (UIC, Department of Microbiology and Immunology, PI-Gail Hecht)
Qiyan Mao (UChicago, Committee on Development, Regeneration and Stem Cell Biology, Biological Sciences Division, PI-Robert Ho)
Adam Pah (NU, Department of Chemical and Biological Engineering, PI-Luis Amaral)
Nicolas Pelaez Restrepo (NU, Department of Chemical and Biological Engineering, PI-Luis Amaral)Bryan F. Singer (UChicago, Committee on Neurobiology, Biological Sciences Division, PI-Paul Vezina)Fei Sun (UChicago, Department of Chemistry, Physical Sciences Division, PI-Chuan He)
---
Dr. Brenda Russell, the UIC CBC Scientific Director, receives the iBIO 2010 iCON Innovator Award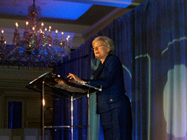 The Fourth Annual iCON Awards Gala was held in the Grand Ballroom of the Four Seasons Hotel on September 30, 2010. The iCON Awards recognize the role of education, research, training and scholarship in fostering growth and building the next generation of Midwest biotechnology and life sciences innovators and leaders.
The iCON Innovator Award recognizes an active researcher/scientist/educator who is acknowledged by his or her peers as a leader in the teaching of and scholarship in biotechnology and its related sciences. All those who know Brenda Russell's stellar research career and her contributions to education at both the university and community levels, agree that she is well deserving of this prestigious award.
Dr. Russell's scientific experience and productivity encompass multiple disciplines and demonstrates collaboration between quantitative biology, bioengineering, physiology and chemistry. Her work in tissue engineering and the development of a novel, biometic cardiac regeneration system using bioengineering and surface chemistry modifications has resulted in the formation of her Evanston based company, Cell Habitats, Inc., which has joined the iBIO PROPEL center.
Notably, all previous iCON Innovator Award recipients are closely connected to the CBC: Dr. Thomas J. Meade (NU; 2009 Award) is a 2009 CBC Spark Award holder, Dr. Daphne Preuss (Chromatin Inc.; 2008 Award) was the original leader of the CBC discussions at UChicago, and Dr. Chad A. Mirkin (NU; 2007 Award) is a PI on the newest 2010 CBC Lever Award. (Read more on the CBC website).
---
CBC welcomes new UIC Program Manager Tarra Barot, PhD

The CBC is pleased to welcome Tarra Barot, PhD, as the UIC Program Manager. Tarra has experience in medical writing as well as basic science training in behavioral neuroscience. Tarra received her doctorate from Oregon Health and Science University and completed her postdoctoral training in the laboratory of Paul Vezina, PhD, at the University of Chicago. Following her postdoctoral training, Tarra worked with a team of medical writers to develop sales presentations for healthcare professionals. Tarra joined the CBC in October 2010 and can be reached via email (tbarot at uic dot edu) or by phone (312.996.1311).
---
Spotlight on CBC supported facilities
Hitachi HD-2300A Cryo STEM
A CBC Spark Award to Thomas O'Halloran (NU), Vinayak Dravid (NU) and Jonathan Silverstein (UChicago) provided significant leverage that helped secure a $1.6M grant from the W. M. Keck Foundation to purchase the high-resolution cryo-capable scanning transmission electron Hitachi-HD-2300A microscope (Cryo STEM). CBC Spark funds are being used to pay for two technical experts who are responsible for training users on the instrument, sample preparation, experimental measurements and assistance in data acquisition, analysis and interpretation.
The HD-2300 STEM is ideal to study the microstructure of bio-, soft and organic materials at atomic resolution and analytical sensitivity. The Cryo STEM boasts many options for imaging biological samples such as the cryo-STEM holder and the low-dose operation mode. Likewise, high voltage cryo-secondary electron imaging on the STEM is ideal for imaging thick and frozen samples. It has both a secondary electron detector, which provides information about the sample surface, and a z-contrast detector, which will simultaneously provide contrast that is directly related to the atomic number of the elements in the sample. Elements within the sample can be characterized, quantified and mapped in 2-dimensions via electron energy loss spectroscopy (EELS) or by energy dispersive X-ray spectroscopy (EDS).
The Cryo STEM is located in the EPIC (Electron Probe Instrumentation Core) unit of NUANCE (NU's Atomic and Nanoscale Characterization Experimental Center) on the NU Evanston campus and is ready to be used by members of the CBC community. The staff is extremely knowledgeable in biological sample preparation and is available for consultation.
Hit-to-Lead Resource
A research team led by Sergey Kozmin at UChicago received the second CBC Lever Award in January 2009 to fund The Chicago Tri-Institutional Center for Chemical Methods and Library Development (CTCMLD). The CTCMLD is composed of three CBC-supported cores: the Library Production Core at UChicago, the Hit-to-Lead Resource Core at NU, and the Computational Cheminformatics Core at UIC.
Karl Scheidt is the PI of the Hit-to-Lead facility, which is under the management of the Center for Molecular Innovation and Drug Discovery (CMIDD), and located in the new Chemistry of Life Processes Institute in Silverman Hall on the Evanston Campus. The Hit-to-Lead capabilities include synthesis and purification of new small molecules plus computational chemistry and cheminformatic support to evaluate "hits" from screening endeavors. The CBC Lever funding has been used to purchase instrumentation and to enhance collaborative research projects through the hiring of a medicinal/synthetic chemist and an experienced computational chemist with expertise in molecular modeling. The Hit-to-Lead resource is involved in a number of collaborative projects and faculty and staff are available for consultation and to discuss available capabilities to the CBC community.
---