8th Annual CBC Symposium
"Protein Folding and Misfolding in Health and Disease"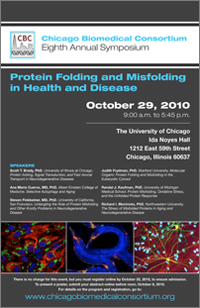 DATE: October 29, 2010
TIME: 9:00 AM – 5:45 PM
LOCATION: The University of Chicago
Ida Noyes Hall
1212 East 59th Street, Chicago, IL 60637
---
Symposium Recap
High turnout marks the 8th Annual CBC Symposium
November 4, 2010
The 8th Annual CBC Symposium took place on October 29, 2010 within the beautiful surroundings of Ida Noyes Hall at the University of Chicago campus. This year's symposium focused on "Protein Folding and Misfolding in Health and Disease" and aimed to address both the basic biology of protein folding in cells, and perturbations of the process, or protein misfolding, and the role that misfolding plays in aging and the development of neurodegenerative disorders (such as Huntington's, Parkinson's and Alzheimer's diseases, and Amyotrophic Lateral Sclerosis).
As one of the symposium attendees put it, this year's symposium featured "a stellar line-up and important topics." Indeed, the lectures were presented by four outstanding guest speakers:
Ana Maria Cuervo, MD, PhD
Professor, Departments of Developmental and Molecular Biology and of Medicine; Co-director, Einstein Institute for Aging Studies, Albert Einstein College of Medicine; Recipient of P. Benson Award in Cell Biology (2005), Keith Porter Fellow in Cell Biology (2005/8), Nathan Shock Memorial Lecture Award (2006), and Vincent Cristofalo Rising Star in Aging Award (2008)
Steven Finkbeiner, MD, PhD
Associate Director and Senior Investigator, Gladstone Institute of Neurological Disease; Director, Taube-Koret Center for Huntington's Disease Research; Professor of Neurology and Physiology, University of California, San Francisco
Judith Frydman, PhD
Professor, Biology, School of Humanities and Sciences, Stanford University
Randal J. Kaufman, PhD
Warner-Lambert/Park-Davis Professor of Medicine; Professor, Departments of Biological Chemistry and Internal Medicine, University of Michigan; Recipient of Distinguished Investigator Award from Michigan Hemophilia Society (2000), Van Wezel Prize (2003), and an American Association for the Advancement of Science Award (2007),
and two Chicago-area based scientists:
Scott T. Brady, PhD
Professor and Head, Department of Anatomy and Cell Biology, University of Illinois at Chicago
and a CBC Scientific Director Richard I. Morimoto, PhD
Bill and Gayle Cook Professor of Biology; Professor of Molecular Biosciences; Director, Rice Institute for Biomedical Research, Northwestern University; Recipient of American Cancer Society Faculty Research Award; Dreyfus Distinguished Young Faculty Award; NIH Merit Award; Fellow of the American Association for the Advancement of Science; Huntington Disease Society of America, Award for Excellence in Medicine.
The meeting opened with introductory remarks by Sangram (Sam) S. Sisodia, PhD, Thomas Reynolds Sr. Family Professor of Neurosciences, and Director of the Center for Molecular Neurobiology, University of Chicago.
Over 200 scientists actively participated in this year's symposium. All three CBC universities were well-represented among the symposium attendees, who also included scientists from Rosalind Franklin University, Toyota Technological Institute at Chicago, Chicago State University, Illinois Institute of Technology, Rush University Medical Center, University of Massachusetts Medical School, among others. In addition, the symposium presented a popular poster session that this year gathered a record number of posters (28) in the history of the CBC annual symposia.
LEFT: Poster Session. RIGHT: Lecture by Judith Frydman, PhD, Stanford University (top) and Lunch. (Photos: CBC)
---
see also
▸ Symposium program
▸ Symposium announcement
▸ Commentary in Science Life, Nov. 10, 2010: "Folding Failures and Brain Diseases"
---