Updated: January 18, 2023
19th Annual CBC Symposium:
Stress and Human Health: Diabetes
---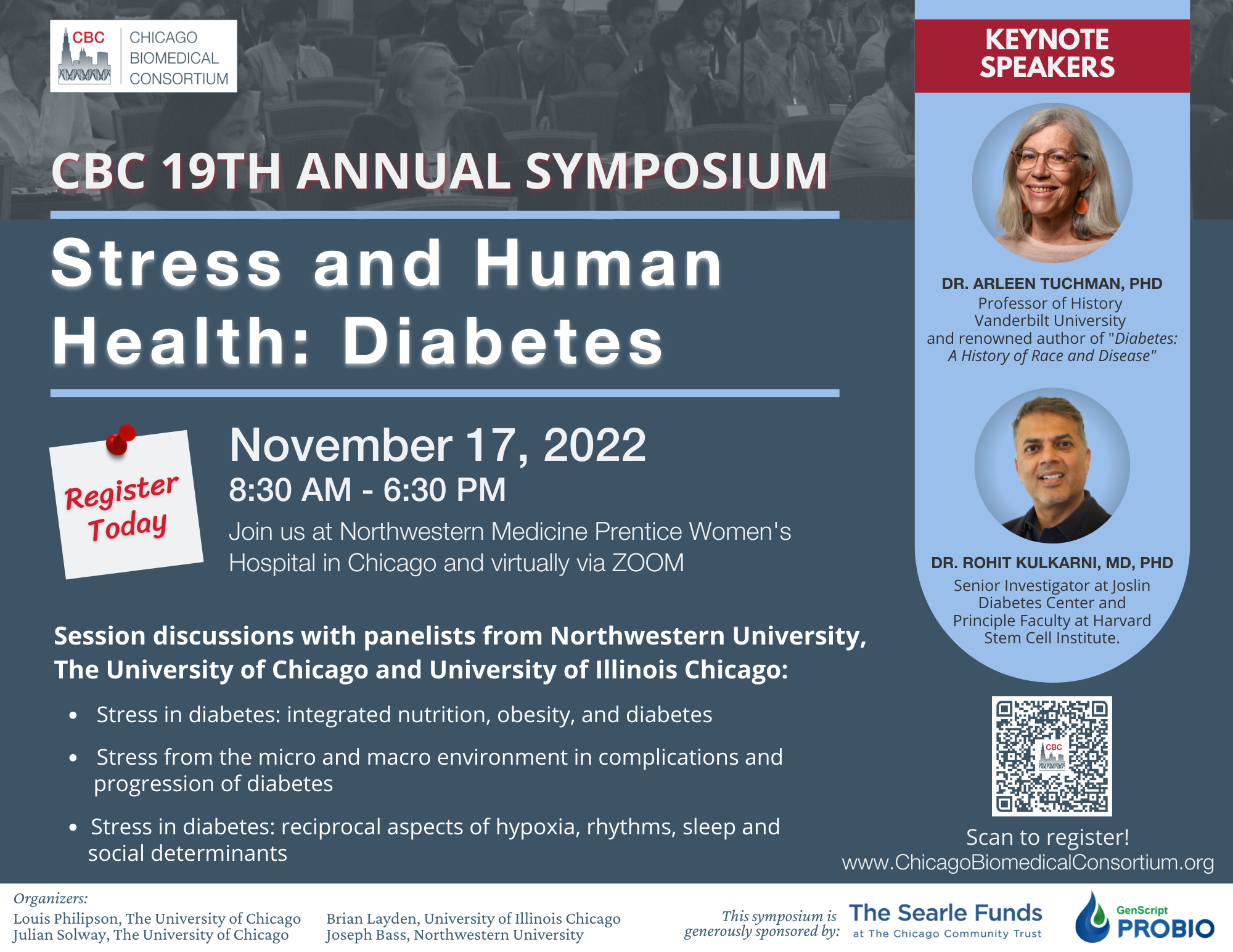 Full Day HYBRID event:
Virtual and In-person in Chicago
DATE: Thursday, November 17, 2022
LOCATION:
Northwestern Medicine Prentice Women's Hospital
Room L and Harris Atrium
250 E. Superior Street, Chicago, IL 60611
AND virtually as a ZOOM Webinar.
TIME: 8:30 AM – 6:30 PM
POSTER SESSION: 11:45 AM – 1:00 PM
Symposium Twitter Feed: @CBCsymp2022, #CBCsymp2022
This all-day event is co-organized by Louis Philipson (UChicago), Julian solway (UChicago), Brian Layden (UIC) and Joseph Bass (NU).
This symposium is generously sponsored by: The Searle Funds at the Chicago Community Trust and GenScript PROBIO
Quick Links:  
Poster Presentations  I  Symposium Program  I  Keynote Speakers
Session Speakers  I  Session Chairs
---
Poster Presentations:
The CBC Annual Symposium 2022 hosted the symposium poster session in-person this year at Northwestern Memorial Prentice Women's Hospital. Click on the link below to view this year's posters and abstracts online.
▸ VIEW POSTERS AND ABSTRACTS HERE
---
KEYNOTE SPEAKERS:
---
SESSION SPEAKERS:
---
---
---
SESSION CHAIRS:
---
---
PROGRAM:
download program HERE