Poster # 6
HOSPITALIZED COVID-19 PATIENTS WITH A HISTORY OF OBSTRUCTIVE SLEEP APNEA
Co-authors: Katharine G. Howard, UIC; Grace Viana, UIC; Bharati Prasad, UIC; Rebecca S. Monson, UIC; Brett Rydzon, UIC; Brian T. Layden, UIC; Kirstie K. Danielson, UIC; Maria Therese Galang-Boquiren, UIC
---
PRESENTER'S INFO:
Name: Katharine Howard
Email: khowar26@uic.edu
Title: Student
Affiliation: University of Illinois Chicago
Department: Orthodontics
Advisor: Dr. Maria Therese Galang-Boquiren
Advisor's Email: mgalang@uic.edu
---
Abstract:
Introduction: COVID-19 is caused by the novel coronavirus SARS-CoV-2. Existing literature indicates that COVID-19 patients have risk factors that are also associated with obstructive sleep apnea (OSA), such as hypertension and diabetes mellitus.
Objective: The objective of this analysis was to evaluate the characteristics and clinical course of patients with a history of OSA who were hospitalized for COVID-19.
Materials and Methods: UIC's COVID Registry for Research, a database secured in UIC's REDCap system which contains data regarding the demographics, clinical risk factors, and clinical outcomes of the first case series of 239 inpatients who tested positive and were hospitalized for COVID-19 at UIH between March 18 – May 6, 2020, was examined to identify patients with a documented history of diagnosed or suspected OSA. Data exists for up to 20 days post-positive COVID test.
Results: Of the initial 239 patients hospitalized for COVID-19, 36 (15.1%) were either diagnosed or suspected to have OSA. Ages ranged from 24-89 years, half were male. Most patients were African American and non-Hispanic/non-Latino. BMI ranged from 18.5-61.7 kg/m2, mean ± standard deviation of 40.1, ± 9.6.
Comorbidities present included hypertension, history of smoking, type 2 diabetes mellitus, and congestive heart failure. Most of the patients were admitted for under one week. Most frequently noted symptoms at baseline included cough, fever, dyspnea, and respiratory distress. Most patients required nasal cannula as the maximum degree of oxygen support. Most patients had recovered at day 20 after testing positive.
Conclusion: This study revealed a slightly higher prevalence of OSA in hospitalized COVID-19 patients compared to the general population. These patients tended to exhibit respiratory-related signs/symptoms and medical history associated with severe COVID-19.
---
Audio presentation:

Click HERE to listen
---
Poster: To download / open the poster as a PDF file in a new window click on the image below.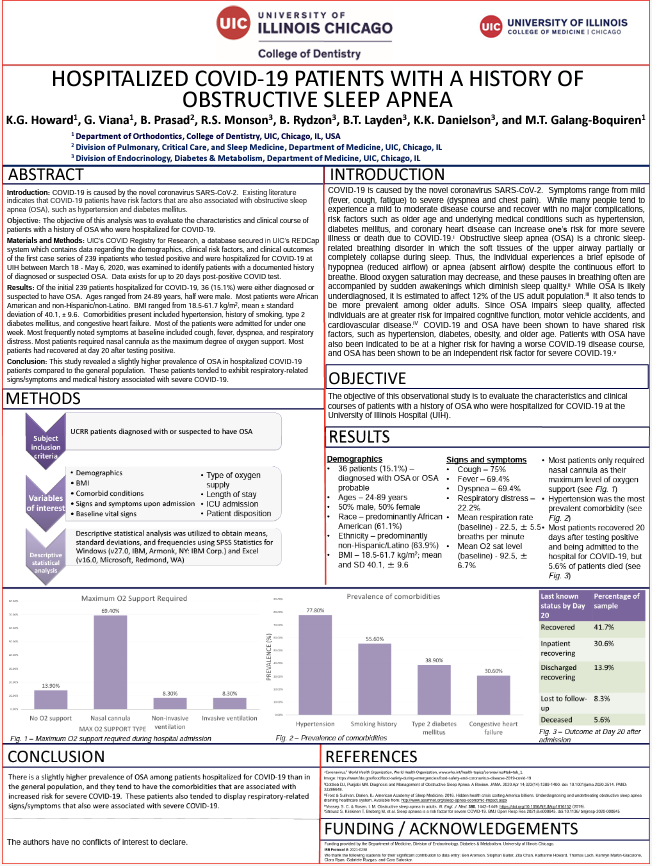 ---
No Fields Found.
---