February 18, 2015
Modeling a 3D Human Ovarian Cancer in vitro to Screen for Metastasis Inhibitors
The CBC team of Hilary Kenny and Ernst Lengyel (UChicago) received a CBC High Throughput Screening (HTS) Supplemental Grant in June 2013. Kenny and Lengyel are first and senior author, respectively, on an article titled "Quantitative high throughput screening using a primary human three-dimensional organotypic culture predicts in vivo efficacy," which appeared in February 5, 2015 issue of Nature Communications. The team developed a 3D human ovarian cancer culture system that is promising as a screening platform for new drug discovery. The CBC funds contributed to the system development using a HTS screening facility at UChicago.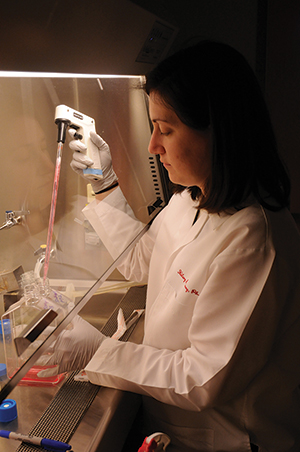 Ovarian cancer, often referred to as the "silent killer," is notorious for being detected late, at a frequently deadly metastatic stage. The five-year survival rate for ovarian cancer patients is only 44.6 percent. It is estimated that in 2015, 21,290 women in the U.S. will be diagnosed with ovarian cancer and about 14,180 will die from the disease. Late detection is partially due to the unusual mechanism of metastasis.  Ovarian cancer metastasizes directly within the abdomen via the peritoneal fluid.  Detached ovarian cancer cells adhere to the surface of the abdominal organs, superficially invade them, and proliferate before symptoms appear in patients. A drug that is able to impede this metastatic process could significantly reduce the extremely high mortality of ovarian cancer.
CBC is pleased to report that, with the help of a CBC HTS Award, Hilary Kenny, Research Associate (Assistant Professor) (right) and Ernst Lengyel, Professor, Section of Gynecologic Oncology, Department of Obstetrics & Gynecology at UChicago developed a novel, 3D organotypic culture system that mimics the in vivo environment of metastasizing ovarian cancer and adapted it for cancer drug discovery using high throughput screening (HTS) (see figure below). The system, which contains cultured primary human mesothelial cells, fibroblasts, and extracellular matrix, can be seeded with human ovarian cancer cells (OvCa), and the key steps of cancer cell metastasis, adhesion, invasion and growth, examined.
In their Nature Communications paper, the team reports preliminary results of a HTS screen performed on the 3D culture system in the UChicago HTS Screening Facility under direction of Sam Bettis, also a co-author on the paper. One compound identified in the HTS screen, beta-escin, a natural compound isolated from the horse chestnut, was found to be efficacious both in vitro and in vivo,  In the 3D culture system developed at UChicago, beta-escin very efficiently inhibited three metastatic parameters of ovarian cancer cell behavior (adhesion, migration, invasion) and impacted the cancer cells' ability to survive. Moreover, the in vitro activity was demonstrated to be similar in vivo: mice treated with beta-escin exhibited a very efficient reduction (>94%) of metastatic tumor development.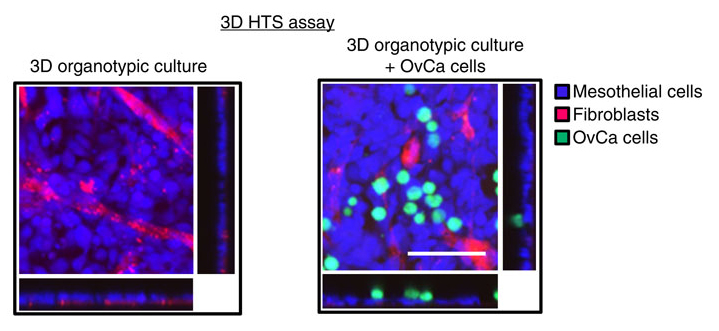 The novel organotypic culture system developed by the UChicago team is likely to set a precedent as a model system for human disease.  It is uniquely suited to the accurate and efficient identification of effective new drugs, due to its physiological relevance and its adaptation for HTS. Congratulations!
---
See also UChicago Press Release: "New screening tool could speed development of ovarian cancer drugs," by John Easton, February 10, 2015
CBC HTS Award (2013): High-Throughput Screening using an Organotypic Culture of Ovarian Cancer Metastasis; Project PIs: Hilary Kenny and Ernst Lengyel (UChicago)
Publication attributed to the CBC HTS Award: Kenny HA, Lal-Nag M, White EA, Shen M, Chiang CY, Mitra AK, Zhang Y, Curtis M, Schryver EM, Bettis S, Jadhav A, Boxer MB, Li Z, Ferrer M, Lengyel E. Quantitative high throughput screening using a primary human three-dimensional organotypic culture predicts in vivo efficacy. Nat Commun. 2015 Feb 5;6:6220. (Nature)
Image credit: Adapted from Kenny HA, et al. Quantitative high throughput screening using a primary human three-dimensional organotypic culture predicts in vivo efficacy. Nat Commun. 2015 Feb 5;6:6220. (Nature)
---
SEE ALSO:
▸ HTS Supplemental Grant Program Description and RFA