February 14, 2011
The Ribosomal Tunnel: Who's Talking?
---
A recent study from the 2009 CBC Spark Award co-recipient Alexander S. Mankin entitiled, "Nascent Peptide in the Ribosome Exit Tunnel Affects Functional Properties of the A-Site of the Peptidyl Transferase Center," was published in the February 4, 2011, volume of Molecular Cell. A member of the first class of CBC Scholars, Haripriya Ramu, is the first author of the manuscript.
The team led by Mankin analyzed ribosome stalling at the regulatory cistron of the antibiotic resistance gene ermA and found a cooperation between the ribosomal exit tunnel and the A-site of the peptidyl transferase center (PTC) in halting translation. The presence of erythromycin and a specific nascent peptide in the exit tunnel, abrogate the PTC's ability to catalyzed peptide bond formation in the growing polypeptide and results in translation arrest. The degree of A-site selectivity is modulated by the nascent peptide's C-terminal, with the third-from-last residue playing a critical role. (For commentary see Molecular Cell Preview: "Peptides in the Ribosomal Tunnel Talk Back").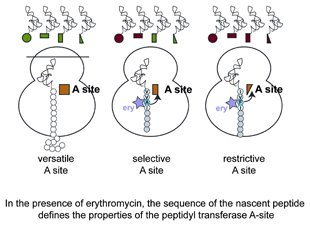 Image credit: Graphical Abstract, Molecular Cell